Bench Players Lin, Lamb Tow Hornets To Road Win Against T'Wolves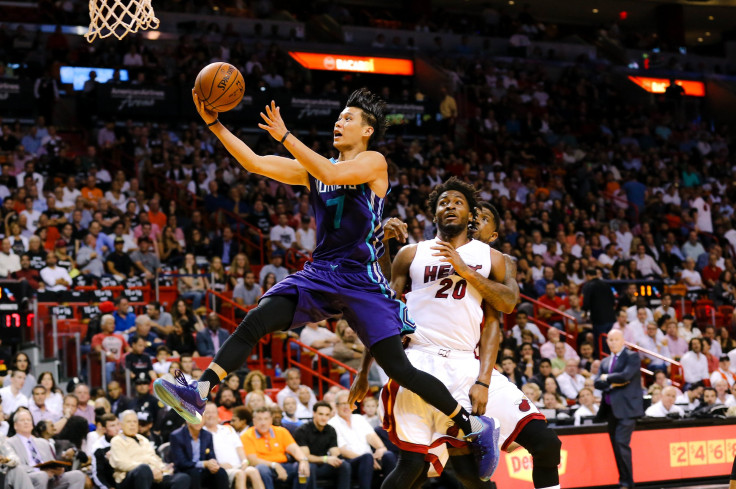 A day after a big win on the road, the Minnesota Timberwolves couldn't get the job done at home against the visiting Charlotte Hornets, which got a huge lift from off the bench players Jeremy Lin and Jeremy Lamb, who towed their team to a 104-95 victory Tuesday night.
Lin had 19 points on 6-of-11 field goal shooting to top score for the Hornets while Lamb had 18 points on 8-of-10 field goals to lead the Hornets to their third victory in the last four games.
Charlotte, which started the new NBA season with three straight losses, survived the night when center Al Jefferson struggled from the field, scoring just 9 points on 3-of-9 shooting. Starting point guard Kemba Walker couldn't find his offensive rhythm too, missing 8-of-12 shots on the way to 10 points.
Nicolas Batum added 17 points on 3-of-5 shooting from the three-point area and Cody Zeller added 14 points, 6 rebounds and 2 steals off the bench.
The Timberwolves were missing key starters Ricky Rubio and Andrew Wiggins, both of whom were vital in the team's huge win versus the Atlanta Hawks Monday. Minnesota dropped to 0-3 at home this season and had a two-game winning streak snapped.
With Rubio and Wiggins struggling with knee injuries, Minnesota got good games from their starting line-up replacements in Zach Lavine, who had 20 points and 8 assists and Kevin Martin, who had 18 points and 5 assists.
Charlotte aims for a 0.500 record when they face the New York Knicks Wednesday while Minnesota will try to return to the win column when they take on the Golden State Warriors Thursday.
© Copyright IBTimes 2023. All rights reserved.