Bengals News: Marvin Lewis Stays, But Should Cincinnati Have Fired Longtime Head Coach?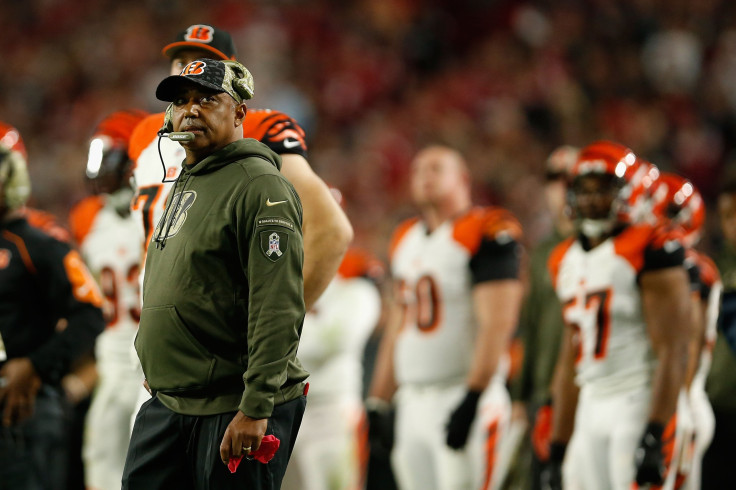 Two ill-advised penalties by Vontaze Burfict and Adam Jones, and a generally chaotic atmosphere in the closing quarter of Saturday's AFC wild-card game, eventually led to the Cincinnati Bengals missing out on yet another playoff victory. The collapse prompted many to point the finger at Marvin Lewis, but the longtime head coach is expected to stick around the hard-luck franchise.
The 18-16 loss to the rival Pittsburgh Steelers, which made Lewis the only coach in NFL history to go 0-7 in the postseason and extended the franchise's playoff woes to 26 years without a victory, has also been called the worst in Bengals history. The perceived thought that Lewis couldn't focus his players emotions has made him ripe to join Tom Coughlin, Chip Kelly, and Jim Tomsula on the unemployment line. However, a day after the harrowing meltdown, ESPN's Adam Schefter reported the Bengals have no plans to serve Lewis his walking papers.
And, despite several reasons for why a changing of the guard might make sense, the Bengals are likely using the proverbial scale or some sort of pros and cons list and opting for consistency rather than the uncertainty of what a new regime might look like or even accomplish.
The cons are still fresh in the minds of Bengals' fans and their front office, and if owner Mike Brown did fire the 57-year-old Lewis most would probably deem it justifiable and not necessarily reactionary.
Lewis had positioned the Bengals for a playoff victory over their most-hated AFC North rival, even with quarterback Andy Dalton out with a fracture thumb and backup AJ McCarron orchestrating the offense.
Yet neither Lewis nor his coordinators Paul Guenther and Hue Jackson could contain their players, especially the most historically volatile ones, Jones and Burfict. The latter in particular could be rightly scapegoated since his tackle of Steelers receiver Antonio Brown's head directly led to Pittsburgh's game-winning field goal.
But even before Burfict and Jones got out of hand, Lewis and his staff did little to keep the bench under control or on the sideline as they repeatedly went on to the field to challenge and jaw with the Steelers, with Burfict charging up to Steelers linebacker Ryan Shazier's face after he rocked running back Jeremy Hill with a helmet-to-helmet hit and forced a fumble.
There's also the fact that Lewis hasn't been able to translate his success in the regular season into the playoffs. Hired by Cincinnati in 2003, Lewis is now the second-longest tenured coach in the NFL, behind only New England's Bill Belichick and ahead of Green Bay's Mike McCarthy, New Orleans' Sean Payton, Pittsburgh's Mike Tomliln, and Baltimore's John Harbaugh.
Despite every one of those coaches claiming at minimum five playoff victories, every single one has also lifted a Super Bowl trophy, with Lewis being the lone exception.
Instead, it appears Brown and his executives are looking at the full breadth of Lewis' tenure and what things were like before he arrived. Over 13 years, Lewis has accumulated a 112-94-2 overall record, only twice has Cincinnati posted a losing season and in the last four years the Bengals have won no less than 10 games in the regular season.
There's also no denying how well Lewis and his staff have developed young talent. Dalton emerged as one of the best passers in the game this season, and was on an MVP-level pace before getting hurt. Receiver A.J. Green is also one of the best at his position, generating five-straight 1,000-yard seasons since the Bengals drafted him No. 4 overall in 2011.
And Lewis has also adjusted to the times, specifically in the backfield. Teams are more regularly employing a two-running back system, which Lewis parlayed into Hill and Giovani Bernard. Both of whom sit somewhere in the top 20 rankings at their position.
On defense, Lewis' specialty since he helped Baltimore win the Super Bowl in 2001, the Bengals have also excelled under his leadership. Four times have the Bengals ranked in the top 10 in total yards and five times in points allowed in the regular season, and seven other times they were top 10 in takeaways.
And perhaps to his detriment, Lewis has taken talented players with checkered or questionable pasts and made them work in his system. Jones and Burfict stand as the two best examples, with the former's previous offenses too long to list and nearly costing him his career, and Burfict went undrafted in 2012 because of a poor showing at that year's combine and reports of a failed drug test coming out of Arizona State. The Bengals would sign him as a free agent days later and Burfict made the Pro Bowl in 2013.
The Bengals also can't forget what life was life before Lewis came to town. He helped snap a 15-year postseason drought in 2005, and between 1991 and 2004 the Bengals went through four different head coaches who posted a 55-137 record with one 8-8 season standing out as the best. Lewis, who grew up roughly 300 miles away from Cincinnati, also has a reputation of being well-liked by players.
For now, Bengals fans might think Lewis should go even though he's signed through next season. But rather than eat the contract, Cincinnati may be right in giving Lewis one more year.
The opinions on social media have varied greatly.
© Copyright IBTimes 2023. All rights reserved.