Best Buy Giving Out Employee Bonuses Despite Layoffs
Best Buy (BBY) is the latest retailer to give out bonuses to its employees amid the pandemic, even as it is laying off a number of workers as part of a reorganization strategy.
The tech retailer announced the bonuses on Tuesday, The Wall Street Journal reported.
The company had 125,000 full-time and part-time employees as of January 2020, furloughing about 51,000 in mid-April, as its stores were temporarily closed during the pandemic, and it only operated curbside pickup. Workers were brought back in June.
It was unclear at the time of writing how many Best Buy employees would be laid off due to the reorganization.
However, a company spokesman told the WSJ, "As we have said before, customer shopping behavior will be permanently changed in a way that is even more digital. Our workforce will need to evolve to meet the evolving needs of customers while providing more flexible opportunities for our people."
The bonuses that Best Buy will handout will still go to laid-off workers, a company spokesperson told CNBC. Bonuses will be doled out in $500 increments to full-time workers and $200 increments to part-time employees, according to the news outlet.
Best Buy has seen its sales increase significantly during the pandemic as people work from home during the pandemic and look for tech products to entertain themselves as they stayed at home because of COVID, CNBC said.
According to its most recent earnings report, the company has seen its online sales nearly triple in Q3 2021. The company reported a comparable sales increase of 23% and enterprise revenues of $11.8 million.
Best Buy's fourth-quarter earnings are slated to be released on Thursday.
As another incentive to its workers, Best Buy is paying its employees to get the COVID vaccine, offering them eight hours of paid time off for full-time workers and four-hours of paid time off for part-time employees, CNBC said.
While Best Buy does not require employees to get vaccinated, it did tell the news outlet that if a worker feels sick after receiving the COVID vaccine, it will provide them with additional sick time of the same amount based on their full or part-time status.
Best Buy also said it increased its employees' starting wages to $15 an hour in August.
Best Buy joins retailers Target, Walmart, Kroger and many other retailers in giving their workers pandemic-related bonuses.
Shares of Best Buy were trading at $114.48 as of 1:39 p.m. EST, down $2.25 or 1.93%.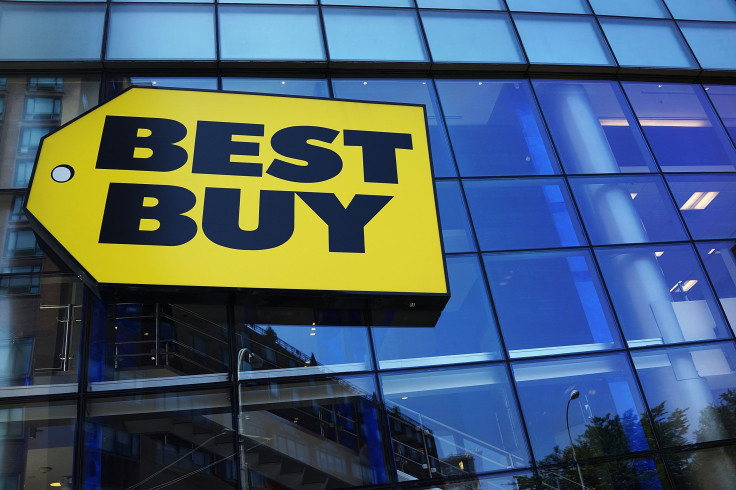 © Copyright IBTimes 2023. All rights reserved.
FOLLOW MORE IBT NEWS ON THE BELOW CHANNELS