Best Of Enemies: Turkey Talks To Ocalan To Broker Kurdish Disarmament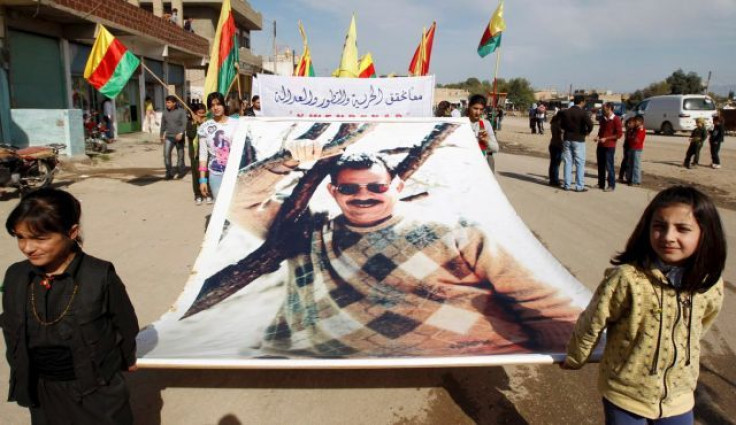 The Turkish government has entered into a dialogue with imprisoned Kurdish rebel leader Abdullah Öcalan in order to convince the Kurdistan Workers' Party (PKK) to disarm, according to Turkish media.
Prime Minister Recep Tayyip Erdoğan confirmed last week that intelligence agents met with Ocalan on Dec. 23 to hammer out an agreement to get Kurdish guerillas to lay down their arms.
"I cannot hold such meetings myself as a politician, but the state has agents and they do [hold talks]," Erdogan told reporters, according to the Hurriyet newspaper.
"The meetings … are still under way because we must get a result. As long as we see a light [at the end of the tunnel], we will continue to take steps. If there is no light, we will stop there."
Ocalan has been holed up as the sole inmate of the Imrali island prison in the Sea of Marmara since 1999, after he was captured and sentenced to death (later commuted to life in prison) on conviction of terrorism.
The Kurdish insurgency, now three decades old, has resulted in the deaths of some 40,000 people (mostly civilians) in the heavily Kurdish southeastern part of Turkey. Last year, the conflict between the Turkish military and Kurdish guerrillas based in northern Iraq intensified with a series of tit-for-tat attacks. Turkish security forces killed almost 1,500 Kurdish guerillas last year alone.
The PKK has sought to establish an independent Kurdish homeland.
Turkey, the EU and the U.S. classify PKK as a terrorist organization.
"The goal is the disarmament of the PKK," Yalçın Akdoğan, a senior adviser to Erdoğan and a deputy for the ruling Justice and Development Party (AKP), told the NTV news channel of Turkey.
"The government supports any dialogue to this end that could result in a halt to violence. You cannot get results and abolish an organization only with armed struggle."
Akdogan added: "Öcalan is still the most important actor for a resolution. We know that the organization [PKK] frustrated him, used his name and benefited from his name from time to time."
"[Ocalan] has been in prison for a long time, and it is not possible for him to effectively command the organization. But he is an important tool within the emotional body of the organization."
Turkish media has speculated that the Ankara government may prepare a timetable whereby the PKK, which has halted its operation due to severe winter conditions, will begin to disarm in the spring.
"These kinds of issues should be approached with cautious optimism. We will be realistic, will continue processes with good intentions and will exert a sincere effort to get a result," Akdoğan said.
"People should not be left without hope, but their hopes should not be played with either. There is a serious effort, but I don't think that it is correct to say 'a result will be out within three to five months.' We don't know the content of the meetings [between intelligence officials and Ocalan]."
Meanwhile, the bloodshed continues in this seemingly endless war between the Turkish state and Kurdish rebels.
On Monday, Turkish military forces killed at least 10 PKK fighters and seized weapons belonging to the outlawed group in Diyarbakir, in southeastern Turkey. Another 46 PKK rebels were killed late last month in a cross-border operation in northern Iraq, according to Today's Zaman, a Turkish English-language newspaper.
The deepening crisis in Syria, where Kurdish PKK rebels are also believed to operate, may have influenced Ankara's decision to enter into talks with Ocalan.
A report in the International Herald Tribune suggests that Turkey "fears that an autonomous Kurdish region in Syria would become a haven for Kurdish militants to carry out cross-border attacks in the Kurdish areas in southeastern Turkey."
Hugh Pope, project director of the International Crisis Group in Turkey, told the Tribune: "The PKK wants to do a deal and obviously Ocalan is desperate to get out of jail. He may be an essential ingredient but he's not the magic key."
© Copyright IBTimes 2023. All rights reserved.