Bid On Malala's Life: Alleged Gunman's Sister Apologizes For What Her Brother Did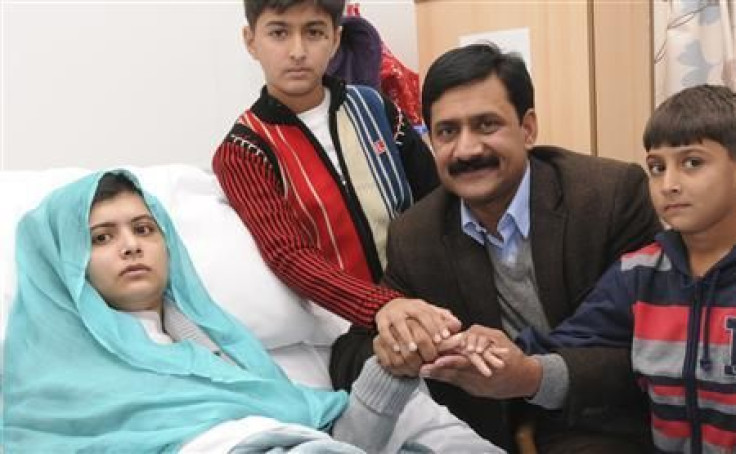 The sister of a man suspected of shooting Malala Yousufzai, a 15-year-old Pakistani girl who rose to fame for speaking up against the Taliban, apologized to the victim Sunday in an interview with CNN in Pakistan.
"Please convey a message to Malala, that I apologize for what my brother did to her," Rehana Haleem told CNN about her brother, Attah Ullah Khan. "He has brought shame on our family. We have lost everything after what he did."
"What he did was intolerable," Haleem said. "Malala is just like my sister. I'd like to express my concern for Malala on behalf of my whole family; I hope she recovers soon and returns to a happy and normal life as soon as possible. I hope Malala doesn't consider me or my family as enemies. I don't consider Attah Ullah my brother anymore."
Khan (23), who is believed to have pulled the trigger on Yousufzai, had been placed on the exit control list (ECL), the Dawn News reported Oct. 30. According to the report, Khan, a former Swat resident, had been in Afghanistan before crossing over to Pakistan and eventually to the Swat Valley, northwest of Pakistan's capital city of Islamabad where he tracked down Yousufzai. He fled shortly after the murder attempt.
Yousufzai was shot Oct. 9 in the Swat Valley while she was on board her school bus which was taking children home from school. The gunman asked for her by her name before firing shots at her head and neck, news agencies reported.
Yousufzai started writing a blog for the BBC under the pseudonym Gul Makai when she was 11 and has been vocal about the need to educate females, which extremists oppose.
She is recovering in a hospital in Birmingham, England. She has made some progress, but her international team of caregivers has said she has a long, hard road ahead, according to CNN. Her father, Ziauddin Yousufzai, described her survival as a "miracle for us."
It was reported by Pakistani media and the BBC Urdu last week that Khan's fiancée was arrested along with others, without furnishing further details.
Khan's house was reportedly searched by Pakistani authorities a day after the attack. They reportedly seized documents and pictures.
Haleem, who was pregnant at the time of the raid, gave birth to a daughter within a few days. Five days later, the army raided the house again and detained Haleem's husband, her aged mother, her uncle and another brother, who continue to remain in custody. Haleem told CNN she had no doubt that her brother was involved in the shooting.
Pakistan has requested Afghanistan to hand over Maulana Fazlullah, the head of the Swati Taliban, another prime suspect in the shooting of Yousufzai.
Fazlullah, nicknamed "Mullah Radio" for his fiery radio broadcasts in Swat Valley, is the leader of the banned militant outfit Tehreek-e-Nafaz-e-Shariat-e-Mohammadi, according to an Express Tribune report.
© Copyright IBTimes 2023. All rights reserved.