Biden Meets South Korean Leader On Eve Of State Visit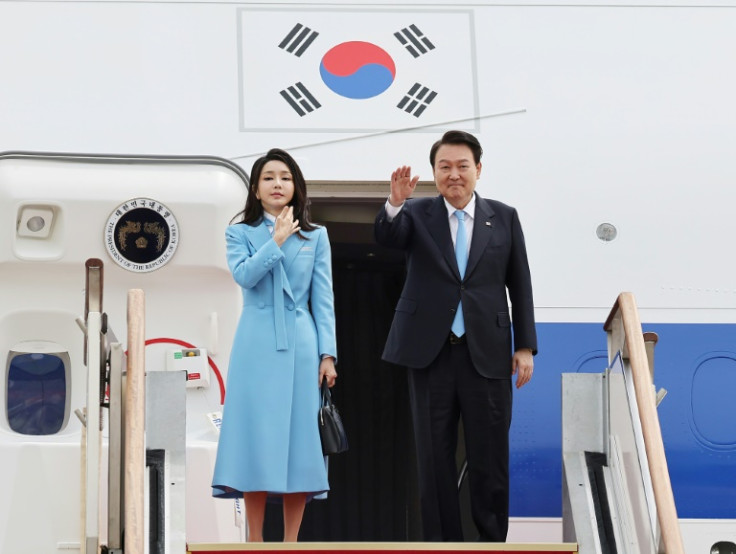 US President Joe Biden and South Korea's President Yoon Suk Yeol will pay homage Tuesday at the Korean War Memorial in Washington ahead of a state visit cementing the countries' deep alliance.
Biden, Yoon and their wives were set to gather at the haunting monument, depicting life-sized steel statues of US soldiers marching during the 1950-53 war against the communist north.
On Wednesday, Yoon and his wife Kim Keon Hee will arrive at the White House for only the second full-fledged state visit of the Biden era, following France's Emmanuel Macron.
This will feature lavish ceremonial events and a gala White House dinner.
But beyond the pomp and circumstance, Biden and Yoon will discuss their countries' deepening partnership in an increasingly volatile Asia-Pacific, where North Korea is ramping up nuclear-capable missile production and China is saber-rattling around Taiwan.
White House National Security Advisor Jake Sullivan told reporters that Biden and Yoon have had four "engagements" since Yoon took office less than a year ago and "have developed a rapport."
The alliance "has grown far beyond the Korean peninsula and is now a force for good in the Indo-Pacific and around the world," Sullivan said, noting that Yoon had been the first South Korean leader to attend a NATO summit.
On Tuesday, Yoon was set to visit NASA's Goddard Space Flight Center just outside Washington, along with US Vice President Kamala Harris.
Washington and Seoul are also highlighting the strong cultural links, something emphasized by Netflix's announcement of a $2.5 billion investment in South Korean content. Netflix CEO Ted Sarandos met with Yoon in Washington on Monday.
A big task for Biden will be reassuring his guest over the US commitment to "extended deterrence" -- the US military umbrella for South Korea.
"President Biden will reinforce and enhance our extended deterrence commitments to South Korea with respect to the threat" from North Korea, Sullivan said.
Sullivan said to expect "major deliverables on extended deterrence, on cyber cooperation and climate mitigation, foreign assistance, on investment, and on strengthening our people to people ties."
But the two leaders have some "uncomfortable" topics to discuss, said Katharine Moon, Professor Emerita of Political Science at Wellesley College.
The South Korean president has seen his domestic approval ratings dive over his handling of a recent US intelligence leak that appeared to reveal Washington was spying on Seoul.
In Washington, Yoon is meanwhile likely to come under pressure to do more to help the US support Ukraine, as Washington looks to South Korea -- the world's ninth-largest arms exporter -- to help secure ammunition and weapons for Kyiv.
South Korea has sent humanitarian assistance to Ukraine, and has sold tanks and howitzers to Poland, but Seoul has a longstanding policy of not providing weapons to active conflict zones.
Seoul is also mired in a diplomatic spat with China after Yoon blamed recent heightened tensions over Taiwan on "attempts to change the status quo by force" in an interview.
© Copyright AFP 2023. All rights reserved.