Bilawal Bhutto: The Next Generation For Pakistan?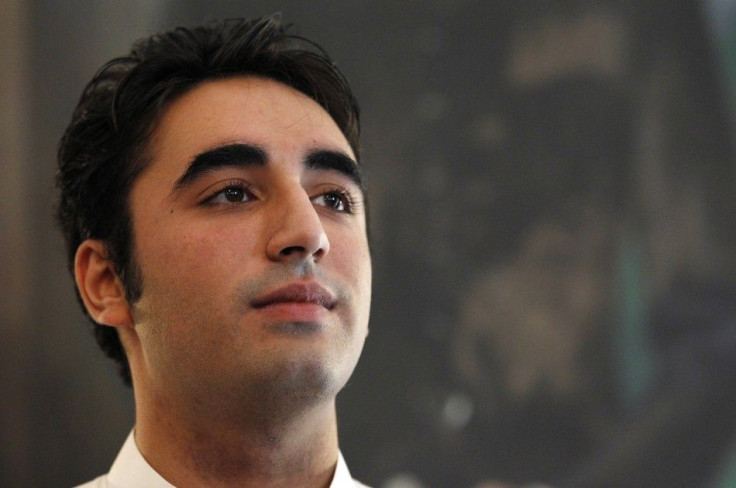 Bilawal Bhutto Zardari, the scion of Pakistan's most powerful and celebrated political dynasty, marked the fifth anniversary of his mother's assassination by apparently launching his own political career.
Bilawal, the son of former prime minister, Benazir Bhutto, and the current president, Asif Ali Zardari, attended a memorial service for his mother at the family mausoleum in Garhi Khuda Bakhsh, near the city of Larkana in the Sindh province.
Benazir, a two-time prime minister, was assassinated in a suicide bomb attack in December 2007 during an election rally in Rawalpindi marking her ostensible return to Pakistani political leadership. No one has ever been convicted in connection with her murder.
Bilawal's maternal grandfather, Zulfikar Ali Bhutto, was also the country's leader, having been executed in 1979.
At the service, Bilawal, only 24 years old, delivered a public speech to hundreds of thousands of people, mostly members of the ruling Pakistan Peoples' Party's (PPP).
"Today, I am with the martyrs at Garhi Khuda Baksh," Bilawal told the huge crowd, amidst very tight security, including the presence of 15,000 police officers and 500 government paramilitary security forces.
"I am with my mother and my grandmother. Zulfikar Ali Bhutto and Benazir Bhutto are still alive in our hearts even today. Bhutto is an emotion, a love. Every challenge is soaked in blood, but you will be the loser. However many Bhuttos you kill, more Bhuttos will emerge from every house."
The Oxford-educated Bilawal vowed to continue his mother's stated aims to solidify democracy in Pakistan.
"There are two kinds of powers in this country: that which prefers the path of dictatorship, and then there is the power of the people," he declared to the throng.
"On one side we stand up as a wall against the terrorists, and then there are those who are even afraid to take their names. We have chosen a very difficult path. Our path is the path of democracy, which Benazir taught us to walk on. We will go to the place where a bright and progressive Pakistan awaits us."
On a personal note, Bilawal took the nation's judiciary for its failure to prosecute his mother's killers.
"I asked the top judge [Chief Justice Iftikhar Muhammad Chaudhry], can't you see the blood of Benazir Bhutto on the roads of Rawalpindi?" Bilawal said.
"I, as an heir of Bhutto, ask why the killers of my mother have not been punished."
Bilawal directly accused former military ruler Pervez Musharraf of culpability in his mother's death by allegedly removing a security detail during that fateful day in Rawalpindi. (Musharraf has always denied these charges, blaming it instead on Pakistani Taliban boss Baitullah Mehsud, who was killed by a US drone attack in the summer of 2009
Bilawal's father, Zardari, has been under enormous pressure from both the courts and military to limit the reach of his civilian government. In addition, the Supreme Court has repeatedly attempted to conduct a corruption case against both Zardari and his deceased wife over allegations that they stashed billions of dollars in Swiss banks. Zardari has claimed immunity, citing that he is the sitting head of state.
Bilawal made a reference to these episodes by charging that the court was seeking to hold his mother on trial from the grave.
The young would-be Pakistani leader also discussed women's rights issues, the plight of the landless poor and the scourge of militant violence across the country.
Bilawal's spokesman Aijaz Durrani confirmed the speech would signify a new political career.
"This is his political career's first public meeting," he stated. "A new Bhutto is emerging today in the shape of Bilawal who has vision of his mother and grandfather and people are excited on his launching."
However, Bilal will not be old enough to run for office in elections scheduled for the spring. Still, his powerful name and lineage could serve as a strong symbolic presence for the PPP.
"Bilawal… following in the tradition of generations, will prove to be an important turning point for democracy and politics," declared Prime Minister Raja Pervez Ashraf in a statement.
Bilawal's father Zardari, told the crowd in Larkana: "Bilawal has completed his studies, but the time has now come to complete his political training, to stay in Pakistan among its people and learn from them."
Shahzeb Jillani, a BBC correspondent in Larkana, commented: "[Bilawal's] charged debut performance went down well with Bhutto loyalists, who see in him a reflection of his mother. Despite his young age and inexperience, he came across as confident and articulate as he reiterated his party's populist slogans in Urdu.
"The PPP hopes that, with Bilawal Bhutto Zardari at the forefront of the next election campaign, it will be able to capitalize on the emotional appeal supporters feel towards the Bhutto brand."
© Copyright IBTimes 2023. All rights reserved.