Bill Bratton Confirms NYPD Slowdown; Zero Tickets Given On New Year's Eve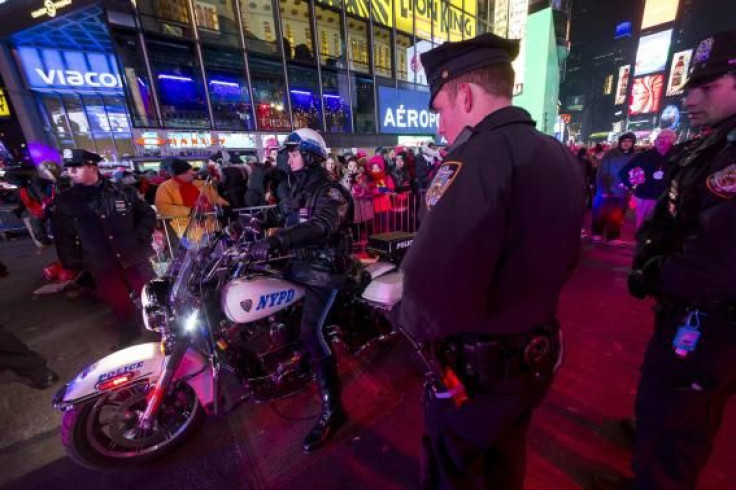 A million people watched the ball drop in New York's Times Square on New Year's Eve amid 2,000 pounds of confetti, thousands of police officers and dozens of surveillance cameras. But not one person received a ticket for a low-level crime, the Associated Press reported, citing recent police statistics. Even New York Police Commissioner William Bratton acknowledged the police slowdown.
"We're coming out of what was a pretty widespread stoppage of certain type of activity, discretionary type of activity, by and large," Bratton told NPR in an interview Friday.
New York Police Department officers did not hand out a single ticket the entire week for double parking, public urination or open containers of alcohol. Between Dec. 28 and Jan. 3, there was only one low-level arrest made for a subway-related offense. During the week of Christmas, there were just 23 summonses and arrests for small-time crimes, compared with more than 650 per week last year, AP reported.
"They haven't been on top of us like they used to," Luis Martinez, who roams the streets in Times Square looking for tips in a Cookie Monster costume, told AP. "They're minding their own business now."
After investigating the reports, Bratton concluded some officers had purposefully cut down due to "the extraordinary stressful situations" of the past month. "We'll work to bring things back to normal," Bratton told AP Friday, adding that the figures available Monday will show the numbers already rising.
The reports came weeks after NYPD officers Wenjian Liu, 32, and Rafael Ramos, 40, were shot to death in their patrol car by Ismaaiyl Brinsley in Brooklyn Dec. 20. Brinsley, who committed suicide after the ambush-style attack, had said he would avenge the deaths of Michael Brown and Eric Garner, two unarmed black men who died during the summer at the hands of white police officers. The officers' deaths happened amid nationwide protests against the treatment of black civilians by white law-enforcement officers.
Some wonder whether police are making fewer arrests and delivering fewer tickets in protest of New York Mayor Bill de Blasio, who police unions blame for fueling anti-police sentiment. Countless officers symbolically turned their backs when de Blasio spoke during Ramos' funeral in the city's borough of Queens last month. "Mayor de Blasio, the blood of these two officers is clearly on your hands," the New York Daily News quoted Ed Mullins, president of the Sergeants Benevolent Association, as saying.
However, police-union leader Patrick Lynch told AP there is no sanctioned work slowdown in the force. "Our members are doing their job," said Lynch, who is head of the Patrolmen's Benevolent Association, which represents 24,000 officers.
© Copyright IBTimes 2023. All rights reserved.