Bill Russell: NBA's Greatest Champion On And Off The Court
KEY POINTS
Bill Russell peacefully passed away at his home in Mercer Island, Washington
Russell was one of the most influential players on the court and outside of it
He earned 11 NBA championships, the final two being a player-coach
The NBA community is in mourning after news broke that Boston Celtics legend and one of the league's greatest players in Bill Russell recently passed away peacefully beside his wife at their home in Mercer Island, Washington.
Russell is touted among many fans as arguably the greatest winner in the history of American sports thanks to his impressive resume.
As a high schooler, Russell won two state championships with McClymonds High School in Oakland, California despite not having the best fundamentals.
In college with the University of San Francisco (USF), Russell leaned in heavily into his pedigree as a defensive mastermind when he used his raw athleticism to block shots of opposing forwards and centers with the speed of a guard.
Russell and USF won back-to-back NCAA titles in 1955 and 1956, even if he did not have the best scoring instincts.
This forced the NCAA to introduce rule changes to the college game like widening the lane ahead of his junior year and the prohibition of basket interference following his graduation.
Russell would later find himself drafted by the Celtics in 1956 after a game-changing draft night trade that saw coaching great Red Auerbach trade six-time NBA All-Star Ed Macauley and Cliff Hagan for him.
Auerbach also somehow was able to draft Russell's USF teammate guard K.C. Jones and talented forward Tom Heinsohn–all three men would go on to have Hall of Fame careers.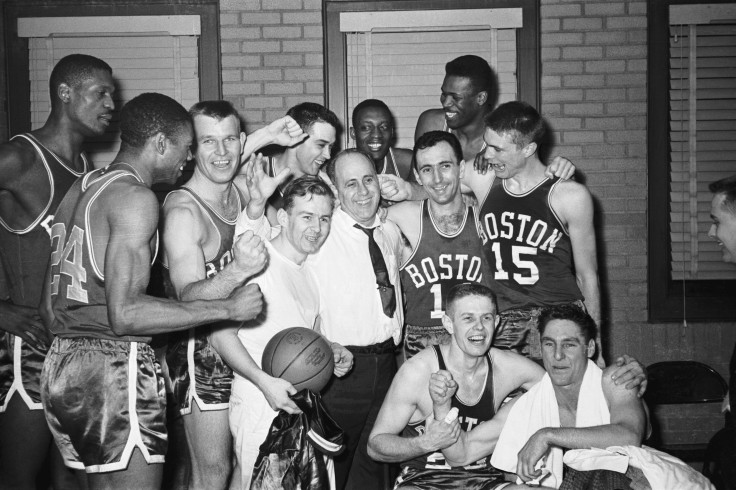 It was no surprise then that the Celtics went on to dominate the league, and Russell was the centerpiece behind it as he won 11 championships which featured an eight-peat from 1959-1966.
In his final game as a Celtic at age 35, Russell put up six points, 21 rebounds, and six assists to claim his 11th title as a player in a Game 7 for the ages against the Los Angeles Lakers that had future Hall of Famer Wilt Chamberlain, Elgin Baylor and Jerry West on the team.
What made his last two championship runs even more legendary was that he served as a player-coach and earned him the distinction of being the first black head coach of any North American professional team when Auerbach retired ahead of the 1966-67 NBA season.
For his legendary contributions to the game, the NBA renamed the NBA Finals MVP to the "Bill Russell NBA MVP Award" in 2009 and Kobe Bryant of the Lakers was the first to win the award after the change.
However, Russell was a man who was not contented with simply playing basketball at the highest level and used his influence to take a stand against racism that permeated American society during his time.
Russell and other black teammates opted to boycott a 1961 exhibition game in Lexington, Kentucky after they were refused service at a restaurant and flew home.
The Celtics legend's contributions to decades of social activism were finally recognized in 2010 when he was awarded the Presidential Medal of Freedom in 2010 by then-president Barack Obama.
In more ways than one, Russell paved the way for future basketball personalities to use their platforms to spark societal change like LeBron James, Gregg Popovich and Stephen Jackson, the latter being a longtime friend of police brutality victim George Floyd.
With Russell's passing, Kawhi Leonard of the Toronto Raptors had the final honors of being the recipient of the NBA Finals MVP from Russell himself since the NBA icon mostly stayed away from public appearances due to the onset of COVID-19.
Russell's life is a reminder that basketball players are also human beings that deserve to garner respect regardless of their race, color and creed.
© Copyright IBTimes 2023. All rights reserved.