Bitcoin Buying 101: Person-To-Person Exchanges Like Satoshi Square Make Purchasing Cryptocurrencies Easy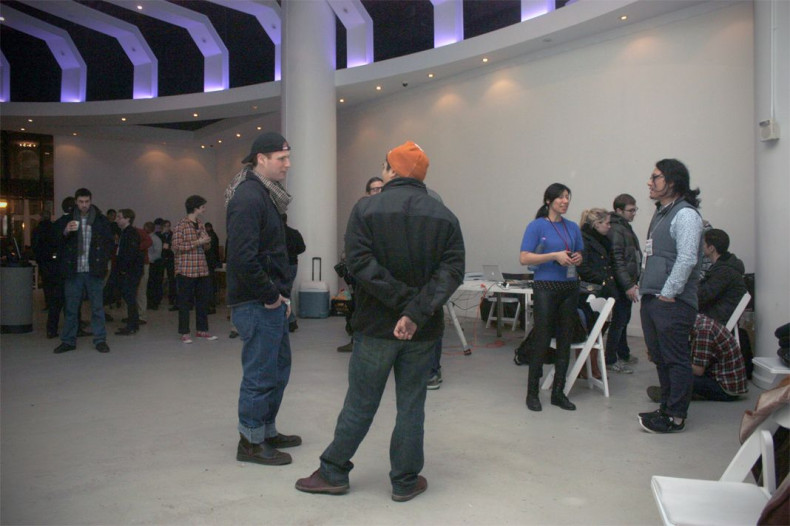 What's it like to buy bitcoin? In a word: simple. The cryptocurrancy has been getting a lot of attention recently, from the controversial finding of Satoshi Nakamoto, the alleged creator of the bitcoin protocol, to the death of MtGox, a bitcoin exchange that lost almost 7 percent of the current market in a single bankruptcy. This year has set out to match the volatile price of the digital currency with equally volatile media attention. However, with all of the news surrounding what is happening in the cryptocurrency world, many people are still unsure of what a bitcoin is and how to get one. I went down to the Bitcoin Center NYC, where they educate potential investors and host a live bitcoin-trading pit.
The Bitcoin Center NYC sits 100 feet away from a staple of the economic world, the New York Stock Exchange. It opened its doors on December 31, 2013, holding a party ringing in the New Year and a new currency. The center advertises itself as "the city's only brick-and-mortar institution dedicated to the further adoption of Bitcoin."
Every Monday night at the Bitcoin Center NYC co-founder Nick Spanos invites investors and newbies alike to trade, or buy and sell bitcoins in a festive environment called Satoshi Square, named after an eponymous group of bitcoin fanatics that began live trading in Union Square last year. At the beginning of March, Spanos extended the trading nights to Saturdays, dubbing them "Satoshi Saturday." I headed down on their first Saturday live-trading pit intent on purchasing my very first bitcoin.
Before the trading began, the center held a brief class on how to trade bitcoin, or for that matter anything of value, in a pit-style environment. Mark Anthony started trading in the cotton game on the American Stock Exchange, but has since moved to bitcoin. He calls it a hobby and gets nothing in return from helping facilitate the trades. In fact, no one gets anything from the trading outside of those involved; the Bitcoin Center doesn't take commissions like traditional exchanges; electronic exchanges like Bitstamp, Kraken or BTC-e charge investors small fees with every trade.
Anthony walked the trading students through the terms: buy, offer, at, sell, and told them to not use the hand signals used in Hollywood films, but rather to just come talk to him or the helpers, who are brightly dressed in orange shirts. The traders ranged from complete novices to people who were looking to liquidate after MtGox's fall from grace. As the trading basics class ended, it was clear I needed something I didn't have yet, a bitcoin wallet.
These wallets hold your bitcoin, and just as the currency is digital, so are the wallets. Android smartphones have apps for bitcoin wallets, like Blockchain.info or Coinbase. Unfortunately for iPhone users, Apple pulled the last bitcoin wallet from its App Store at the beginning of February. If you are like me and are unfortunate enough to own an iPhone, the center can print out a paper wallet for you right then and there. However, this wallet, Spanos warns, has both a public address to send bitcoins to, and a private key, which works like a password. And just like you wouldn't share your online banking login info, you shouldn't share your private key either.
I decided to use a blockchain online wallet that I pulled up via a web browser on my iPhone, a work- around to Apple's efforts. Now that I had my wallet and money, I was ready to buy. The symbolic bell had been rung and trading was live. A squawker stood on an apple box shouting out the buy offers and selling prices. "I've got $530 buys and $580 sells," he yells over the small crowd. This being the first Saturday, the group wasn't too big. Monday night pits can attract close to 100 people.
Mark Anthony walks me through the process. I determine the price I want to buy at, and he offers it up. When a seller agrees to that price, Anthony introduces the two parties and the trade is left to them. Since I wasn't looking to invest my family fortune, getting the best deal wasn't my biggest concern. I tell Anthony to offer 100 millibits at $580 per bitcoin, or .1 btc for $58. The squawker shouts it to the crowd. My offer is right at the going rate for bitcoins at the person-to-person exchange. Because the Satoshi Square event is a person-to-person exchange, the selling price varies and can be higher or lower than the going rate on Bitcoin Price Indexes (BPI) like Coindesk or Winkdex, a BPI set up by bitcoin fanatics Cameron and Tyler Winklevoss.
Immediately a man cries out that he'll take my price and sell me his bitcoin. Cody Heisinger is an unassuming man, with shaggy blond hair and a gentle demeanor. He is very friendly and willing to facilitate the small trade, even encouraging me as I explain to him this is my first bitcoin purchase. Trades below half of a bitcoin are considerably small for exchanges, but the currency can be divided up to eight places, or 0.00000001 bitcoin. Heisinger uses his smartphone's bitcoin wallet app to connect our two wallets. I hand him the cash and he presses send.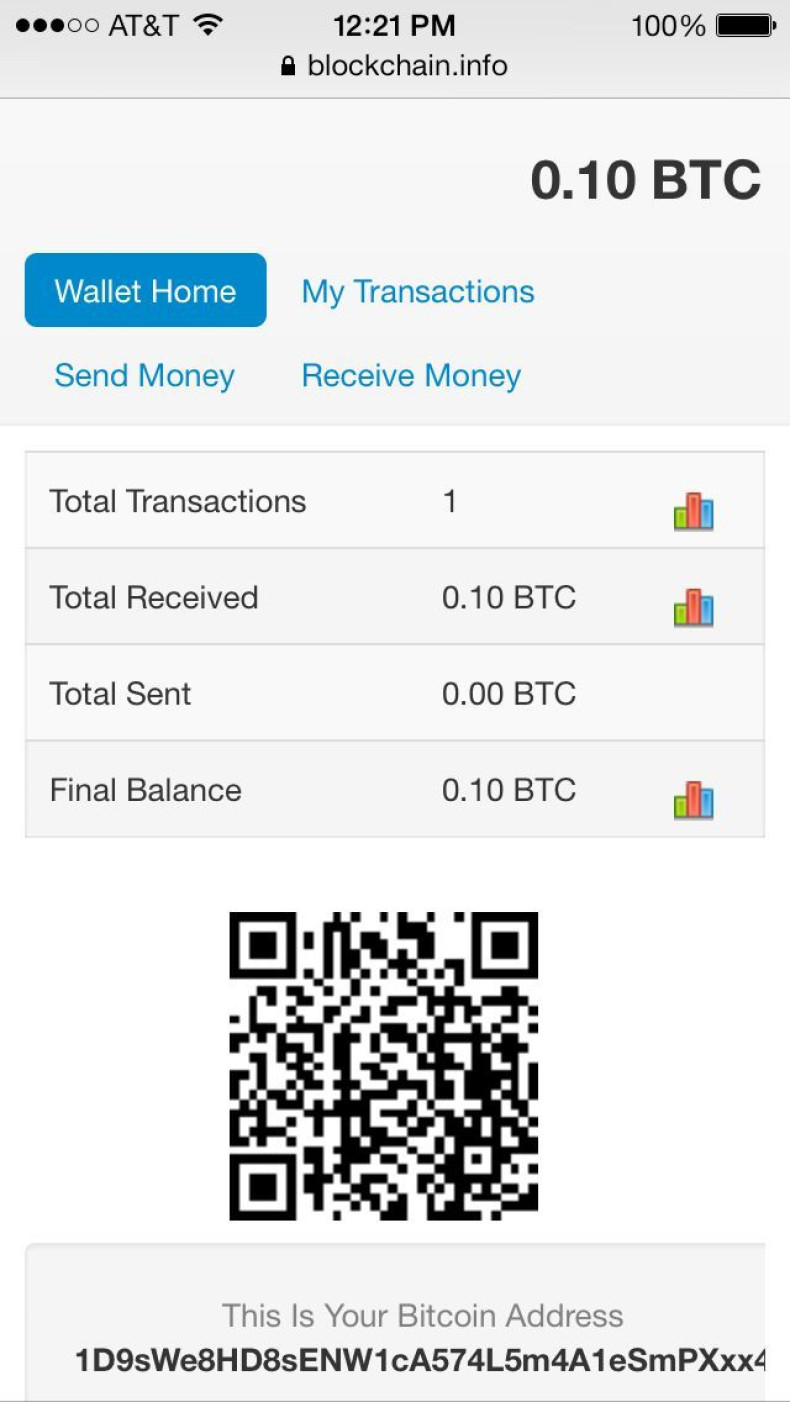 And there it was. My wallet says .1 bitcoin where it used to say zero. The entire event was filled with anticipation, crescendoing into an unceremonious press of a button. Anticlimactic. The processes took seconds, not 10 minutes as I had been told. But that was just an estimate, and the application exceeded those expectations. I was now the owner of .1 bitcoin and Heisinger was $58 bucks more liquid.
In the end, the process matched exactly what people had said. Anthony had described it simply, and simple it was. But the result was benign compared with the excitement from the bitcoin crowd. The levels of enthusiasm bitcoin proponents have for the digital currency didn't rub off on me. Instead, the anticlimactic purchase matched that of buying cheap patio furniture for a last minute barbeque. While I was pleased to own it, it wasn't life-changing in the least.
However, the process was much more enjoyable then opening up a bank account and the people involved were nice, accommodating and friendly. The community of cryptocurrency supporters embraces novice investors and welcomes them into the fold, making the peer-to-peer nature of digital currencies one of the most inclusive groups I've encountered.
While the purchase process was easy, the Bitcoin Center NYC should take a lot of credit. Without the brink-and-mortar location, finding a group may be hard for some. I wouldn't be surprised if bitcoin centers modeled after the New York City location started to pop up around the country.