Blizzard Warning For NYC: Winter Storm Nemo Could Dump 10 To 14 Inches Of Snow On New York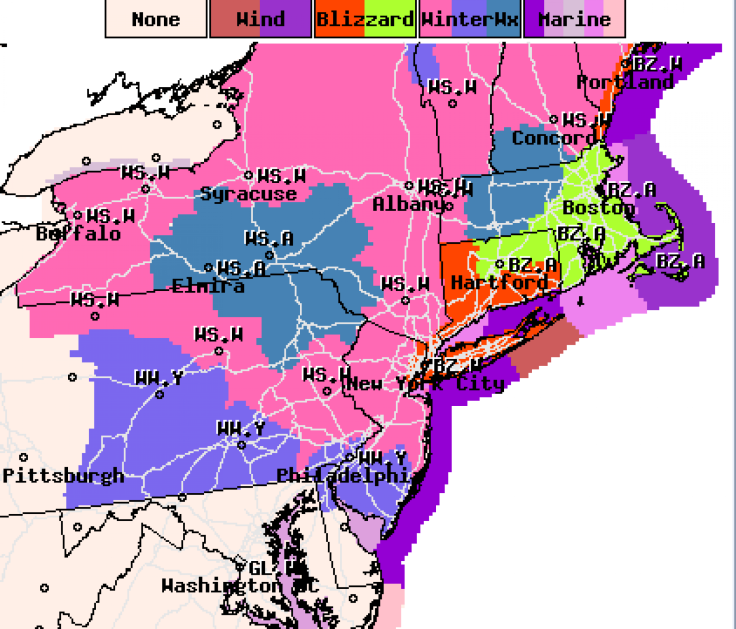 New Yorkers, dust off your snow boots. On Thursday evening, the National Weather Service issued a blizzard warning for New York City and much of the tristate area from 6 a.m. Friday to 1 p.m. Saturday.
The NWS is predicting somewhere between 10 and 14 inches of snow for the New York metro area, along with sustained winds up to 25 miles per hour and gusts of up to 45 miles per hour. The strongest winds and heaviest snows are likely to occur between Friday evening and Saturday morning.
"Falling and blowing snow with strong winds and poor visibility are likely," the NWS said. "This will lead to whiteout conditions … making travel extremely dangerous. Do not travel. If you must travel … have a winter survival kit with you. If you get stranded … stay with your vehicle."
Winds may also result in scattered power outages.
Blizzard warnings are also being issued for much of New England, where the heaviest snow and wildest winds from Nemo are expected to fall.
Another danger to Massachusetts is the huge storm tide that Nemo is expected to stir, raising fears of coastal flooding. According to Weather Underground meteorologist Jeff Masters, Boston is forecasted to experience a 3.4-foot storm tide riding on the back of a high tide on Saturday morning, which would be the 10th-highest water level seen in Boston since 1921. Flooding is likely to be even more serious in Cape Cod, where a 3- to 4-foot surge will come along with 20-foot waves.
Nemo will be spawned sometime on Friday, as a blast of cold air from the Arctic meets a storm system barreling up from the southern U.S., mixing into a Nor'easter off the northeast coast. While combinations of weather systems aren't unusual, "it's unique to have two such strong storms combine to make one such potentially historic storm," Masters said in a phone interview.
As of 5 p.m. Thursday, the MTA had not issued any service change advisories for subway and bus transportation, but the Dept. of Sanitation has suspended alternate side parking rules for Friday.
There is a coastal flood warning effect for part of Long Island and New York Harbor on Friday, with storm surges potentially reaching between 3 and 5 feet on Friday afternoon.
© Copyright IBTimes 2023. All rights reserved.
FOLLOW MORE IBT NEWS ON THE BELOW CHANNELS