Bobby Petrino: Jessica Dorrell Scandal May Not Mean an End to Former Arkansas Coach's Career [Analysis and Timeline]
Bobby Petrino, former head coach of the University of Arkansas football team, was fired on April 10 for what the school's athletic department called a pattern of misleading and manipulative behavior associated with staffer Jessica Dorrell, a former Arkansas volleyball player who was revealed to have had an inappropriate relationship.
Petrino's relationship with Dorrell included giving her $20,000 and fast tracking her for a position on the Arkansas football staff ahead of hundreds of other candidates. Their relationship also included hundreds of phone calls and thousands of text messages over a six-month period.
Their affair came to light when the pair was on Petrino's motorcycle when the coach lost control of the bike sending it tumbling into the brush, fracturing vertebrae and cracking ribs. Dorrell was not hurt in the accident, but her presence was mentioned on the police report of the accident.
The news sent shock waves through the state of Arkansas and college football. Petrino has been regarded as a savior to the program, and was expected to be a major presence at the university for several years.
Despite all that has happened to Petrino, one of the elder statesmen of college football still believes that he will be back sooner rather than later.
Winning means a whole lot, former Florida State coach Bobby Bowden told USA Today on Friday. If (Petrino) had been a losing coach, you could forget it. He'd be through. But the guy is a proven coach, and if he can sincerely convince somebody that he made a terrible mistake and will never do it again, somebody will give him a chance. ... Of course, you're going to have to have a president or a board of trustees who is willing to forgive you.
Indeed, many disgraced college coaches have found jobs following a public scandal. Jim Tressel became a consultant for the Indianapolis Colts following his resignation from Ohio State for committing major NCAA violations.
Jim Harrick was fired as the UCLA men's basketball coach for reporting false expense reports. Harrick would later move on to the University of Rhode Island and then Georgia.
Petrino's case may have been more public than Tressel and Harrick, but there are so many football positions at the collegiate and professional ranks that many institutions are likely to look past his previous transgressions and give him another chance.
Petrino was hired by Arkansas in December of 2007 in one of the ugliest incidents in coaching history. He was the head coach of the Atlanta Falcons when Arkansas came calling. Petrino took the job, but instead of waiting until the end of the season, he jumped ship from the 3-10 Falcons in midseason. His players found out about the departure through a form letter that was dropped in their lockers.
Petrino was excellent at Arkansas. He brought them to the cusp of the top 10 in the 2010-11 season and was rewarded with a seven-year contract extension. Arkansas qualified for the Sugar Bowl in only his third season.
At the start of the 2011-12 season, Petrino was the head coach of a team that was a dark horse pick to win the SEC.
During that season, his affair with the 25-year-old Dorrell began. The pair exchanged 91 text messages on Sep. 13, 2011.
The season ended on the highest of high notes when the Razorbacks beat Kansas State in the Cotton Bowl on January 6, 2012, and things were going well for Dorrell and Petrino. The coach was in the process of helping his mistress move from her job as a fundraiser for a booster organization, to her position within the football team.
Also at this time, Dorrell was ending a relationship of her own. At some point, she had been engaged to another member of the athletic department, Josh Morgan, who served as a strength and conditioning coach for the swimming and diving teams.
Dorrell claimed that she had ended the relationship before her affair with Petrino came to light, but the pair was still registered for a June wedding on the day the scandal broke.
On March 28, 2011, Petrino announced the hiring of Dorrell as the student athlete development coordinator for the football team. Four days later, on April 1, the pair was involved in a motorcycle crash that brought the entire story to light.
By April 10, Petrino was fired, and by April 17 Dorrell had resigned her position with the athletic department, as well. On April 23, Arkansas put the entire affair in the rearview mirror when the announced the hiring of John L. White as interim coach.
Here are some photographs of Petrino, his wife Becky, Dorrell, and Dorrell's ex-fiance.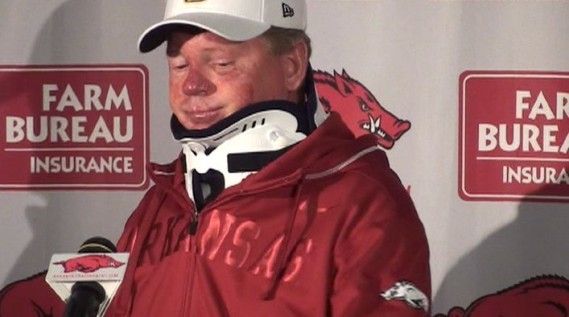 © Copyright IBTimes 2023. All rights reserved.
FOLLOW MORE IBT NEWS ON THE BELOW CHANNELS