Bobby Petrino Nude Photos: Former Coach Reportedly Sent Jessica Dorrell Naked Pictures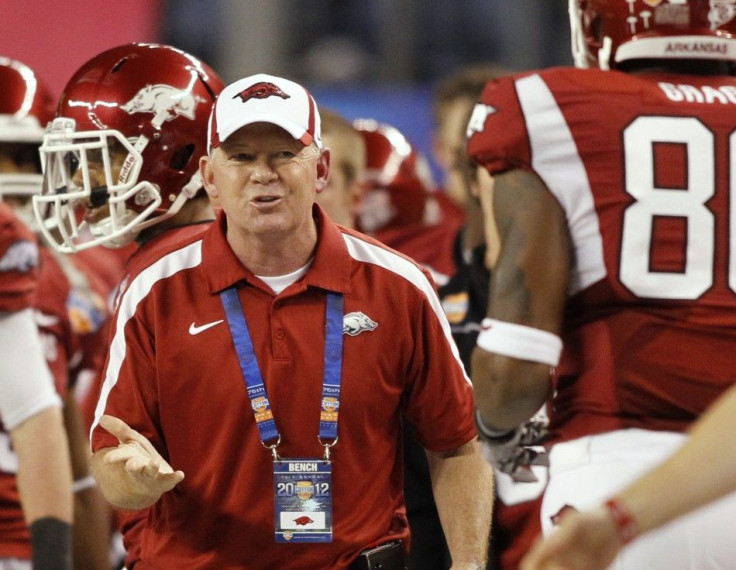 It doesn't seem things can get any worse for Bobby Petrino, but reports say the most shocking details of the University of Arkansas football coach's scandal are still to come.
Last week, it was revealed that he was cheating on his wife with an Arkansas employee. A few days later, he was fired as the Razorbacks' head football coach.
Now, reports say naked pictures of the coach may soon be released.
According to Clay Travis of outkickthecoverage.com, nude photos of Petrino could be floating around.
Bobby Petrino nude photos are coming, Travis tweeted. Prepare yourselves. He Favred himself.
Travis, of course, is referring to the Brett Favre scandal that shook the NFL in his final season. The quarterback allegedly sent picture of his genitals to a New York Jets employee.
If Petrino indeed did send his mistress Jessica Dorrell nude photos of himself, it would be very hard for him to ever get a job as a head coach somewhere else. He's performed very well on the college level, going 34-17 in four seasons at Arkansas. Some schools may be able to overlook his infidelity, but naked pictures might be too much.
Petrino says he's not focused on getting another job. His main priority his repairing the damage he's done to his family.
© Copyright IBTimes 2023. All rights reserved.