Bolivian Presidency: Most Bolivians Reject Indefinite Re-election For Evo Morales In Poll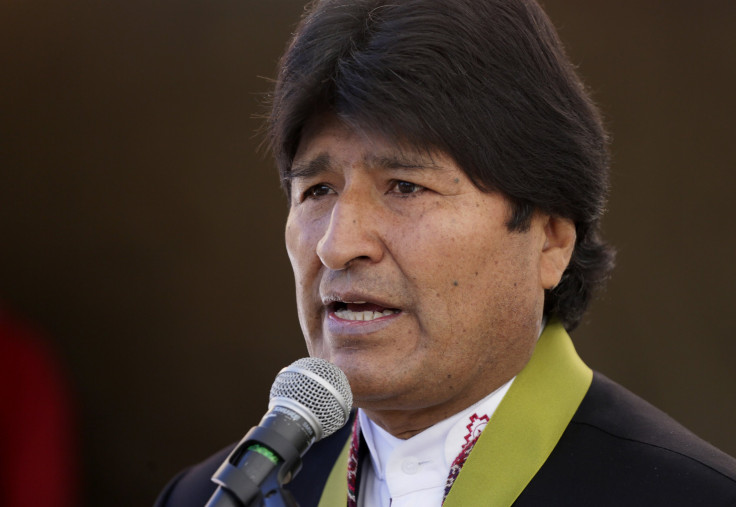 Bolivia's ruling party may be aiming to tear down term-limit requirements for President Evo Morales, but first they'll have to win over a skeptical public. A new survey released this week found a majority of Bolivians are against the idea of potential indefinite re-election for the popular leader.
A survey by Bolivian daily El Deber and the Captura Consulting firm, released Wednesday, showed 52.6 percent of respondents disagreed with changing the constitution to allow Morales, 55 – and future presidents – to eschew presidential term limits. A term is five years.
Only 38.7 percent said they supported a constitutional amendment. The survey tracked responses for 900 people across four Bolivian cities -- Santa Cruz, Cochabamba, La Paz and El Alto.
Members of Morales' political party, the Movement for Socialism (MAS), have been pushing to forge a path toward allowing the president to run for re-election indefinitely, starting with the next presidential election, in 2019. Morales, with an approval rating of 76 percent, is one of the most popular presidents in the region and the world. Since he took office in 2006, Bolivia has become one of the fastest-growing economies in Latin America and seen dramatic reductions in poverty levels.
But he is already flouting the norm: After serving two five-year terms, Morales secured a third presidential term in a landslide re-election victory in October, while the constitution allows for only two terms. A controversial court decision in 2013 allowed him to run, based on the argument that a constitutional rewrite during his presidency reset the clock on his term limits. Morales is now on track to be the longest-serving president in Bolivia's history once he finishes his current term, in 2019.
In recent weeks, politicians from MAS began mobilizing a campaign to clear legal and political hurdles toward Morales' re-election, including gauging their chances at passing a referendum to change the constitutional rules. The recent survey, however, indicates that such a referendum would not fare well.
Morales' supporters in the party say there's no one else on their short list to run for office in the next election. "Comrade Evo asked us to search for other leaders. We have done it, and we haven't found any," Senator Nélida Sifuentes told Bolivian daily El Dia last month. Meanwhile, opposition leaders, already angered by the 2013 court decision, are vehemently pushing back against such a change.
Morales has said he will abide by the popular will. "If the people say the constitution must be changed, I will obey," he said in an interview this week with German newspaper Deutsche Welle. "I'm very satisfied at the moment, I have no personal pretension."
© Copyright IBTimes 2023. All rights reserved.