Booking Roman Reigns' Title Split Involving Sami Zayn, Cody Rhodes At WrestleMania 39
KEY POINTS
Cody Rhodes won the right to challenge Roman Reigns for the titles at WrestleMania
Sami Zayn turning on The Bloodline presents WWE with a once-in-a-lifetime moment
This possible ending sets up a big feud between Reigns and Jey Uso at SummerSlam
All eyes are set on the bright lights of WrestleMania 39 after Rhea Ripley and Cody Rhodes were crowned as the winners of the women's and men's Royal Rumble matches respectively.
While Ripley is dead set on winning the SmackDown Women's Championship from Charlotte Flair as she revealed on the post-Rumble episode of WWE Raw on January 31, Rhodes' journey to dethroning Roman Reigns remains unclear.
Complications arose in the eyes of WWE fans after Sami Zayn turned on The Bloodline faction following Reigns' undisputed WWE Universal title match against Kevin Owens in the main event.
With Zayn's newfound status and Reigns earning nuclear levels of heat from the fans, it now becomes a question of how WWE can feasibly split his titles at the "Show of Shows".
WWE's big pay-per-view before WrestleMania 39 is the Elimination Chamber event which is happening in just about two weeks' time on February 18 in Montreal, Quebec, Canada.
The company can opt to have Reigns on the card, but in a limited capacity as they aim to keep him healthy, which will likely lead to a six-man tag team match pitting him, Jimmy Uso, and Solo Sikoa against Zayn, Owens and Jey Uso.
Jey Uso deciding to leave The Bloodline after their beatdown of Zayn at the Royal Rumble will surely be addressed on the coming episode of SmackDown on Friday, February 3 and will have both Zayn and Owens support him before offering a challenge to The Bloodline at the pay-per-view.
The outcome of the match will likely see Zayn, Uso, and Owens pick up the victory, further driving Reigns back into the vicious on-screen character that he was early in his run as the Tribal Chief.
An incensed Reigns can then continue to torment Zayn over the next few weeks via Sikoa while the threat of Rhodes coming after his titles hangs over his head.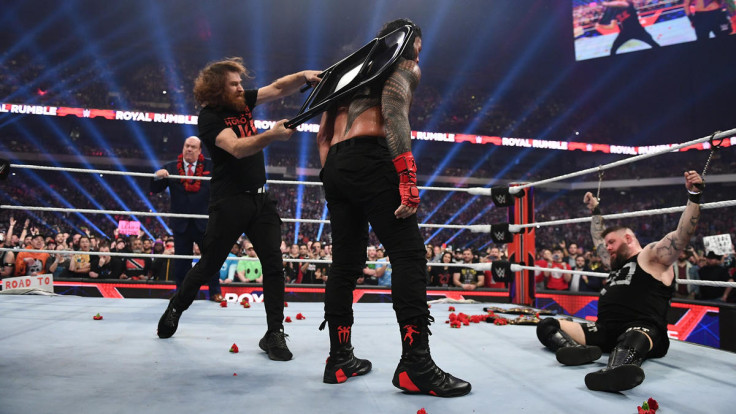 Zayn, finally having enough of Reigns, then accepts his challenge for a match at WrestleMania, but Rhodes interrupts him right after accepting.
Rhodes, now also in the ring, can then invoke his status as Royal Rumble winner to overrule Zayn.
Then in all of his bravado and the chance to take down two pesky birds with one stone, Reigns appears on the entrance ramp to tell both men that he wants to face them both in the main event of WrestleMania 39.
Because of the heightened tension, WWE chief content officer Triple H makes an appearance and announces that both of Reigns' titles will be up for grabs in a triple threat ladder match with both titles on the line.
Fast forward to the climax of the event, Reigns is down outside of the ring while Zayn and Rhodes are fist-fighting each other on top of two ladders placed side-by-side underneath the titles.
As Reigns attempts to slide back into the ring, Jey Uso comes out from under the ring and desperately holds on to his legs as Zayn and Rhodes remain atop the ladders.
With the climax building to a crescendo, Zayn and Rhodes make last-ditch attempts to unfasten the belts while Reigns struggles against Uso.
Then it finally happens: Rhodes falls down the ladder on his back with the WWE Championship while Zayn does the same, but with the WWE Universal Championship in hand—thus ending Reigns' run at just short of 1,000 days.
This ending does a couple of things for everyone involved.
Rhodes finally earns his first-ever run with the WWE Championship, Zayn's star reaches previously unreached heights, and Reigns is left title-less while keeping his streak of being unpinned completely intact.
Other details like the logistics of which superstar's theme song gets to be played first and who gets the big-money shot from the cameras while confetti falls around them can be determined as WrestleMania draws closer.
While it can be argued that this waters down Rhodes and Zayn's achievements of dethroning Reigns, it is a highly viable option for WWE to have the long-awaited split take place.
This now leaves Reigns directing his anger at Uso, leading to a rehash of their 2020 feud in a three-month program that ends at SummerSlam with "Main Event" Jey Uso winning.
WWE crowning its most prized free-agent acquisition and the longtime fan-favorite simultaneously, while setting up the ultimate fall of The Bloodline with Uso and Reigns' SummerSlam feud, has all the makings of an all-time great moment.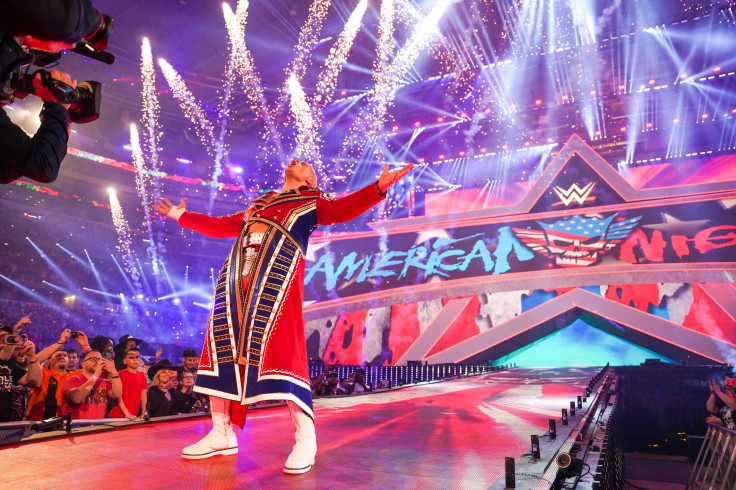 © Copyright IBTimes 2023. All rights reserved.