Boston Celtics As The Next Super Team? Paul George, Gordon Hayward, Blake Griffin Make It Possible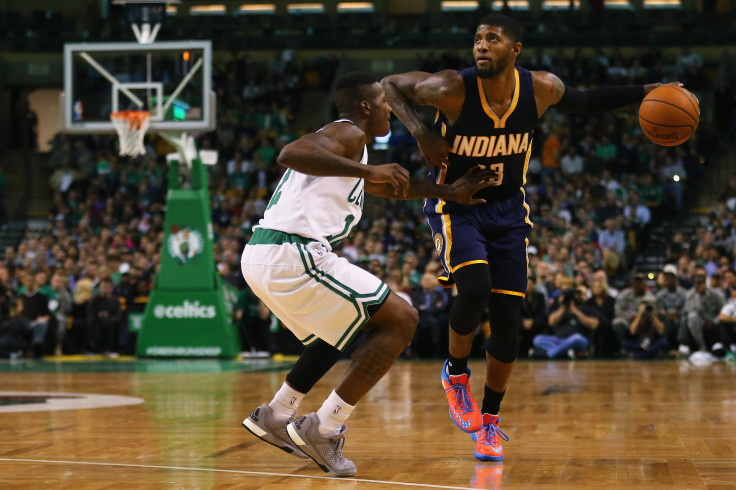 With the Golden State Warriors and Cleveland Cavaliers meeting in the NBA Finals for three straight years, it seems to be inevitable that they will dominate the league yet again in 2018. That is unless another organization can form a third "super team."
The Boston Celtics are in a better position than anyone to put together a legitimate championship contender, and they have their eyes set on doing just that. The team might be days away from signing Gordon Hayward or Blake Griffin in free agency and completing a trade to acquire Paul George.
READ: Blake Griffin, DeAndre Jordan Could Be Gone From Clippers After Paul George Trade
That's Boston's plan, anyway, according to The Vertical's Adrian Wojnarowski. The Celtics can create enough salary cap space to offer a free agent a max contract, and they have more than enough assets to come to an agreement with the Indiana Pacers. Team president Danny Ainge has spent the last few years stockpiling draft picks and young players to help Boston eventually acquire multiple superstars, and now is the time for the Celtics to make their move.
Executing that plan is no guarantee, and doing so comes with plenty of risk. George is entering the final year of his contract, and he has intentions of signing with the Los Angeles Lakers in the summer of 2018. The Celtics might be forced to trade Avery Bradley and Jae Crowder, two starters, as well as a first-round draft pick, in order to acquire a player that could be gone in a year.
In order to keep their payroll low enough to have the ability to sign Hayward, Boston hopes to trade for George after they sign the Jazz star. Hayward is scheduled to take meetings with teams until Monday, according to The Salt Lake Tribune, giving other teams like the Cavaliers, Lakers and Houston Rockets time to increase their offers and potentially steal George out from under them.
Hayward will reportedly meet with the Miami Heat Saturday and Utah Monday. The Jazz can offer him a five-year contract, while the Heat and Celtics are only allowed to give him four years guaranteed.
The ability for Hayward to potentially team up with George and join a 53-win club, however, is something that neither the Heat nor Jazz can offer. Both players made the 2017 All-Star team, and they could turn the Celtics into a legitimate championship contender.
Hayward is Boston's top target, but he isn't the only impactful free agent available. If they strike out in trying to land Hayward, they are expected to go after Griffin.
LeBron James has dominated the East for the last seven years, reaching the NBA Finals in each season since 2011. But even he might be concerned about Cleveland's chances if Boston acquired George.
"The Cavs were on pins and needles yesterday about the Celtics getting Paul George or Jimmy Butler," said ESPN's Brian Windhorst on Zach Lowe's "The Lowe Post" podcast in February. "Pins and needles."
Cleveland was worried that the Celtics might add George a few months ago. How will they feel if Boston gets Hayward or Griffin in addition to George?
The Cavs' pursuit of George is another indication of just how good they think the Pacers' forward is. The team believes that he might be the missing piece that can help them upset a Warriors team that was just about unbeatable in the playoffs. They are even willing to trade Kevin Love, who is under contract for three more seasons, and risk losing George in free agency next year.
If George goes to Boston and the Celtics are able to win the 2018 NBA Finals, there's no doubt that the team would have a shot to convince him to sign an extension. Boston could give him more money than anyone else, as well as the chance to win multiple titles.
Following their acquisition of Chris Paul, there's been talk of the Rockets becoming the next super team. They are reportedly hoping to land either George or Carmelo Anthony and form their own "Big 3."
READ: Carmelo Anthony More Likely To Stay With Knicks After Phil Jackson's Firing
Houston, however, has very few assets after completing their trade with the Los Angeles Clippers. Their best hope might be to sign Anthony if he can secure a buyout with the New York Knicks, though Cleveland would be the favorite to sign Anthony as a free agent.
The combination of George, Hayward, Isaiah Thomas and Al Horford might still not be good enough to warrant the term "super team." The argument can be made that none of those players rank among the top 10 in the league, and they certainly aren't in the same class as transcendent stars like LeBron James, Kevin Durant and Stephen Curry,
But with all of the assets and cap space that the Celtics possess, the ability to create a true challenger to the Cavaliers and Warriors is largely in their hands.
© Copyright IBTimes 2023. All rights reserved.