Boston Marathon 2012: 10 Things To Know About Kathrine Switzer, Women's Running Pioneer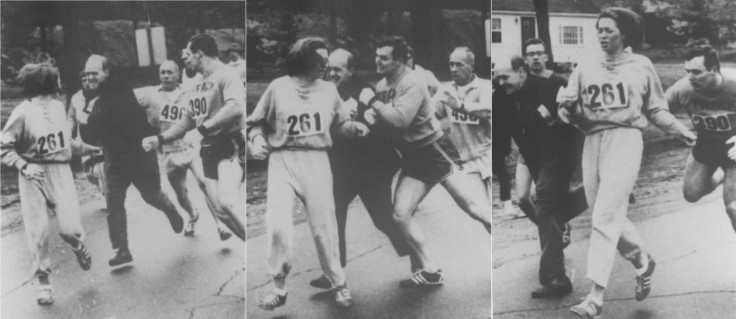 Kathrine Switzer, who became the first woman to officially enter the Boston Marathon in 1967, will be commentating on the race for her 30th consecutive year. She made her first televised commentary on the race back in 1979, according to her website, kathrineswitzer.com.
Can you imagine? Switzer said to ESPNW. It's really been amazing. I've broadcast every televised edition of the Boston Marathon.
But what has arguably been just as amazing, though, is the longstanding impact Switzer's mere presence in the 1967 race has had. As a result, in 1972, women were officially allowed to compete in the Boston Marathon, and then, in 1984, a women's marathon was included in the Olympics.
More importantly, however, it generated the gradual acceptance of women as not only runners, but also athletes.
The idea of running long distance was always considered very questionable for women because an arduous activity would mean that you were going to get big legs, grow a mustache and hair on your chest and your uterus was going to fall out, Switzer told makers.com.
Now, it's been 45 years since Switzer's race (which she finished in four hours and 20 minutes, despite her time being recorded as unofficial) that changed the landscape in women's distance running forever. And this time, Switzer, who plans to run the Boston Marathon in 2017, the 50th anniversary of her first race there, will be a spectator for the 2012 race as 2011 Boston Marathon winner Caroline Kilel from Kenya defends her title.
Here are 10 things you need to know women's running pioneer, Kathrine Switzer:
Switzer grew up playing field hockey up until her time at Lynchburg College in Virginia
Since Switzer loved sports but didn't feel she could participate on a professional level, she decided to become a sports journalist and transferred to Syracuse University in 1966.
After running her first Boston Marathon, Switzer returned to Syracuse University to from the Syracuse Track Club, encouraging women to join.
Switzer was the winner of the 1974 New York City Marathon, with a time of 3:07:29
Switzer's personal best time for the Boston Marathon is 2:51:37 in 1975, where she placed second
Switzer created the Avon Running Global Women's Circuit in 1977, a series of running events for women in multiple countries.
Last fall, she ran the Berlin Marathon in 4:36.
Switzer was inducted into the National Women's Hall of Fame in 2011.
Switzer lives in New Paltz, N.Y., from April until the New York City Marathon in November. Then she and her husband, Roger Robinson, go to New Zealand for the winter.
Switzer has run at least 35 marathons to date
© Copyright IBTimes 2023. All rights reserved.