Boston Market Closures: Will The Struggling Restaurant Chain Make A Comeback?
Restaurant chain Boston Market is closing 45 locations throughout the U.S., including two in its namesake city of Boston. The company is known for its home-style food.
Boston Market has struggled over the years, filing bankruptcy in 1998 and then being acquired by McDonald's Corp. in 2000. In 2007, the restaurant chain found new ownership with Sun Capital Partners Inc.
Boston Market closed six locations on June 30 and another 39 restaurants on July 7, after notifying employees and offering them the opportunity to work at another restaurant location or providing severance pay, Mass Live reported.
CEO Frances Allen said in a letter to employees on Monday that Boston Market had to make "some difficult decisions," as it conducted a business analysis and negotiated with landlords, the news outlet reported.
"We must take steps to ensure our operational structure will support long-term sustainability," Allen wrote in her letter. "Part of that effort involves continuously analyzing our geographic footprint and real estate portfolio to assess the ongoing viability of locations.
"The dynamics of geographic areas can change dramatically over time, sometimes impacting the performance of a location. Similarly, when leases are up for renewal, we must decide whether to renew the lease or exit the location," she added.
The letter reportedly went on to explain to employees that the restaurant's closures were due to the changes in the industry that included increasing competition and costs and a shift in customer preferences.
"Our success is not going to be measured by the number of stores; it's going to be driven by and measured by our ability to execute on our agenda," Allen concluded in her letter.
The company's sales earnings for the fiscal year ending in December 2018 were $557.8 million, down 1.3 percent from its $565.3 million reported in fiscal 2017 with a revenue of $546.5 million for fiscal 2018, down 1.7 percent from fiscal 2017's $555.7 million, Nation's Restaurant News reported.
To keep up, with the evolving restaurant market, Boston Market has undergone a new branding strategy, adopting mobile ordering, new menu options, and a sandwich throwdown promotion. The company has also added a loyalty program and beefed up its social media presence as part of its transformation plan.
Boston Market's started as Boston Chicken in 1984 in the city of Newton, Massachusetts. Over the next decade, the company changed its name to Boston Market.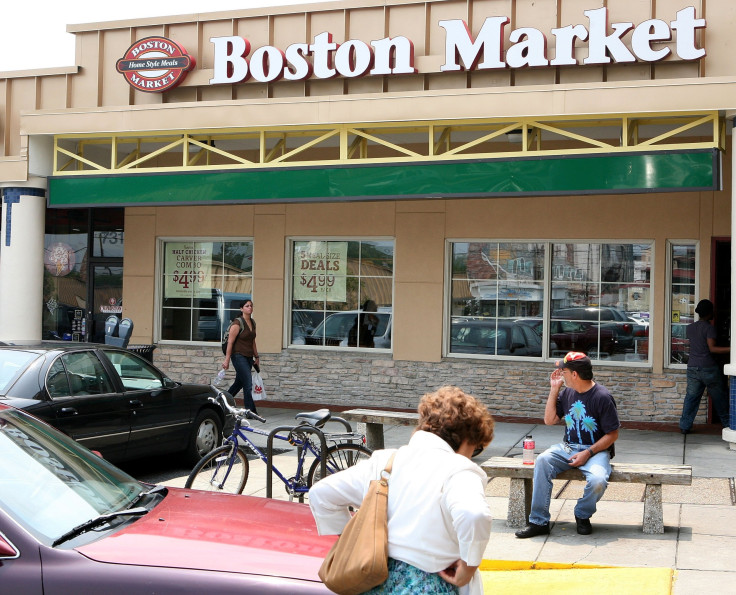 © Copyright IBTimes 2023. All rights reserved.