Boxing News: Caleb Plant Traded Hands With Canelo Alvarez In Chaotic Press Conference
KEY POINTS
Caleb Plant suffers cut from a scuffle with Canelo Alvarez in a face-off
Plant is clueless why Alvarez reacted to the same words the Mexican used on Andrade
Alvarez will face Plant in a world title unification this coming November
There are big stakes in the upcoming Saul "Canelo" Alvarez vs. Caleb Plant unification bout, and a preview of it happened at a chaotic press conference over at the Beverly Hills Hotel in California on Tuesday, September 21.
Alvarez and Plant are slated to face each other in a unification bout on November 6 at the MGM Grand Garden Arena in Las Vegas.
The Mexican boxing superstar will defend his WBC, WBA and WBO super middleweight titles against unbeaten IBF champion Plant.
The two boxing champions exchanged blows after a face-off. Plant called Alvarez a "motherf---er," and this ticked the Mexican off.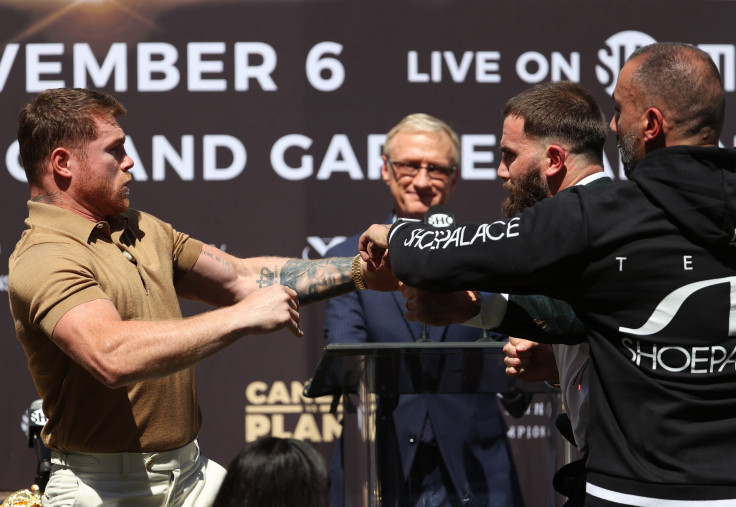 Alvarez shoved Plant, and the latter retaliated by coming forward and throwing a left hook. The 31-year-old was able to dodge it and throw some countershots of his own against the undefeated American boxer, the Associated Press reported.
"He started talking a lot of things," Alvarez said via ESPN. "I answered. Then the bad thing he said, 'You motherf---er.' You can say whatever you want to me, but not to my mother. My mother is not here."
Plant got the raw end of the exchange, suffering a cut under his right eye. Alvarez did not escape unscathed as well, bleeding from a cut in his left forearm.
As far as the 29-year-old champion is concerned, he does not understand why Alvarez took exception to his choice of words.
Plant pointed out how the Mexican used it against Demetrius Andrade at a press conference last May.
"Wasn't he saying that?" Plant said. "But now all of a sudden those words mean something completely different? ... Now all of a sudden I'm talking about his mama? C'mon man. That don't even make no sense."
Plant went on to throw proverbial jabs at Alvarez, including that of taking illegal substances.
"He may be upset with me, but there's no need to be upset with me. He should be upset with himself. There's nothing I've done. These aren't by my rules and my standards," Plant stressed.
Someone who admires both Alvarez and Plant is decorated amateur boxer Cam F. Awesome.
In an appearance on Sports Bytes Philippines opposite Brian Yalung, Vincent Juico and Rica Aquino, the boxer-turned actor gave his take on the Alvarez vs. Plant unification fight.
"I'm going to go 100% Caleb because he is my friend. I support him and I know him," Awesome stated.
"I always thought of him (Alvarez) as a stereotypical, like a Mexican fighter. I never really gave him a chance, to look at him to see how a multidimensional fighter he is. And in the last few fights, I've actually taken the time to not be biased and look at him. He is actually winning me over. And I'm a Canelo fan… but not over my friend Caleb."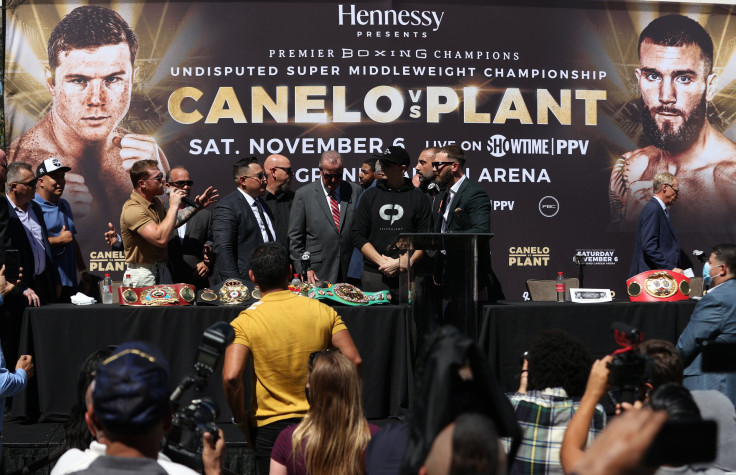 © Copyright IBTimes 2022. All rights reserved.
FOLLOW MORE IBT NEWS ON THE BELOW CHANNELS