Boxing News: Manny Pacquiao Reveals The Time When He Almost Took His Own Life
KEY POINTS
Manny Pacquiao admits that his life changed when he became a Christian
Pacquiao bares that he thought of taking his own life due to his dark past
Pacquiao will run for president in the Philippines next year
Manny Pacquiao has practically done it all and is one of the more accomplished athletes in the world.
But similar to other personalities who have accomplished so much, there will be those dark moments.
Speaking to Filipina celebrity Toni Gonzaga on her YouTube show, the 42-year-old admitted that there was a time in his life when he entertained thoughts of suicide.
Pacquiao explained that the reason behind it was due to his habits and the things he went through before shooting up to fame.
"I was reading this book called '[The] Purpose-Driven Life' and I would read the Bible too," Pacquiao shared on Toni Talk. "I felt like ending my life at that moment because I was repenting for my sins. I was alone in my room and I was crying uncontrollably. I asked myself what I should do. 'Lord am I not worthy?' If I could just turn back time and undo all I've done against you."
For those who know Pacquiao well, his life was not always perfect. During his younger years, he has a history of struggling with alcohol and gambling. He even considered himself a womanizer.
But turning to his devotion to religion helped boxing's eight-division champion overcome all that.
"I felt small. I was on my knees, face to the ground, while I was alone," Pacquiao said. "When I hear the word of God, I feel so happy."
As a child, Pacquiao had his share of struggles in his hometown of Kibawe, Philippines. He was lucky to eat once a day and would often get into fistfights.
All this was detailed in his autobiography, "Pacman: My Story of Hope, Resilience, and Never-Say-Never Determination."
At the age of 16, Pacquiao left his family and headed to Manila to train as a boxer. It was here where his life took a turn for the better.
From there, he ventured into other things such as show business and politics.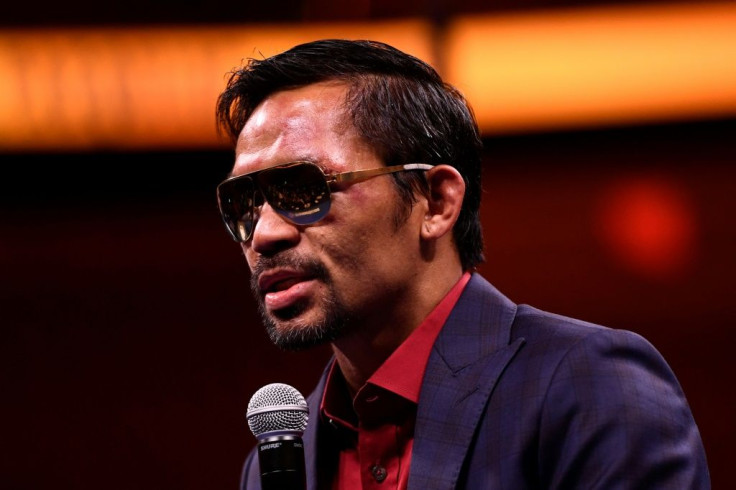 Pacquiao will be taking on a new challenge after announcing he would run for the Philippine presidency in 2022.
If you have thoughts of suicide, confidential help is available for free at the National Suicide Prevention Lifeline. Call 1-800-273-8255. The line is available 24 hours, every day.
© Copyright IBTimes 2023. All rights reserved.