Boxing Rankings 2015: Where Canelo, 'GGG,' Pacquiao Rank In Pound-For-Pound Top 10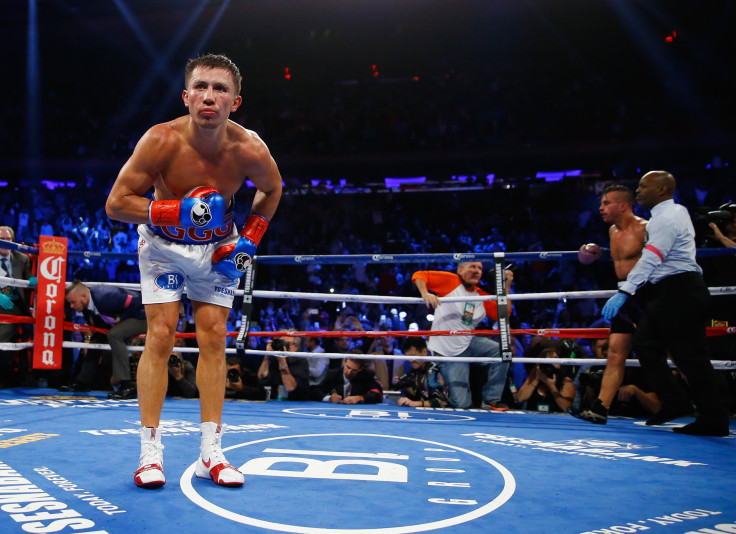 Canelo Alvarez outpointed, outboxed, and largely outclassed Miguel Cotto for the 46th victory of his career, earning a unanimous decision and reclaiming several of boxing's most esteemed belts while declaring after the bout: "Now it is my era."
Certainly with two victories this year and four straight since the sole loss of his career to undefeated and recently retired Floyd Mayweather Jr., Alvarez still belongs in the ever-evolving discussion of boxing's best pound-for-pound fighters.
Yet while Mexico's latest sensation enjoys his first appearance on our rankings, slotting in at No. 5, the top overall spot belongs to someone else. Indeed, there is a good chance that the young star might find himself in the ring with the best boxer alive, Gennady "GGG" Golovkin, in 2016.
Meanwhile, veteran heavyweight Wladimir Klitschko defends not only his title but his legacy when he takes on the towering Tyson Fury on Saturday in Germany. The Ukranian remains in boxing elite, and belongs with the best in boxing.
Below is a top 10 list of boxing's best pound-for-pound fighters in 2015.
1) Gennady "GGG" Golovkin 34-0 (31 KOs), middleweight His age, 33, might leave a small window for challengers to knock him off the top at the peak of his powers. But first they have to agree to fight a man who's secured 21 straight knockouts. No boxer on this list has a better power punch, and Golovkin also has a great chin.
2) Roman Gonzalez 44-0 (38 KOs), flyweight Securing his third consecutive victory this year and 44th overall, the 28-year-old Nicaraguan stands above the rest of the flyweight division and nearly everyone else in the sport. "Chocolatito" has exceptional power with both hands, as demonstrated by his 10 consecutive wins by TKO.
3) Andre Ward 28-0 (15 KOs), super middleweight One of only three Americans on the list, Ward was limited to one fight this year due a knee injury nixing his undercard appearance at Alvarez-Cotto. At age 31, he is a dominant fighter who is brilliant at dictating the tempo. A victory over Sergey Kovalev or GGG might put him in contention for the top two. There's also the possibility of fighting Golovkin in 2016.
4) Wladimir Klitschko 64-3 (53 KOs), heavyweight Former great Lennox Lewis says Klitschko needs the WBC belt for a "perfect" career, and that means stepping into the ring with raw and talented Deontay Wilder in 2016. But sending Tyson Fury to the mat on Saturday will keep the Ukranian in the pound-for-pound discussion for quite some time. Klitschko is probably the smartest boxer on this list.
5) Canelo Alvarez 46-1-1 (32 KOs), middleweight Taking on and beating stronger opponents like GGG or the next guy on this list will allow Alvarez to rocket up boxing's current and all-time rankings. At age 25, the slugger will arguably be the biggest draw in 2016.
6) Manny Pacquiao 57-6-2 (38 KOs), welterweight Unlike Mayweather, Pacquiao continues his career amidst questions about the shoulder injury that cost him the biggest fight of his career. He also needs to string together wins, rather than a 3-3 mark in his last six fights. But even at age 36, the talent and heart are still there.
7) Sergey Kovalev 28-0-1 (25 KOs), light heavyweight His next opponent, Jean Pascal, is one of only two fighters to last past the fourth round with the Russian. A potential matchup with Ward next year could decide the rest of both fighters' careers and legacies. Kovalev has proven to be among boxing's most talented boxers since his impressive efforts in 2014.
8) Guillermo Rigondeaux 16-0 (10 KOs), super bantamweight The Cuban-born Rigondeaux receives too many knocks for his defense-first style, but it could afford him stronger opponents who don't fear a knockout in the future. He is 35 years old, but has shown no sign of slowing down.
9) Terence Crawford 27-0 (19 KOs), welterweight His two fights this year resulted in TKOs and Crawford's third and fourth straight title defenses. Murmurs of a potential showdown with Pacquiao could be just what Crawford needs to join the welterweight division's elite.
10) Keith Thurman 26-0 (22 KOs), welterweight The 27-year-old still needs a signature victory and may have it next year against Shawn Porter. The Florida native will likely move up this list should he continue his current pace.
© Copyright IBTimes 2023. All rights reserved.