Boxing Rumors: Hearn Working On Negative Perception Of Close-Door Fights
KEY POINTS
Anthony Joshua next fight could be held indoors
Hearn working on renewed perception of indoor fights
Hearn aware big money will be lost in the coming months
Anthony Joshua was all set to face Kubrat Pulev in the summer but those plans have now been shelved due to the COVID-19 pandemic. The resumption of fights remains up in the air although the British Boxing Board of Control is set to meet next week to discuss if it would be feasible to restart by June.
Eddie Hearn is committed to delivering the best fights that can reel in revenue. But even he admits that the coronavirus may have placed things beyond his control. Hence, there is a possibility that he may be forced to send Joshua overseas for the boxer to get better chances of resuming his boxing career, IFL TV reported.
However, there is a catch to it all. As most know, staging events where there is a multitude of fans watching is unlikely to happen for some time. That said, Joshua's next fight could be held indoors and such is a reality that Hearn has to deal with. He knows the importance of having an audience but with constraints in the air, he admits that they may have to bite the bullet for the meantime.
"I want to give ourselves every opportunity to stage an AJ fight in front of a crowd. We may have to bite the bullet and say he's only going to box once this year," Hearn said.
If this is the scenario he has to work with, Hearn has set a target date for Joshua's return. September would be the earliest and October the latest. If AJ goes beyond that, it would mean that the boxing champion would be left idle for over a year. Joshua last faced Andy Ruiz in December, a rematch which he won via unanimous decision in Saudi Arabia, Sky News reported.
"I'm not going to hold his career up for a year, so we've got to do what we've got to do," Hearn said.
As far as boxers reluctant to fight indoors, there is at least one who could care less. Dillian Whyte is willing to take the risk despite the COVID-19 virus in the air. The 32-year-old was originally scheduled to face Alexander Povetkin this May in Manchester. Hearn is interested in making that fight but only once the lockdown is lifted.
The reality of it all is that big fights cannot be held in closed doors but Hearn is trying to work around that perception. He knows that time is running and money is being lost. But rather than wait, Hearn prefers to try and come up with something to get boxing up and running again. So far, nothing has been placed on the table.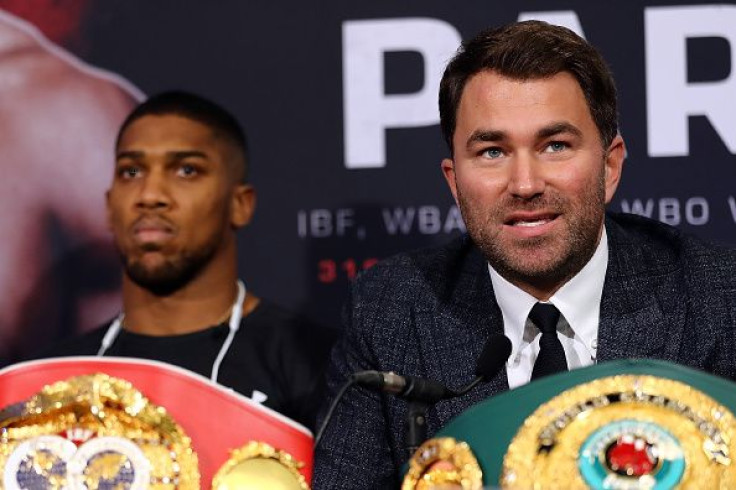 © Copyright IBTimes 2023. All rights reserved.