Brazil Presidential Elections: What To Know About Dilma Rousseff's Re-Election Campaign Against Marina Silva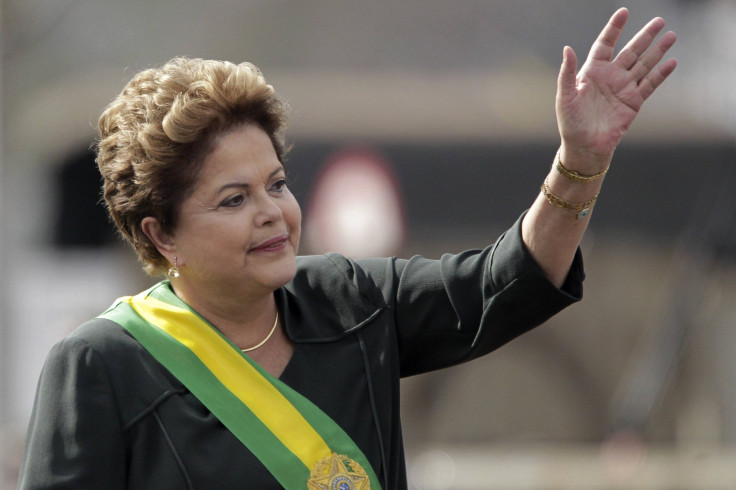 Brazil, South America's largest economy, votes in presidential and governmentwide elections on Sunday. President Dilma Rousseff is running for re-election against 11 candidates that could send the race to a runoff election at the end of October. Here's what you should know about the elections.
The first round of elections is Oct. 5. Brazilians will vote for a new president, a national Congress, governors and state legislatures. A candidate must win over 50 percent of the vote to avoid a runoff, but a poll taken Monday and Tuesday gives front-runner Rousseff 40 percent of the vote. She's expected to go into a runoff election on Oct. 26 with Marina Silva of the Brazilian Socialist Party, who polled with 25 percent of the vote. The latest runoff poll by Datafolha puts Rousseff a comfortable eight points ahead of Silva, 49-41.
The two most viable candidates are women. Rousseff and Silva, the former environmental minister, are both former disciples of the massively popular Workers' Party founding member, Luiz Inácio Lula da Silva. Lula, as the former president is called across Brazil, supports Rousseff. She is part of Lula's Workers' Party and has been president since 2011. Lula chose Rousseff to succeed him. An economic downturn and the largest protests in over 20 years saw her approval ratings drop from 73.7 percent in June 2013 to a low of 45 percent a month later. Many Brazilian protesters blamed her for the country's recent economic stagnation and for Brazil's massive 2014 World Cup spending campaign.
Rousseff is popular with poor and middle-class voters. They have benefited the most from government programs that she supports and have seen a rise in living standards during her presidency. Experts believe that Lula's recent late-stage campaigning reminded voters why they chose Rousseff in 2010 and helped her poll numbers. Others say that Rousseff's surge is because of a slew of negative ads that her campaign has run against Silva. Rousseff served as Brazil's minister of mines and energy and as Lula's chief of staff before becoming president. She was a radical socialist as a youth and spent time in jail under the military dictatorship between 1970 and 1972.
Silva was the first in her family to learn to read and write. Silva of the Brazilian Socialist Party was originally the vice presidential candidate of Eduardo Campos. Silva took on the party's candidacy after Campos was killed in a plane crash on Aug. 13. Silva is Afro-Brazilian and was born in an Amazonian state to a family of rubber tappers. She was the first rubber tapper ever elected to the Federal Senate in 1994. She served as minister of the environment from 2003 to 2008 under President Lula. She ran for president in 2010 and tried to run again in this election but failed to garner enough signatures to get on the ballot. Campos was only polling in the single to low double digits, but Silva immediately doubled Campos' poll points to a high of 34 percent in late July and early August. Voters sympathized with Silva and saw an atypical candidate removed from the political corruption that so many see in Brazilian politics. She's popular among environmentally conscious youth and the upper class, who disapprove of Rousseff's economics.
There's another candidate who could be a silent contender. Silva's gains nudged the Brazilian Social Democracy Party's candidate Aécio Neves from the second spot in the race behind Rousseff. Neves is the most conservative of the three and wants to bolster the private sector to bring in foreign investments, which he says Rousseff and Lula scared away with too much public involvement in the private market. He is a former governor, currently a senator and the grandson of a former president. Neves has steadily increased his share of poll votes that plummeted when Silva became the Socialist Party's candidate in August. He holds on to 20 percentage points in a poll from earlier this week.
All the major candidates have vowed to relaunch Brazil's stalled economy. Rousseff wants to continue her policies of supporting the lower class and growing middle class with subsidies and payouts. She said she has plans to clean up Brazilian politics, which has dozens of political parties and requires factions to be formed for any significant accomplishments to happen. She'll also try to boost the Brazilian economy with tax breaks and labor reforms. Silva wants to limit spending to less than GDP growth and combat inflation without having to subsidize fuel for Brazilians. She wants the central bank to be independent and for the real to float independent of government interference. Neves wants to streamline the Brazilian government, limit public spending and simplify the tax code, which he says will allow his government to find tax cuts for all classes of Brazilian society. He would raise the minimum wage at the rate of inflation. All candidates would continue funding the Bolsa Família program, which pays out monthly stipends to low-income Brazilians.
There is a lot of uncertainty about who will win. Experts are unsure if the optimism behind Silva can last through a runoff campaign with the well-established Rousseff running against her. Rousseff contends that Silva does not have the experience or support needed to lead Brazil, and Silva's failure to directly answer Rousseff's criticism has turned some voters away from her.
© Copyright IBTimes 2022. All rights reserved.
FOLLOW MORE IBT NEWS ON THE BELOW CHANNELS