Brazil victory over Scotland marred by Neymar Racism row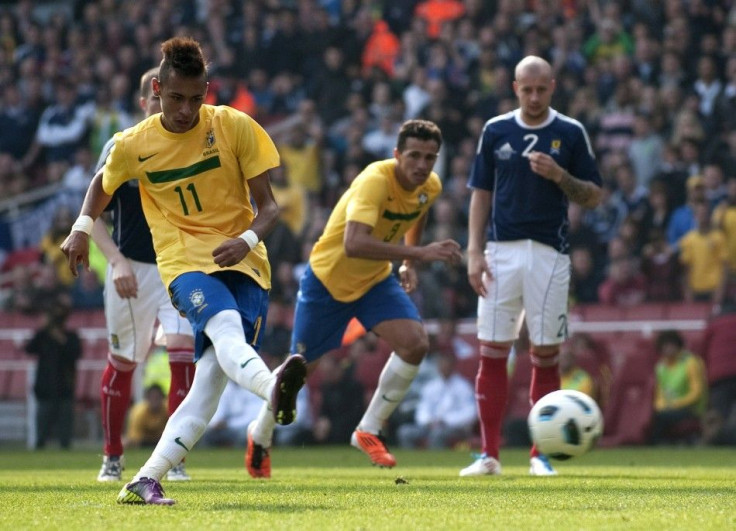 Brazil's friendly victory over Scotland was marred by a racism row over Brazil striker Neymar after a banana was thrown on to the field while he was lining-up a penalty at the Emirates Stadium, London.
Neymar, who scored both the goals in the 2-0 victory, complained about some spectators racially abusing him as did Lucas Leiva who was seen retrieving the banana.
Neymar said, I feel great and scored two but what happened with the banana is sad. I don't want to make a big deal of it. I was running down the touchline in the second half and saw it but I didn't see where it came from.''
Neymar, strongly linked with a move to Chelsea and Manchester City, was speaking to a Brazilian television channel Sportv. He added, They were jeering me a lot, even when I was about to kick the penalty. The entire stadium was jeering. This atmosphere of racism is totally sad. We leave our country to play here and something like this happens. It's sad. I'd rather not even talk about it, to keep the subject from escalating.''
Lucas, who plays for English club Liverpool, said, There is no more space for racism in the world. They say it's the first world here in Europe, but it's where it happens the most. That has to change. Everybody is equal today. It's a matter of respect.''
Since the match was played at a neutral venue, it is not clear which side's supporter, or neutral, threw the banana and the Scottish FA strongly denied claims that the Scottish fans were involved in the row, saying There has been no such incident reported to the police or the stadium safety officer. In fact, the tens of thousands of Scotland supporters who travelled to the Emirates were commended for their behaviour.
The Scotland supporters are known the world over for their impeccable behaviour and we have no reason to believe that, after speaking to the relevant authorities, they have been anything other than exemplary.
The Scotland fans helped create a wonderful spectacle inside the Emirates and throughout London and should be applauded for their support.''
However, the managers of both teams - Brazil's Mano Menezes and Scotland's Craig Levein - both denied seeing the incident.
Menezes said, If it happened, that would be lamentable but it has not been confirmed yet.''
A spokesman for the Tartan Army - the Scottish fans - denied any wrongdoing saying, The reason Neymar was booed was because we believed he was feigning injury. Racism has no place in the Tartan Army, and if it did, it would be stamped out immediately, because we are self-policing. Any suggestion of racism from the Tartan Army today, as far as I am concerned, is absolute tosh. We accept that Brazil played us off the park, and we applauded them for that.''
© Copyright IBTimes 2023. All rights reserved.