Brazil's Rousseff Knew About Bribery Scheme, Senator Says: Magazine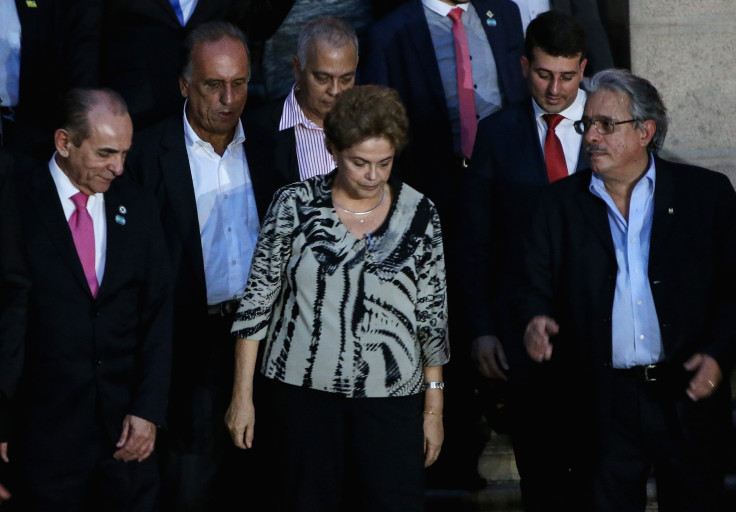 A senator accused of involvement in Brazil's biggest corruption scandal said on Saturday President Dilma Rousseff and her predecessor Lula were aware of it and tried to block investigations, as a poll showed support for her impeachment rising.
In an interview with Brazil's best-selling weekly newsmagazine, Senator Delcidio do Amaral said Rousseff's successful presidential campaigns in 2010 and 2014 were financed with money from the graft scheme.
Amaral was the leader of the ruling Workers' Party (PT) in the Senate and a close Rousseff ally until he was arrested in November on charges of attempting to bribe a former executive of state-run oil company Petrobras in exchange for his silence in the investigation..
He left the party this week after agreeing a plea bargain, one of several deals prosecutors have used to advance their probe.
Amaral's comments may increase the pressure on Rousseff, whose approval ratings have been hard hit by the worst recession in decades and who faces impeachment proceedings in Congress over separate allegations of manipulating budget accounts.
A survey published on Saturday by polling firm Datafolha showed support for Rousseff's impeachment rising to 68 percent, close to the record levels reached in August. Some 65 percent of those polled said the president should resign.
In an e-mailed statement, the presidency denied Amaral's allegations and said Rousseff would take legal action against him.
A spokesman for Lula said Amaral was a defendant trying to get legal benefits and had no evidence of what he told the magazine. Rousseff and Lula have repeatedly denied wrongdoing.
According to the senator, Lula negotiated the appointment of directors at Petrobras on behalf of political parties and was aware of how the parties used their influence over the company for campaign financing via kick-backs from contractors working for the state oil company.
"Lula negotiated directly with parties the appointment of directors at Petrobras and knew how the parties used them, especially in campaign financing," Amaral told Veja, which is critical of Rousseff's left-leaning administration.
"Dilma inherited and benefited from the scheme, which financed her political campaigns. Dilma also knew about everything."
The scandal has plunged Brazil into a deep political crisis at a time when it is also grappling with economic recession and an epidemic of the mosquito-borne Zika virus, and preparing to host the Olympic Games in less than five months.
Rousseff named Lula her chief of staff on Wednesday, but a Supreme Court judge ruled on Friday that he should be suspended from the new ministerial role so he can be investigated for graft.
In his ruling, judge Gilmar Mendes said the appointment appeared designed to shelter Lula from prosecutors' charges of money laundering and fraud in the Petrobras case.
His decision was made public shortly after Lula rallied a crowd of nearly 100,000 Workers' Party supporters in Sao Paulo, pledging the government would drag Brazil out of its recession and survive the impeachment proceedings against Rousseff.
Folha de S.Paulo newspaper reported on Saturday the government would announce a $4.14 billion package of stimulus measures on Monday.
In the interview with Veja, Amaral said government officials had tried to derail the corruption probe, led by a task force in the southern town of Curitiba, in which dozens of top businessmen and politicians have been arrested.
The senator said the former justice minister and current attorney general, Jose Eduardo Cardozo, warned the president in advance when major arrests were about to be made by police in the investigation, codenamed "Operation Car Wash."
Amaral said he met with Rousseff and Cardozo every Monday to talk about the investigations and the minister used the codewords "cold winds from Curitiba" to refer to future actions within Car Wash.
In a statement, Cardozo said the allegations differed from what Amaral said in his plea deal.
The senator also said he spoke with Rousseff about trying to influence judges to release businessmen from prison and that she asked the head of the Supreme Court, Ricardo Lewandowski, to water down Operation Car Wash to help the ruling coalition.
"Lula and President Dilma tried in a systematic way to obstruct justice," Amaral told the magazine.
Rousseff has denounced leaks from the investigation, including of taped phone conversations between her and Lula, as politically motivated, saying opponents are seeking to bring down her government.
In an interview with Folha de S.Paulo, the new justice minister, Eugenio Aragao, said he would change federal police agents if he detected any leaks from the investigation.
"If there is a whiff of a leak, I will change the whole team," he told the paper. He also compared the plea deals used by prosecutors to extortion. The president of the association of federal police agents, Carlos Sobral, told Folha de S. Paulo on Saturday that the minister showed willingness to end the Car Wash investigation.
© Copyright Thomson Reuters 2023. All rights reserved.