Brexit And Brompton Bikes: How British EU Exit Would Affect The Company Behind Iconic Folding Bicycle [VIDEO]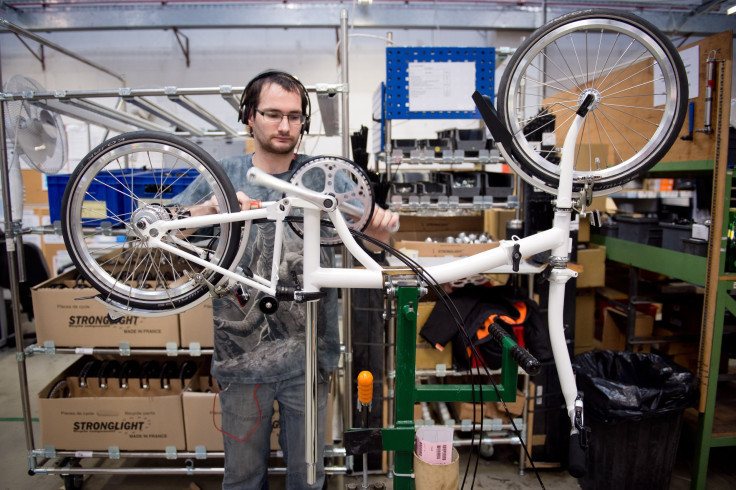 LONDON — The hive of activity inside the Brompton Bicycle Ltd.'s London factory is a testament to a thriving business. Welding torches glow as workers craft parts, skilled hands dance on the assembly line, boxes of brightly colored parts are stacked in huge piles, waiting to become bicycles.
The company's core product, a folding bicycle for city dwellers, has become an international success, and the firm, started in 1979, has grown rapidly. In 2014, the most recent year for which data are available, the company sold over 44,000 bikes, an increase of 22.3 percent from the prior year. The company opened its first overseas retail outlet in Kobe, Japan, in 2011, and now has 12 stores across Europe and Asia.
This is a quintessentially British business, but one that is export-led and seeking to tighten its grip on customers overseas, particularly in the EU.
In the days and hours before the U.K.'s future EU membership will be decided in a referendum, the company's commitment to the European single market was on display on the streets of Berlin, where dozens of competitors took part in the latest qualifying round of the Brompton World Championship — an annual series of races for the brand's growing number of devotees held in 15 countries around the globe. The purpose, besides a bit of fun, is to raise awareness about Brompton bikes and to get more people to try them.
But if the U.K. votes to walk away from the EU, Brompton may see a wrench thrown in its ambitions.
"We would expect an immediate impact [from a Brexit]," Stephen Loftus, Brompton's chief sales and marketing officer, told International Business Times in an interview at the company's headquarters. "It is going to make our life more complicated. It's quite hard for us at the moment as we've just moved to a big factory, so we're looking for things that can make our lives easier and simpler," he added.
Exports are key to Brompton's business: 80 percent of the company's products are sold outside of the U.K., with Europe and Asia its largest markets. Germany is the company's largest market in the EU, but it also sells its bikes in Spain, the Netherlands, Belgium, Italy and France.
For Brompton, Britain's EU membership removed barriers to the firm doing business in the EU and beyond. As an EU member, selling to a customer in Europe requires no more documentation than it would to sell to one in the U.K. The company, and other U.K. businesses, also benefit from the 50 or so trade deals the EU has negotiated with other nations.
The ease or difficulty with which the U.K. would negotiate overseas trade deals in the event of a Brexit has been a massive point of contention in the campaign. Brompton's experience, however, underscores the importance of such deals to business.
Loftus cited the examples of Chile, which has a trade agreement with the EU, and therefore the U.K., and Argentina, which does not. As a result, the cost to consumers of Brompton's products is higher in Argentina, and the product is therefore a tougher sell.
"Leave" campaigners argue that a Brexit would free U.K. businesses from the mountains of regulations and red tape imposed by Brussels, the headquarters of the EU. From Brompton's perspective, EU regulation is a double-edged sword.
"A great growth area in the bicycle market is e-bikes ... and we're looking to produce [a Brompton e-bike] in the next 12 to 18 months," Loftus said. "In terms of having to certify that product, having an EU certification simplifies our life, because we only have to do it once across all of those markets, including the U.K."
Trade Between United Kingdom and EU Countries | FindTheData
"It also sets a certain standard in terms of quality and safety requirements that enables us to ensure that we've got the right product to bring to market," he added. "It's actually a positive in that example; there might be other examples where it creates complexity. But at the moment ... it's actually helping us by having one standard across a large group of countries that is also recognized as a standard internationally."
"Remain" campaigners and experts have suggested that the success of exporting U.K. businesses could be hit by a Brexit, though theories about how much damage the British economy would suffer differ wildly. The head of the World Trade Organization estimated that a Brexit would cost U.K. exporters 5.6 billion pounds ($8.2 billion) annually. Britain Stronger in Europe, the official group campaigning for a "remain" vote, argues that 250 billion pounds ($367 billion) is at risk over several years.
For Brompton, contingency planning for a possibility outside of its control, which has such a huge potential impact, is difficult.
"The only thing we can do is consider what could happen with a currency impact in the short term, and making sure that whatever plans we're putting in place today have a certain caveat that we honestly don't know what the outcome might be," Loftus said. "That's the only thing we can do: be aware that we might have to change some of our plans as a result of it."
Ultimately, if Britain decides to end its membership in the European Union, the only thing folding at Brompton will be the bikes — life and business will go on, albeit maybe with a little more difficulty than before.
FOR FREE to continue reading
✔️ Unlock the full content of International Business Times UK for free
offer available for a limited time only
✔️ Easily manage your Newsletters subscriptions and save your favourite articles
✔️ No payment method required
Already have an account?
Log in
© Copyright IBTimes 2023. All rights reserved.