Brian Hoyer Named Houston Texans' Starting QB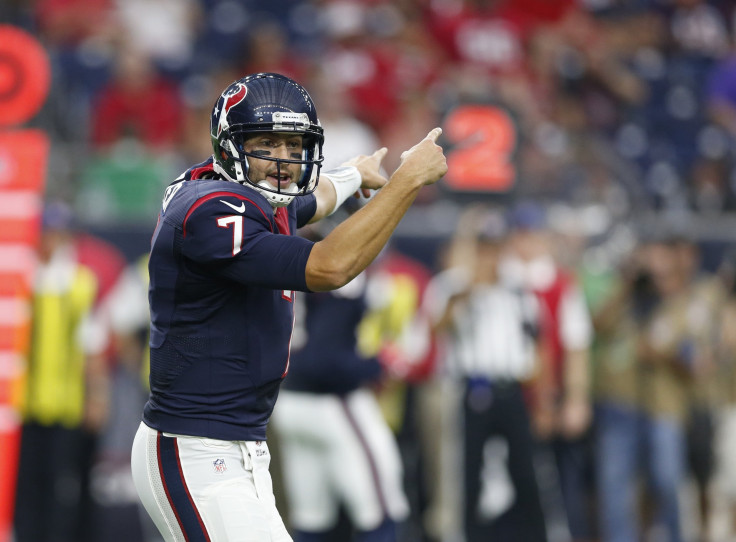 Brian Hoyer won the starting quarterback (QB) position battle against Ryan Mallet for the Houston Texans. Head coach Bill O'Brien confirmed the news via ESPN Monday saying that Hoyer proved himself during the team's training camp in the 2015 off-season.
"We all need to give Brian Hoyer a chance," O'Brien said in the report. "I believe in him. I believe in his ability to run our offense efficiently."
Both quarterbacks signed with the Texans earlier in the off-season, with Hoyer earning $10.5 million over two years and Mallet getting paid $7 million over the same number of seasons.
"In the end, I thought that Brian showed me the most consistency, the most composure in certain situations, the experience in our system," O'Brien added via NFL.com. "All those different things that go into the fact that I think he's ready to be our starter. I have a ton of respect for Ryan Mallett. I believe in him as a player."
Hoyer has had more experience than Mallet, and reportedly played a major role in the decision of naming him the starting QB of the Texans.
The 29-year-old Hoyer, who entered the league as an undrafted free agent in 2009, has played for four other NFL teams including the New England Patriots (2009 to 2011), Pittsburgh Steelers (2012), Arizona Cardinals (2012) and Cleveland Browns (2013 to 2014) before joining Houston. He also started 17 games for the Browns in the last two seasons.
The 27-year-old Mallet, who was a third round pick in the 2011 draft or the 76th overall selection, has mostly played on a back-up role, suiting up for the Patriots and Texans in 2012 and 2014, respectively.
Last season with the Browns, Hoyer had 3,326 passing yards on 242 of 438 completions (55.3 percent completion rate) with 12 touchdowns, 13 interceptions and 2 fumbles.
© Copyright IBTimes 2023. All rights reserved.