Brock Lesnar Next Fight: UFC Future, WWE SummerSlam 2016 Match In Doubt With Suspension Looming?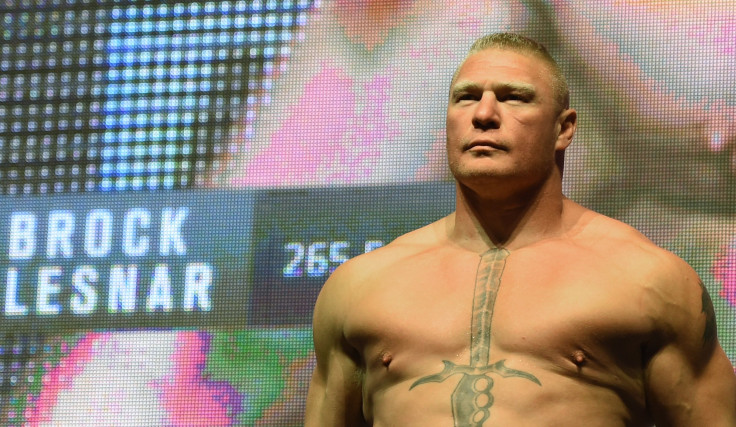 By the end of UFC 200, Brock Lesnar was at the peak of his stardom. Less than two weeks later, his MMA career is likely finished, and there are many questions surrounding his immediate future in WWE.
Three days before his 39th birthday, Lesnar came away with a convincing win over Mark Hunt, one of UFC's most feared heavyweights, after a nearly five-year hiatus. As Lesnar proved he could still win non-scripted fights against top competition, WWE was promoting SummerSlam 2016, the biggest pay-per-view not named WrestleMania, where Lesnar is scheduled to be the main attraction in a match against Randy Orton on Aug. 21.
But nothing is certain now that Lesnar has been flagged for multiple failed drugs tests.
The United States Anti-Doping Agency (USADA) has informed UFC that Lesnar failed two drug tests on both June 28 and July 9, the night of UFC 200. Lesnar tested positive twice for the same substance, though that substance has not been announced. Sources tell ESPN's Brett Okamoto that it was the anti-estrogen blocker clomiphene, which Jon Jones tested positive for prior to UFC 200.
After the first failed test was announced, Lesnar would not admit to knowingly taking a banned performance enhancer, claiming, "we will get to the bottom of this." Three days later, it was found that he failed multiple drug tests, and the notion that Lesnar might eventually be cleared of any wrongdoing became increasingly unlikely.
So what does the future hold for Lesnar inside the octagon or the squared circle?
Facing a two-year UFC ban, it's highly possible that Lesnar may never fight again. Should he sit out until 2018, Lesnar would return as a 41-year-old with just one fight in a seven-year span.
Lesnar's failed drug tests have led to speculation that he could be suspended from WWE. WWE regularly tests its talent for PED's, and the company recently suspended Roman Reigns, one of its most popular wrestlers, for a violation of the wellness policy.
A first-time violation of the policy results in a 30-day suspension, though it's unclear how failing a drug test would affect Lesnar, since he's a part-time performer and hasn't appeared on WWE TV since April. Since Lesnar did not fail a test administered by WWE, it appears his SummerSlam match is on, at least for the moment. WWE was advertising him as part of the PPV as recently as Tuesday.
"Anytime something like that comes out, anytime, it certainly affects your perception of the event," WWE superstar John Cena told ESPN on Tuesday, referring to Lesnar's USADA violations. "There's no way that people aren't going to perceive Brock Lesnar differently. And when something like this happens, you set a long, hard road ahead of you. And Brock's got a long, hard road ahead of him."
Even if WWE doesn't suspend Lesnar, the company can't be thrilled with the latest news. At a time when professional wrestling isn't nearly as popular as it was 15 years ago, Lesnar is among the company's biggest stars, drawing large viewership on the rare occasions he makes an appearance.
Lesnar's popularity is highlighted by the $2.5 million he was guaranteed for UFC 200. It was easily the highest purse in UFC history, as Lesnar made 2.5 times the amount that was guaranteed to UFC megastar Conor McGregor for his last fight.
If Lesnar is suspended, he won't be keeping all of the $2.5 million. The failed drug tests will result in a fine, and the Nevada State Athletic Commission could also issue a fine worth 50 percent, or even 75 percent, of his purse, according to Okamoto.
Before the announcement of his failed drug tests, Lesnar had not closed the door on agreeing to another UFC fight. He made his UFC debut on Feb. 2, 2008, and held the heavyweight championship from November 2008 until October 2010.
Lesnar re-signed with WWE last March, reportedly inking a multi-year deal. He came back to the company in April 2012 as a part-time performer after wrestling with WWE from 2002-2004.
© Copyright IBTimes 2022. All rights reserved.
FOLLOW MORE IBT NEWS ON THE BELOW CHANNELS