Brock Lesnar Rumors: WWE Wrestler Returning To UFC, Losing His Title At SummerSlam 2017?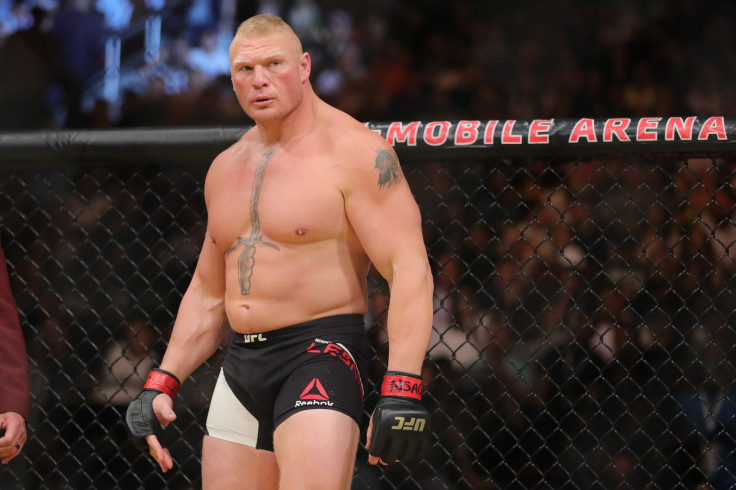 For the second time in the last year, the biggest name in WWE could be looking to compete in MMA. Brock Lesnar is reportedly preparing for a possible return to the UFC, and his professional wrestling days could be numbered.
Rumors about Lesnar's future with both companies began to spread Wednesday, including the idea that he would lose the WWE Universal Championship at SummerSlam on Aug. 20 so he could compete at a UFC pay-per-view at Madison Square Garden in November. Pro Wrestling Sheet even reported that Lesnar made it clear that he doesn't intend to re-sign with WWE when his contract expires after WrestleMania 34 in April.
READ: Brock Lesnar Headed For Match With Roman Reigns, Samoa Joe, Braun Strowman
Is Lesnar actually leaving WWE for the UFC? If the top champion on "Monday Night Raw" does plan on competing in the octagon again, it probably won't be until 2018.
Despite being under contract with WWE, Lesnar fought at UFC 200 on July 9, 2016. He was suspended for a year shortly afterward because of multiple failed tests for performance-enhancing drugs.
Lesnar officially retired from the UFC in February, six months before the end of his suspension. In order for the 40-year-old to fight in the UFC again, he'd have to officially re-enter the USADA drug testing pool and serve the remainder of his suspension.
Despite some reports, UFC Vice President of Athlete Health and Performance Jeff Novitzky told MMAjunkie that Lesnar has not re-enrolled in the USADA testing pool or inquired about doing so.
"(Lesnar) is not currently enrolled in the USADA testing pool, nor has there been any inquiry on his part to do so," Novitzky said.
That doesn't necessarily mean Lesnar won't ever compete in MMA again. He could potentially enter the drug testing program in the near future, but that would rule out fighting before the end of 2017.
If Lesnar does become able to compete in the UFC before his WWE contract expires, he could potentially perform for both companies during the span of a few weeks. Six weeks after beating Mark Hunt by unanimous decision at UFC 200, he beat Randy Orton by TKO in the main event of SummerSlam 2016.
WWE did not suspend Lesnar for his failed USADA drug tests.
Whether or not Lesnar has his eyes on the UFC, he might lose the WWE Universal Championship at SummerSlam. He'll likely face Roman Reigns, Samoa Joe and Braun Strowman in a fatal 4-way in the show's main event.
READ: When Can Brock Lesnar Have His Next UFC Fight?
When Lesnar defeated Goldberg to win the WWE Universal Championship at WrestleMania 33, it was widely assumed that he would hold onto the belt until WrestleMania 34, where Reigns would become the new champ. Reigns' involvement in a match with Lesnar at SummerSlam, however, might mean that WWE has moved up their plans, making a WWE Universal Championship match between Reigns and John Cena a distinct possibility as the WrestleMania 34 main event.
If Lesnar does indeed plan to leave WWE after the promotion's biggest event of 2018, he doesn't have many matches left. After SummerSlam last year, Lesnar only had two more PPV matches before WrestleMania 33. He appeared at three PPVs in between SummerSlam 2015 and WrestleMania 32.
© Copyright IBTimes 2023. All rights reserved.