Bruins put skids on Oilers in 6-3 win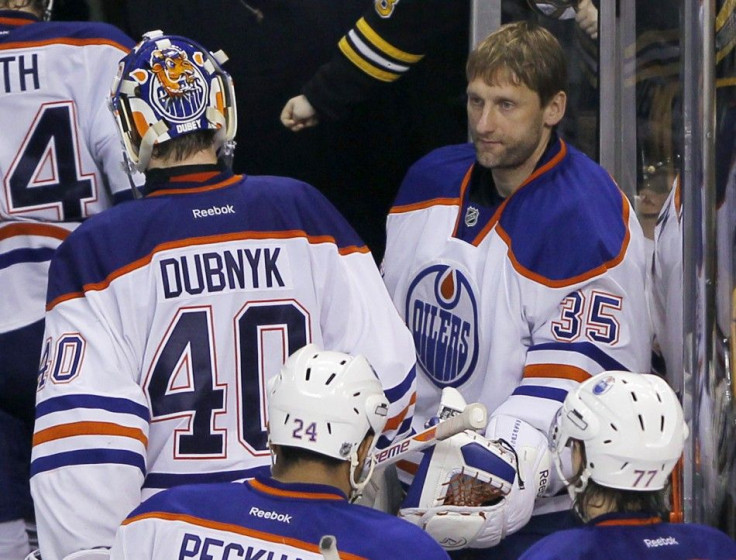 (Reuters) - Stanley Cup champions Boston powered their way to a fourth consecutive win on Thursday with a 6-3 victory over the high-flying Edmonton Oilers at TD Garden.
The Bruins, who got off to a slow start this season and slipped to last place in the Eastern Conference at one point, scored twice in each period to improve their record to 7-7-0.
Edmonton have not qualified for the playoffs since the 2005-06 season but currently lead the Northwest division and are third in the Western Conference.
Johnny Boychuk and Jordan Caron scored 1:44 apart in the first period to give the Bruins a 2-0 advantage but the lead was short-lived, Edmonton responding with two goals in 29 seconds after calling a timeout.
Veteran Ryan Smyth scored with a tip-in at 12:02 and rookie Ryan Nugent-Hopkins snapped a shot through the legs of Bruins goalie Tuukka Rask to make it 2-2 going into the second period.
I thought we showed good character coming back after the time out. We got ourselves back into it, then we got put back on our heels again, said Smyth. We can't do that against a team like this.
They were the Stanley Cup champions last year, they know what to do to shut down teams.
Brad Marchand redirected Joe Corvo's shot on a power play for the first of his two goals ending a nine-game goal drought and putting the Bruins ahead again.
Tyler Seguin restored Boston's two-goal lead less than three minutes later.
It felt a lot longer than that. It was getting frustrating there, said Marchand. You want to produce.
It was a little easier because we were still winning a bit. But you do want to help the team and you feel like you're letting them down when you're not doing your job out there, so it's nice to get a couple.
Edmonton's Smyth scored his second on a power play to narrow the lead with less than five minutes remaining but goals by Milan Lucic and Marchand 44 seconds apart sealed the win for Boston.
(Reporting by Mike Mouat in Windsor, Ontario; Editing by Alastair Himmer)
© Copyright Thomson Reuters 2023. All rights reserved.