Bruno Fernandes Explains Why Ralf Rangnick Failed As Manchester United Boss
KEY POINTS
Ralf Rangnick replaced Ole Gunnar Solskjaer as Man Utd's interim boss last year
Man Utd failed to win a single trophy last season
The international break is currently underway in soccer
Ralf Rangnick, who took over Manchester United's charge as an interim manager in the middle of last season, did not stand much chance of succeeding, Bruno Fernandes said.
Rangnick replaced Ole Gunnar Solskjaer as Manchester United's caretaker boss in December 2021. Around that time, the morale in the dressing room was low and Rangnick couldn't have done much to change that, according to Fernandes.
"Ralf came up with his idea of playing with intensity and pressing and how he was used to playing in Germany. But it did not quite work out with us because there was an atmosphere between everyone where the confidence was low and everything was really down. It is really difficult to come off when you are in that run. It is nothing to do with Ralf. He tried his best," Fernandes told The Athletic in an interview.
Fernandes went on to add that Rangnick was a "good manager with good ideas but it did not fit with everyone."
"This is because the team had been built with Ole (Gunnar Solskjaer) and his idea, and then a new manager comes in with (his own idea). That probably could be the difference at the club because every manager who has been here, has had different ideas, so they bring different players in," the Portuguese midfielder added further.
Meanwhile, Fernandes has also praised Cristiano Ronaldo, saying teams still make an extra effort to mark him and stop him. Fernandes said that makes his job at Manchester United and Portugal national team easier as it creates more space for him to exploit.
The two have played together at Portugal national team over the years and before becoming teammates at Manchester United when Ronaldo returned to Old Trafford in the summer of 2021.
"To play with Cristiano as a No 10 is actually really good because players respect Cristiano so much that it creates more space, as the opponents are afraid of him taking the ball and scoring. They want to mark him and (they) create an overload where he is to mark him," said Fernandes in the same interview.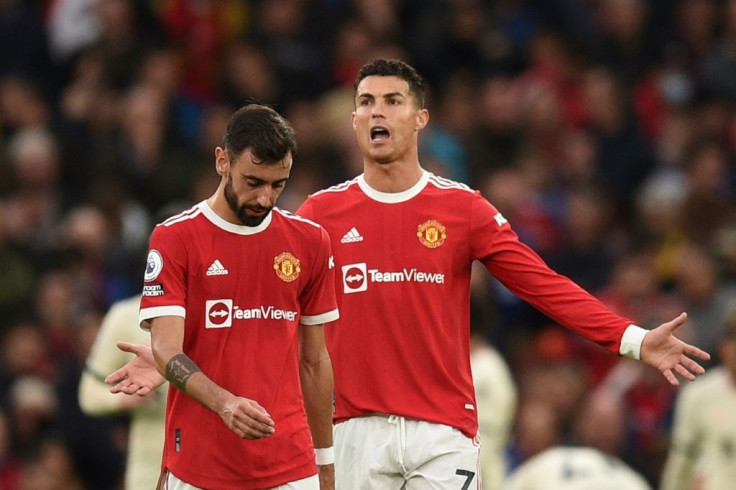 There have been suggestions recently that Fernandes has done well whenever Ronaldo has not started in a match. Disagreeing with the same, Fernandes has pointed out that he has not been great this season even though the No. 7 has not been a regular starter.
"I played the last four Premier League games without Cristiano starting and I scored only one goal. So it is not because of Cristiano. It is about momentum, and timing. Sometimes it goes in a bad way and sometimes a better way. Obviously, he can be really good to play together with, for someone who gives assists, as if you give him the right ball, he will score goals," added Fernandes.
The international break is currently underway with Fernandes and Ronaldo gearing up for Portugal's upcoming Nations League fixtures against the Czech Republic and Spain.
© Copyright IBTimes 2022. All rights reserved.
FOLLOW MORE IBT NEWS ON THE BELOW CHANNELS