Bruno Fernandes Offers Update On Ronaldo's Situation After He Didn't Start Vs Liverpool
KEY POINTS
Manchester United defeated Liverpool 2-1 Monday
It was Man Utd's first win of the season
Ronaldo was on the field for only four minutes against Liverpool
Bruno Fernandes has said he'll be "personally happy" for Cristiano Ronaldo even if the latter decides to leave Manchester United.
Ronaldo, who has a year left on his Manchester United contract, will speak soon about his current situation, Fernandes said. The 37-year-old has started just one out of the Red Devils' three Premier League games this season.
After losing the opening two games – 2-1 vs Brighton and 4-0 vs Brentford – Erik ten Hag's Manchester United bounced back in style as they defeated Liverpool FC 2-1 at Old Trafford to register their maiden win of the season.
Ronaldo was not in Ten Hag's starting XI for the clash with Liverpool. He came off the bench in the second half and spent only four minutes on the field.
Reacting to the speculation around Ronaldo's future at Manchester United, his compatriot Fernandes said the five-time Ballon d'Or winner will speak soon.
"There is a lot of speculation, but there is no one better than Cristiano to talk about it. I may know a thing or two, but I won't be the one to say it. For now, he is a United player, I don't know about his future, if he will leave or if he will not leave. As he said, he will speak soon and they will have time to hear his words and what he has to say," Fernandes told Portuguese outlet Eleven Sports, according to Goal.com.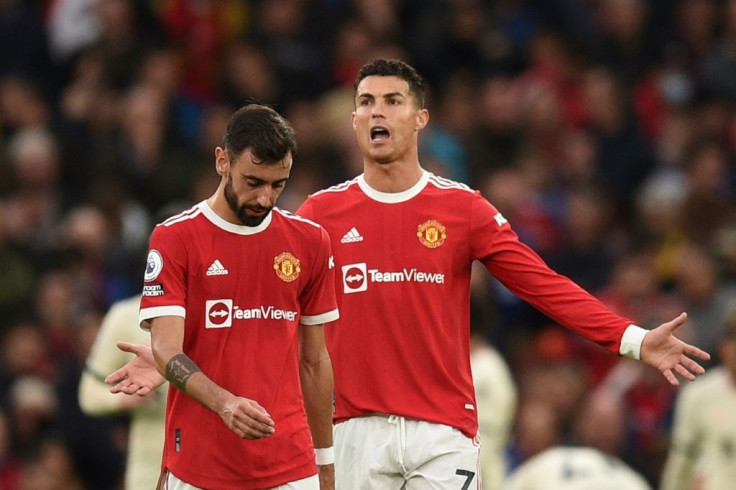 Ronaldo, who moved from Juventus to Manchester United last summer, finished as the Red Devils' leading scorer last term with 24 goals.
Fernandes also added that Ronaldo, who has scored more international goals than any other player (117), continues to make Portugal proud.
"I don't think anyone has shown so far that there was no interest in Cristiano not staying. He can continue at a high level and give us a lot of goals but it's his decision. We have to respect what he wants to do, whatever he wants to do. If he's going to stay, we'll be happy about it, if he's going to leave because he thinks it's best for him, I'll be personally happy for him. The most important thing is that he's okay, at the highest level, and make our country proud," added Fernandes.
Ten Hag and Co. are scheduled to next travel to St. Mary's Stadium to face off against Southampton on Saturday.
© Copyright IBTimes 2023. All rights reserved.