Bryce Harper To Nationals Still Possible, Phillies To Meet With Right-Fielder: Report
The Bryce Harper saga continues to rumble on two days into the New Year with no end in sight at the moment and not even a clear picture as to who is leading the race to sign the most sought-after free agent in baseball at the moment.
The Los Angeles Dodgers, the Philadelphia Phillies and the Chicago White Sox were touted as the three main contenders for his signature, but there seems to be many other franchises that also keeping an eye on the situation.
The Washington Nationals, for whom Harper played between 2012 and 2018 are also interested in reuniting with the right-fielder and are not willing to leave the race for his signature.
According to ESPN's Jeff Passan, via MLB.com, the Nationals representatives and Harper have met on numerous occasions over the winter with a source close to the player reportedly predicting that the player's free agency could stretch into February.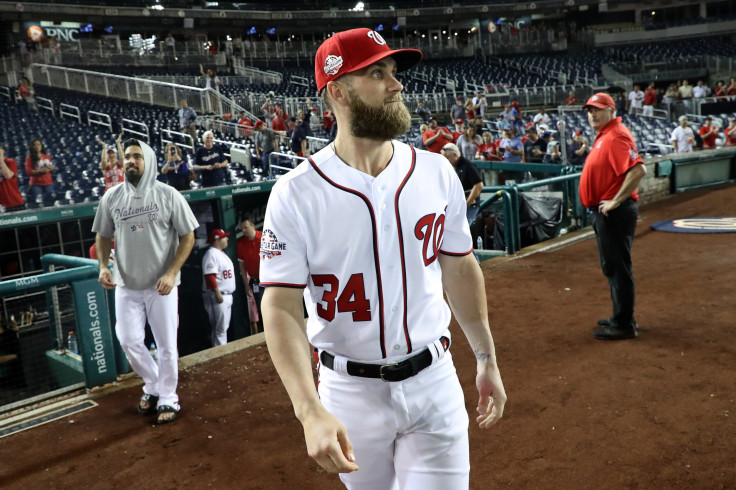 The Washington Post also reported that a meeting between Harper and Nationals owner Ted Lerner took place on the Sunday before Christmas, but initially people within the team refused to confirm it before later admitting that there had been more than one meeting during the winter.
The Nationals have made it clear they are still in the running to sign Harper and MLB.com's Jamal Collier claims that their $300 million deal over 10-years is the only offer on the table at the moment. Scott Boras, who is Harper's agent, could be returning to it before making a decision on his client's next destination.
Meanwhile, according to NBC Sports Philadelphia, the Nationals are not the only team pursuing Harper seriously. A source close to the player reportedly informed the publication about a potential meeting between the right-fielder and his representatives with the Phillies hierarchy.
It is being suggested that a face-to-face meeting with Harper, Boras and the Phillies management has been set up for "the next week or so" in Harper's hometown Las Vegas. The Phillies had met with Boras during the winter meetings, but the player was not present at the time.
The Philadelphia franchise is also keen on Manny Machado – probably the second most sought-after free agent in baseball at the moment – and signing him is their main focus.
However, they are aware they will face strong competition from the New York Yankees and the White Sox for the shortstop. The New York franchise have been installed as the favorites with the player also said to be keen to wear the pinstripes. The Phillies will have to majorly outbid the Yankees to have a chance of landing Machado.
© Copyright IBTimes 2023. All rights reserved.