Bryce Harper Rejected $45 Million Per Season Offer, Agent Reveals Key Instruction
The Bryce Harper saga finally came to an end Thursday after it was all but confirmed the outfielder had finally decided to sign with the Philadelphia Phillies over other interested suitors. The deal was said to be worth $330 million over 13-years, making it a record for overall value.
The Phillies would certainly be delighted at their capture after it looked like they could be usurped by the Los Angeles Dodgers or the San Francisco Giants, who had met Harper at his Las Vegas home in the days leading up to his deal with the Philadelphia franchise.
The six-time All-Star now holds the record for baseball's largest contract, beating Giancarlo Stanton's $325 million deal over 13-years signed with the Miami Marlins in 2014. Moreover, Harper's deal has no opt-out clauses and a no-trade clause which means the outfielder will remain in Philadelphia for the rest of his career.
Harper will receive $10 million plus the $20 million signing bonus as payment in 2019 from the Phillies and thereafter will receive $26 million per season until 2028. The right fielder's wages will drop to $22 million per season in his final three campaigns between 2029 and 2031, according to ESPN's Jeff Passan.
Harper had multiple offers on the table, with his agent Scott Boras revealing that it was a "full buffet" before they accepted the Phillies' offer. There was even an offer of $45 million per season reportedly from the Dodgers, which the player turned down as he was only looking at long-term offers.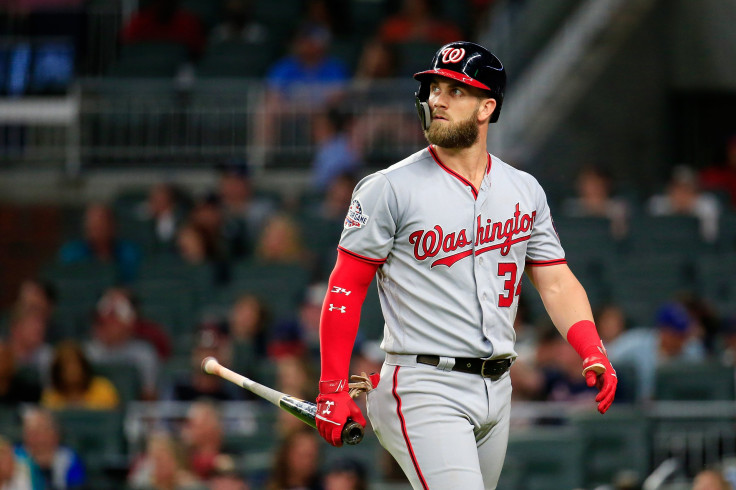 The 2015 MVP was keen to ensure he did not enter free agency again during the course of his career and thus chose the best long-term offer on the table. Boras admitted it was one of the main instructions from his client when it came to negotiating deals with interested teams.
"We had average values of $45M offered on shorter-term deals. We had a full buffet," Boras told New York Post's Joel Sherman.
"The goal was to get the longest contract possible. Bryce wanted 1 city for the rest of his career. That is what I was instructed to do. It is very difficult in this time to get the length of contract that takes a player to age 37, 38, 39," Harper's agent added.
Boras also revealed another reason for Harper joining the Phillies, apart from the length of contract on offer, was owner John Middleton's two visits to Vegas to meet Harper and his family and make a commitment the Philadelphia franchise would continue to be a top-5 payroll team.
By signing Harper on Thursday, ESPN's Kevin Negandhi claimed the Phillies became the first team in MLB history to add three position players in an offseason, all of whom were All-Stars in the previous campaign, with the other two being J.T. Realmuto and Jean Segura.
© Copyright IBTimes 2023. All rights reserved.