Bryce Harper Rumors: Phillies Focused On Outfielder After Manny Machado, Padres Agree On Contract
It's long been expected that the Philadelphia Phillies would sign one of MLB's two star free agents this offseason. Now that Manny Machado has reportedly agreed to sign with the San Diego Padres, the franchise will turn their attention toward Bryce Harper.
Machado will get $300 million over 10 years from San Diego, according to multiple reports. Harper is expected to want a more lucrative contract, and it might take a record-setting deal for the Phillies to land the outfielder.
Harper is reportedly looking to sign for more than the $325 million Giancarlo Stanton received in 2014.
The latest news means Philadelphia now has less competition for Harper. The Phillies, Padres and Chicago White Sox have all been pursuing both free agents, and it's all but certain that San Diego won't sign both players. Chicago has been considered to be a much bigger player for Machado than Harper.
The San Francisco Giants have been pursuing Harper, though they've reportedly only been willing to give him a short-term contract. The 26-year-old isn't expected to leave a long-term deal on the table.
There have been rumors that the Washington Nationals might be given one final chance to match any offer Harper gets. If the Nationals decide to make the six-time All-Star a competitive offer, he could decide to re-sign with Washington. He reportedly turned down 10-year, $300 million offer from the Nationals at the end of the 2018 season.
It sounded like some Phillies' executives preferred Machado to Harper, but ownership might rather the team give a lucrative contract to the free agent with more star power.
Much has been made about Philadelphia's willingness to spend "stupid" money this offseason. Now that Machado is off the market, it might be time for the Phillies to blow away their top target with an offer he can't refuse.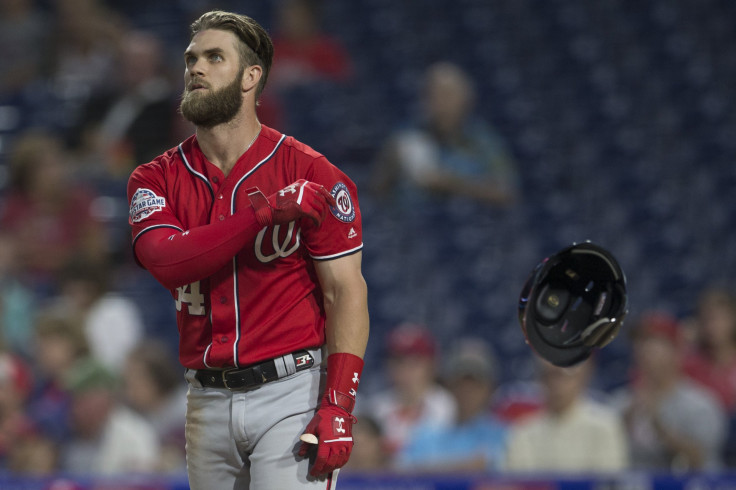 © Copyright IBTimes 2023. All rights reserved.