Bryce Harper Rumors: Why The Washington Nationals Likely Won't Sign The Free Agent To A New Contract
The Bryce Harper Sweepstakes appears to be entering its final days. The race for MLB's top free agent included as many as five teams at the start of the week, but the number of realistic suitors might have been cut by more than half upon the news of Manny Machado's $300 million agreement with the San Diego Padres.
San Diego isn't going to give Harper a minimum of $30 million per year after inking Machado to a historic free-agent contract. The Chicago White Sox likely don't have a chance at Harper after they only offered Machado, their No.1 target, $250 million guaranteed.
The Philadelphia Phillies are probably willing to give Harper at least $300 million if that's what it's going to take to sign the outfielder. The San Francisco Giants might ultimately fail to reach Harper's contract demands, but they are at least continuing to pursue the 26-year-old for the time being.
That leaves the Washington Nationals as the only other team that's been in contention to sign Harper over the last few months. The nature of Washington's interest in the six-time All-Star in 2019 has probably been the most unknown of any team that's met with him.
If the latest report is true, Harper's days in the nation's capital are over. Sources have told MLB.com that Washington doesn't have any plans to give Harper a deal that resembles the one signed by Machado.
You can be sure that the outfielder won't give the Nationals a hometown discount. At this point, it might take a deal worth more than Giancarlo Stanton's record-setting $325 million contract to sign Harper.
"I really like the roster that we've constructed so far," Nationals general manager Mike Rizzo said Sunday, via MLB.com. "I think we've filled all the gaps that we needed to fill. You never say never. You never say you're done, but we're really satisfied at this particular time in Spring Training with where we're at and the roster we have."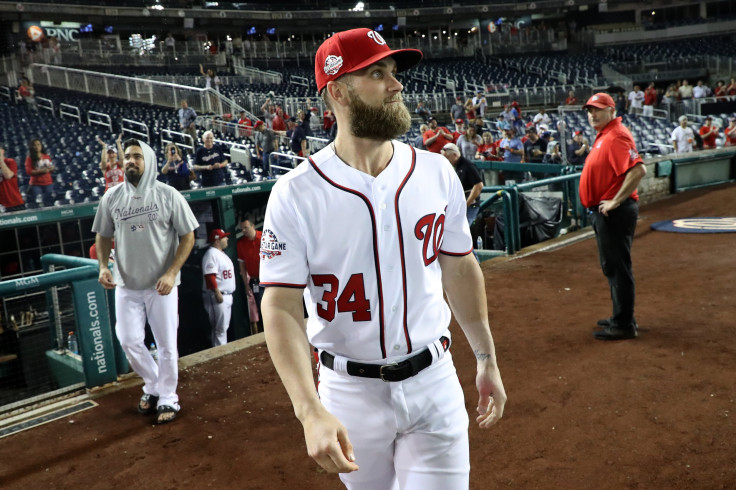 It was reported at the start of the offseason that Harper turned down a 10-year, $300 million offer from the Nationals just before the playoffs began. That deal included about $100 million in deferred money, according to MLB.com, and Washington no longer appears interested in paying the face of their franchise nearly one-third of $1 billion.
A lot has changed since the conclusion of the 2018 season, which saw Washington miss the playoffs for just the second time in five years. The Nationals didn't sit on their hands, waiting for Harper to make his decision.
Washington has spent plenty of money this offseason. In fact, they gave out the biggest contract that was signed by any player not named Manny Machado. The Nationals outbid the Phillies and New York Yankees for Patrick Corbin, inking the No.1 pitcher in free agency to a six-year, $140 million deal.
After sending Tanner Roark and the $10 million left on his deal to the Cincinnati Reds, the Nationals replaced him in the rotation with Anibal Sanchez. Sanchez signed a two-year contract worth $17 million guaranteed that also includes a $12 million option for the 2021 season.
The Nationals signed catcher Kurt Suzuki to a two-year, $10 million contract. They traded for another catcher, acquiring Yan Gomes and his $7 million salary for the 2019 season in a deal with the Cleveland Indians. Washington also gave second baseman Brian Dozier a one-year, $9 million contract.
"I think they've decided to move on," Nationals principal owner Mark Lerner said of Harper and agent Scott Boras on 106.7 The Fan on Dec. 7, just a few days after agreeing to terms with Corbin. "There's just too much money out there that he'd be leaving on the table. That's just not Mr. Boras' MO to leave money on the table."
Harper and Boras reportedly met with Nationals' ownership a few days before Christmas, though obviously no deal was agreed upon.
With no salary cap in MLB, Washington can afford Harper if they really want him on the team. The Lerner Family is estimated to be worth more than $5 billion by Forbes. The Nationals could even remain below the $206 million luxury tax threshold for the upcoming season after signing Harper.
Washington will be paying several of its players lucrative salaries for several more years, and they appear unwilling to add Harper to the list: not with Corbin starting his new deal, and not with third baseman Anthony Rendon on the verge of signing a major contract of his own.
Rendon will earn $18.8 million in 2019 before becoming a free agent. With less star power than Harper but arguably more on-field production in recent seasons, Washington might prefer to give out their next big deal to the infielder.
In addition to Corbin and potentially Rendon, Stephen Strasburg will earn nine figures from the Nationals over the next several years. The pitcher signed a seven-year, $175 million contract in 2016, and the deal calls for Strasburg to be paid $10 million in deferred money annually from 2024-2030.
Then there's Max Scherzer and the seven-year, $210 million contract he signed in 2015. He's set to make $15 million a year in deferrals for seven years after his deal expires.
Keeping Harper and Rendon would likely mean having five of MLB's biggest contracts on Washington's roster. That would include the third-largest deal ever signed by a pitcher (Scherzer) and possibly the most lucrative contract in American team sports' history.
Scherzer has been worth every penny with back-to-back NL Cy Young awards in 2016 and 2017 and a second-place finish in 2018. The right-hander is undoubtedly one of the top-three starting pitchers, at worst, in all of baseball.
The same can't be said for Harper. It looked like he'd be the best player in the league when he became the youngest unanimous MVP in 2015. In the last three seasons, Harper hasn't had one top-10 MVP finish.
Harper is far younger than any of the players that Washington has signed to long-term, expensive deals. Perhaps they will end up regretting not allocating some of those funds to the slugger that could still have several prime years left.
If Harper does go on to be one of the sport's most dominant players, the Nationals might very well have to deal with him in their own division for the next decade.
FOR FREE to continue reading
✔️ Unlock the full content of International Business Times UK for free
offer available for a limited time only
✔️ Easily manage your Newsletters subscriptions and save your favourite articles
✔️ No payment method required
Already have an account?
Log in
© Copyright IBTimes 2023. All rights reserved.