Bubba Wallace Keeps Defiant Stand, Refuses To Yield To Donald Trump's Demand
KEY POINTS
Bubba Wallace refuses to issue an apology despite Donald Trump's demand
Wallace served a subtle counter on Trump in a love-centered message
White House Press Secretary reiterated the result of the FBI's probe to justify the POTUS' tweet
Bubba Wallace would not succumb to President Donald Trump asking him to issue an apology following the suspected noose incident at the NASCAR driver's garage late in June, this despite the FBI ruling out the subject matter as a hate crime. Instead, the controversial sports figure served a subtle counter on Trump on Monday through a "love"-centered post, which he ended by stating, "Even when it's hate from the POTUS."
The said response came hours after Trump posted his demand via a tweet, which read: "Has @BubbaWallace apologized to all of those great NASCAR drivers & officials who came to his aid, stood by his side, & were willing to sacrifice everything for him, only to find out that the whole thing was just another HOAX? That & Flag decision has caused (the) lowest ratings EVER!"
The POTUS was pertaining to the act solidarity displayed by the racing organization in support of Wallace a day after the report of the mistaken noose initially surfaced. Wallace's No.43 car was pushed down by drivers and team officials down pit road at the speedway, triggering a sudden burst of emotions from the only full-time Black racer in NASCAR.
In the midst of the Black community's fight for social justice, Wallace made sure that their voices would be heard in his organization as well. Prior to the controversial instance at his garage, the 26-year-old had already served noticed by calling for the banning of the Confederate flag from NASCAR events.
In his implicit response to Trump, Wallace addressed "the next generation and little ones following my footsteps" in his message, a portion of which read:
"Your words and actions will always be held to a higher standard than others. You have to be prepared for that. You don't learn these things in school. You learn them from trials and tribulations, the ups and downs this crazy world provides. You will always have people testing you. Seeing if they can knock you off your pedestal."
NASCAR has once again offered its support to Wallace, whom the organization commends for his "courage and leadership."
"NASCAR continues to stand tall with Bubba, our competitors, and everyone who makes our sport welcoming and inclusive for all racing fans," a statement read.
White House Press Secretary Kayleigh McEnany, on the other hand, spoke about the POTUS' tweet during a press briefing on the same day. Justifying Trump's statement, McEnany said the President simply wants Wallace to acknowledge the "hoax" as she reiterated the result of the FBI probe.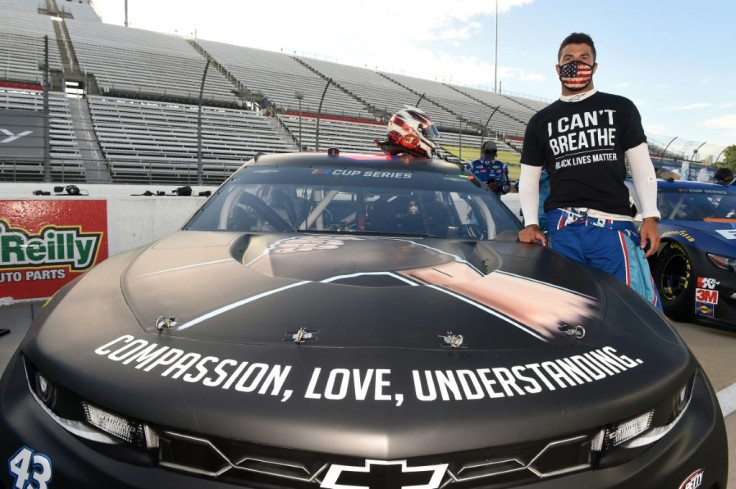 © Copyright IBTimes 2023. All rights reserved.