Buffalo Bills RB LeSean McCoy To Miss Week 1 Vs. Colts?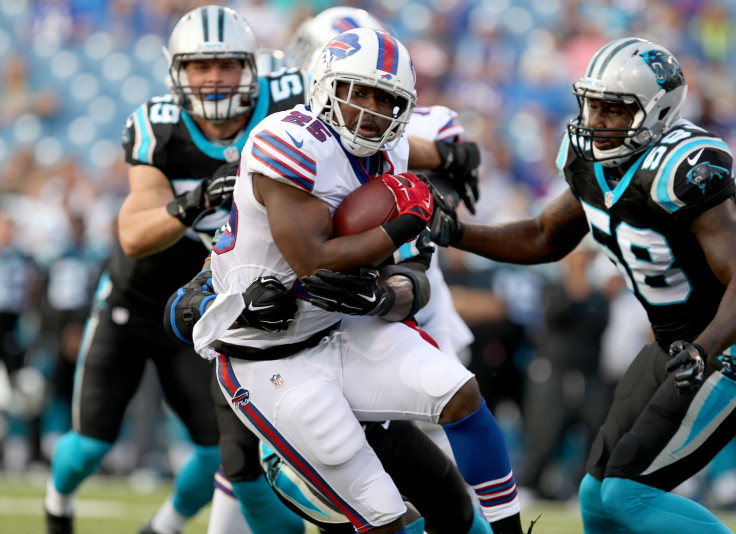 The Buffalo Bills are preparing for the eventuality that new running back LeSean McCoy will not suit up for the team in Week 1 of the upcoming NFL season. The star RB suffered an injury to his hamstring mid-August during one of the team's practices, and is reportedly still on the way to recovery.
The initial diagnosis was that the hamstring injury would heal in time for the opener. But new reports state that the Bills are fearing the worst and that he may miss the team's Week 1 game.
"It's way too early to say whether [LeSean McCoy] will play or not. He is doing a little bit more every day. But hell yes, I'm concerned about that," an unnamed team source said to ESPN on Wednesday. "I can't say for sure he's going to be with us Week 1. I can't say that at all. It will take everything we got just to get him ready for game day, and then [when] we get to game day, [there's] no way he can be in great football shape. So I think he will be on a pitch count, I think at the very best."
Bills head coach Rex Ryan shared the same pessimism when asked about McCoy's status, saying that "next man hast to step up" if his star running back cannot make it on opening week. Other running backs in the roster for the Bills are Boobie Dixon, Karlos Williams Bryce Brown and Bronson Hill.
According to the same report, McCoy has yet to go in full speed in the Bills' most recent practices, but is allowed to do rehab work, including "light footwork, agility and cardio conditioning."
Buffalo opens the new NFL season against the Indianapolis Colts on Sept. 14. The Bills are currently 2-1 in the preseason with wins against the Pittsburgh Steelers, 43-19 and Cleveland Browns, 11-10 and a loss to the Carolina Panthers, 25-24. Buffalo wraps up their preseason against the Detroit Lions on Friday.
© Copyright IBTimes 2023. All rights reserved.