Buhari Presidential Media Chat: Nigeria Willing To Negotiate With Boko Haram To Save Chibok Girls
Nigerian President Muhammadu Buhari said Wednesday his administration has no reliable information or intelligence on the whereabouts of the Chibok schoolgirls who were kidnapped last year by Boko Haram. Speaking to a panel of journalists during his first presidential media chat, Buhari said the Nigerian government was willing and ready to negotiate with the terrorist group without any preconditions in order to retrieve the girls.
"The honest truth is that I don't know the actual place and state of the girls. The more reason we are trying to be very careful before we negotiate with any group. Before we negotiate with any group, we must make sure they show us the actual location of the girls. We must make sure they are complete," Buhari said during the live, televised event in Nigeria's capital Abuja. "We are looking for a credible Boko Haram leadership that will convince us that the girls are here and alive."
Boko Haram militants descended on a boarding school in northeast Nigeria on the night of April 14, 2014. By morning, the militant group had herded 276 schoolgirls into trucks and vanished behind the forest brush in the town of Chibok. Some of the girls have managed to escape on their own since then, but over 200 are still missing, and government search efforts have been unsuccessful despite a global social media campaign and pleas from international leaders.
Buhari, who took office in late May, said rescuing the Chibok girls and securing the country was among his administration's top priorities. He insisted his government has made some headway. "I assure you that some progress has been made on the ground," Buhari said Wednesday during the presidential media chat.
Boko Haram's six-year insurgency has dealt a blow to Africa's largest economy by deterring investors and inhibiting capital. Slumping prices of oil, the country's top source of state revenue, have also led to a continuous deceleration of economic growth. GDP growth rate for Nigeria plunged from 6.23 percent in the third quarter of 2014 to 2.35 percent in the second quarter of this year. The Monetary Policy Committee of the Central Bank of Nigeria warned in October that recession is imminent if proactive steps are not taken to revive growth in key economic sectors.
"Our main problem is to secure this country so people can come and do business without being abducted, without being killed," Buhari said Wednesday.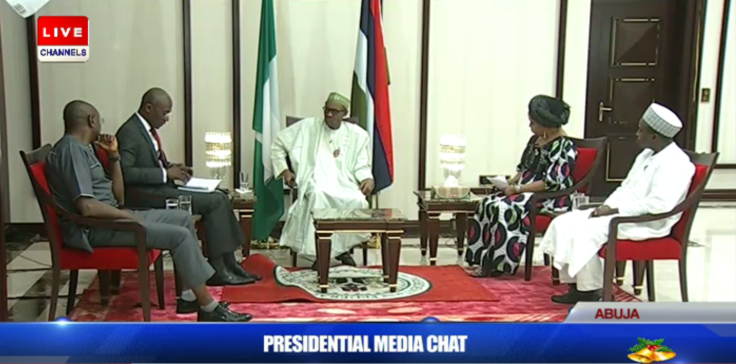 The former military ruler defended a previous statement he made that Boko Haram had been "technically" defeated, saying the Islamic extremist group is capable of no more than suicide bombings on soft targets. But these attacks have proven to be extremely deadly, he warned. At least 50 people were killed Monday when Boko Haram militants struck the northeast city of Maiduguri with rocket-propelled grenades and multiple suicide bombers. The group often uses young women and girls wearing hijab or Islamic veils as suicide bombers, forcing them to conceal explosives under their loose-fitting clothing.
"Banning hijab is not enough. But it will have to be banned if this continues," Buhari said Wednesday.
In addition to discussing various issues with the panel, Buhari also answered questions from social media users on the economy, national security and corruption. The 72-year-old leader insisted he was cracking down on crooked officials and frivolous spending. Buhari, who last week proposed a record budget of a 6.08 trillion naira for 2016, said he has declared his assets four times and recently turned down a massive budget for cars for the presidency.
"I turned down a 400 million (naira) bill for cars for the presidency," he said. "I told them that the vehicles I have are good enough for 10 years."
© Copyright IBTimes 2023. All rights reserved.