Nigeria's Education Crisis: Boko Haram Targeting Schools, Teachers, Students Is Devastating Africa's Largest Economy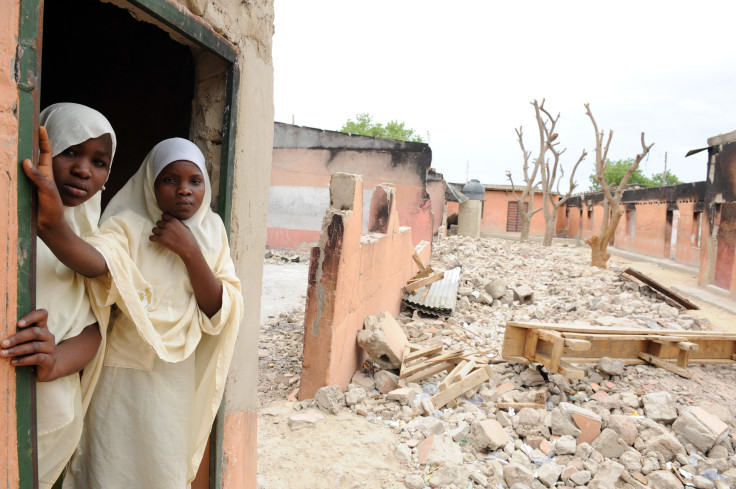 Mercy, 15, remembers the day Boko Haram came to her home in northeast Nigeria last year. The militants burst into her house in Adamawa state and shot her father three times, as she and her siblings were forced to watch. Then, they torched Mercy's village. Her home, her school and her church were razed to smoldering ashes on the ground.
"They burned it all down," she said quietly during a recent telephone interview.
Mercy is one of thousands of school-age children in Nigeria who have been displaced by Boko Haram, a Nigerian militant group that seeks to establish an Islamic state. The group, whose name roughly translates into "Western education is forbidden," has attacked more than 1,200 schools in northeast Nigeria, killing hundreds of teachers and pupils while leaving others without jobs or places to learn, the United Nations said Tuesday. By deliberately destroying schools and universities, the extremist group is sabotaging Nigerian government efforts to improve education in the northeast, which for years has had the lowest level of school attendance nationwide. The devastation has already taken a detrimental toll on Africa's largest economy and future workforce, analysts and education leaders said.
"Education is the foundation of a society; without it, development is very difficult," Margee Ensign, president of the American University of Nigeria in Yola, Adamawa state, said. "I don't think many in the international community understand the dimension of the problems here in the northeast."
Destroying Nigeria's Children
Before Boko Haram launched its brutal insurgency in northeast Nigeria six years ago, the region recorded the lowest school enrollment rate in the country, especially for girls, as well as the lowest level of literacy and highest incidence of poverty. The insurgency has exacerbated the situation. Over half a million children in northeast Nigeria have had to flee to safety in the past five months, bringing the total number of displaced children in the conflict-torn region to 1.4 million, the United Nations said in September. More than 208,000 of them are not in school.
In some cases, the extremist group has attacked, killed and kidnapped educators and students. The Nigeria Union of Teachers said in October that more than 600 teachers had been killed by alleged Boko Haram militants in the northeast, while another 19,000 were displaced. The militants have destroyed 28 percent of schools in Borno state alone, the group's former stronghold, and have forced at least 85 others to close, analysts said. And they use any means necessary to yield damage: they break into schools, steal supplies, deface classrooms, bomb the structures or set the roofs aflame.
The Nigerian army expelled Boko Haram from many northern territories this year and almost 450 schools have reopened in Borno state since October, the United Nations said Tuesday. The militants have increasingly retreated to Sambisa forest in northeast Nigeria, but they are fighting back and education in the region, which was halted, remains extremely fragile. Incessant attacks on the communities may eventually paralyze academic activities altogether, analysts said, leading to the collapse of the area's school system and crippling the country's future labor force.
"These students -- the young that constitute future economic input -- they are not getting the required education. They are not trainable," said Mohammed Yusuf, a researcher at the Center for the Study of the Economies of Africa, a nonprofit Nigerian think tank that focuses on economic policy issues in the region.
Nigeria has seen a continuous deceleration of economic growth since last year amid falling prices of oil, the country's top source of state revenue. GDP growth rate for the West African nation plunged from 6.23 percent in the third quarter of 2014 to 2.35 percent in the second quarter of this year. The Monetary Policy Committee of the Central Bank of Nigeria warned in October that recession is imminent if proactive steps are not taken to revive growth in key economic sectors.
"Destroying education manpower has grave consequences," said Yusuf. "The impact has already taken effect."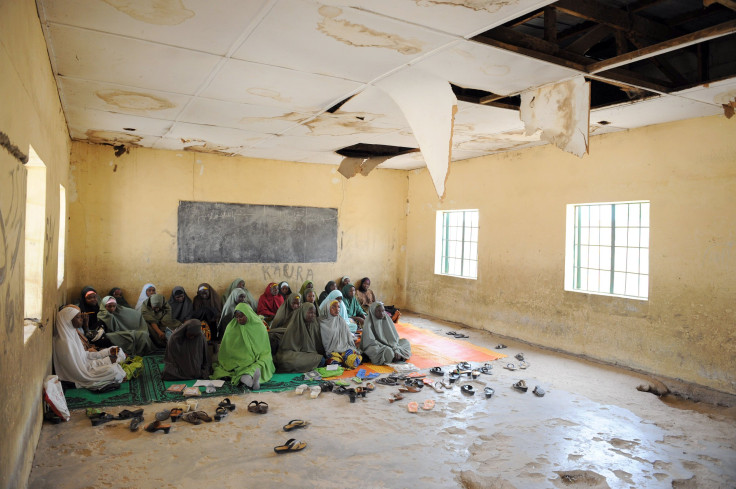 'All The Schools Were Burned Down'
Boko Haram's attack on education garnered international attention last year when the group abducted 276 schoolgirls from a boarding school in the town of Chibok in northeast Nigeria. Dozens remain missing, but some managed to escape. These girls returned to their communities but were afraid to continue their education because the militants had threatened them, saying they should be married and not in school.
"The girls said they couldn't go back," Paul Gadzama, a former Nigerian teacher from Borno state who hosted some of the escaped Chibok girls, said. "They were told if they were ever found in school again, [Boko Haram] will kill them and their family."
But with immense support from Gadzama and other local residents, the girls eventually returned to school and some even pursued higher education oversees in the United States. Their plight inspired the Education Must Continue Initiative, a Nigerian nongovernmental organization that currently runs seven schools for displaced children in three different towns. Gadzama oversees the program's ground operations in the northeast, where his own hometown was ambushed by Boko Haram. The militants came after sunrise, he said, and surrounded the village from all directions.
"My house was burned. All the schools were burned down, all the churches, even a hospital was burned," Gadzama said during a telephone interview. "We ourselves are victims of it. We feel our people."
Nigerian President Muhammadu Buhari, who took office in late May, has said defeating Boko Haram is his top priority. But the 72-year-old leader has not yet detailed a plan for education reform, which has prompted community-based initiatives, like Education Must Continue, to address the crisis locally.
Semere Soloman, an expert on Nigeria and education at global development firm Creative Associates International, runs the Nigeria Education Crisis Response Program, a USAID-sponsored initiative that has set up 300 informal learning centers for 14,000 school children in the north. The centers are modest, he said, but they are backed and partially organized by locals who help find and train teachers to provide classes in numeracy, literacy and psyco-social support. Local residents have also taken in a number of the country's displaced students and teachers in the northeast, providing meals, emotional support and a place to sleep. The pupils are taught key labor skills such as sewing and shoe making to help secure jobs in the future.
"In some areas, it's in a church, a mosque, a market, under the shade of a tree or temporary shelter," Soloman said of the makeshift classrooms. "It's something the community believes in."
Ensign, president of the American University of Nigeria in Adamawa state, has traveled to other northern areas to help besieged communities. She suspects the number of teachers and students killed and displaced is higher than reported.
"In our travels north, I saw a great deal of destruction – schools, farms burned; bridges destroyed," she said. "They simply destroyed everything they could."
The American University of Nigeria in Yola hosted dozens of displaced faculty and pupils from Adamawa State University last fall, after Boko Haram furiously raided the campus in Mubi, looting supplies and ravaging property. The displaced teachers were able to continue some classes in Yola, allowing several seniors from the destroyed university to graduate that year.
"The desire – hunger – for education is so great that the insurgency in some ways has only made students and their parents want education even more," Ensign said.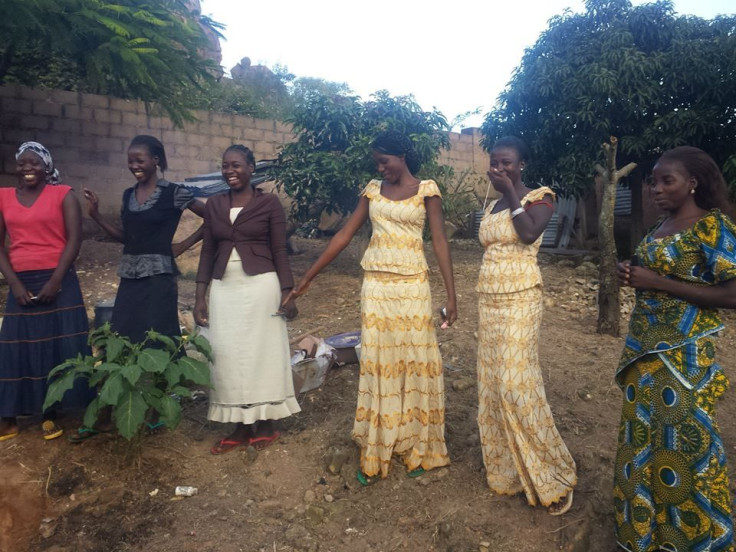 'Security Is Not Guaranteed Here'
After shooting three bullets into her father and setting fire to her home, Boko Haram left Mercy and her family to die. But they survived the attack and escaped the flaming village with just the clothes on their backs. Mercy's father later underwent several life-saving surgeries at a local hospital and healed from his wounds.
The family fled Adamawa state and has temporarily settled in a host community dozens of miles away in Borno, where Mercy and her siblings attend school at a learning center for displaced children run by the Education Must Continue Initiative. The local organization restored the building from the remnants of a crumbling schoolhouse, which was bombed by Boko Haram last year. Mercy, who hopes to go to college one day, said she feels safe at the school. She and her peers are taking classes in math, science, history, English, French and more.
"Most of the children are going through trauma," Onyaka Jonathan Iregbu, the school's principal, said. "We take care of them. They're happy to be in school."
The building cannot have any visible signs identifying it as a learning place because it remains a prime target for terrorists. The area, which is now guarded by vigilantes, is located near Sambisa forest, Boko Haram's last stronghold. The threat and fear that the militants will one day reemerge from the brush lingers.
"Security is not guaranteed here, in our view," Iregbu said. "We're not sure within the next two, three years whether the government can solve the crisis."
© Copyright IBTimes 2023. All rights reserved.