Buhari's Final Cabinet List: Nigeria's Senate Screens Nominees For Ministerial Posts [LIVE STREAM]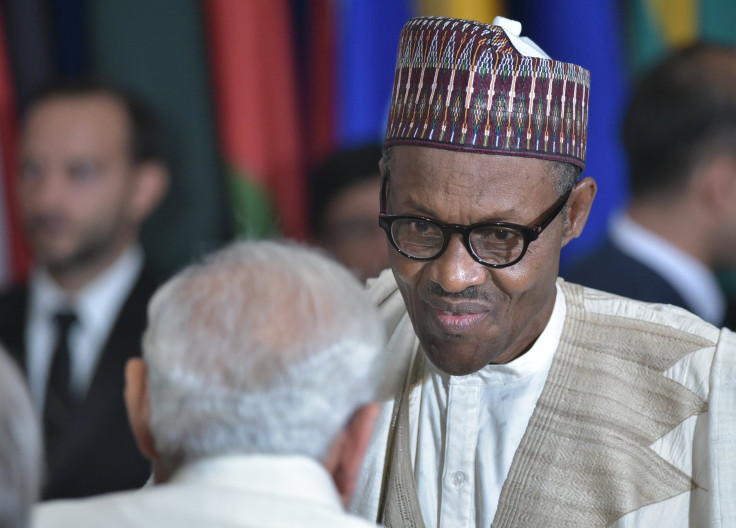 Nigeria's Senate began screening nominees for cabinet positions Tuesday, a day after President Muhammadu Buhari submitted the second list and final list of candidates to the upper house of parliament for approval. The two lists included former governors; former lawmaker Udoma Udo-Udoma; the head of the state oil firm, Emmanuel Kachikwu; and Kemi Adeosun, a former investment banker and London-trained accountant who may be Buhari's pick for finance minister, according to Bloomberg News.
The nominees addressed the Nigerian lawmakers and faced questions about national security, foreign policy and economic development on the first day of vetting Tuesday. The ministerial screening can be watched via live stream below.
Senate President Bukola Saraki confirmed on social media Monday he had received the second list with 15 names as Buhari begins constructing his administration more than four months after taking office. The following is the second list of nominees chosen by Buhari for ministerial positions in Nigeria, read aloud by Saraki and published his ruling political party, the All Progressives Congress, on its Twitter feed Tuesday.
Bukar Abba Ibrahim
Claudious Omoleye Daramola
Anthony Onwuka
Jeffery Onyema
Brig. Gen. M.M Dan Ali (Rtd)
James Ocholi
Zainab Shamsuna Ahmed
Okechukwu Enelama
Muhammadu Bello
Mustapha Baba Shesuri
Aisha Abubakar
Heineken Lokpobiri
Adamu Adamu
Isaac Adewole
Usani Usani Uguru
Abubakar Buhari Bawa
The following is the first list of nominees chosen by Buhari for ministerial positions in Nigeria, published by Saraki on his Facebook page on Oct. 6.
Chris Ngige
Kayode Fayemi
Rotimi Amaechi
Babatunde Fashola
Abdulrahman Danbazau
Aisha Alhassan
Ogbonaya Onu
Kemi Adeosun
Abubakar Malami
Hadi Sirika
Adebayo Shittu
Suleiman Adam
Solomon Dalong
Ibe Kachikwu
Osagie Ehanire
Audu Ogbeh
Lai Mohammed
Ahmed Isa Ibeto
Amina Mohammed
Udoma Udo-Udoma
The 72-year-old Nigerian leader must nominate 36 candidates in total to fulfill the constitutional requirement for a minister from each of Nigeria's states, according to Reuters. submitted a first list with 21 names of candidates for his presidential cabinet to the Senate earlier this month, without saying which portfolios the candidates would get. Buhari, a former military ruler, has received widespread criticism for taking too long to appoint ministers to his cabinet.
The first list included former Lagos state Gov. Babatunde Fashola, former Rivers state Gov. Rotimi Amaechi and humanitarian activist Kayode Fayemi, according to the Associated Press. Buhari, a former petroleum minister, initially had said he intends to keep the oil portfolio for himself and would appoint a state minister of petroleum to oversee the day-to-day operations in Africa's biggest oil producer. However, his spokesman said Monday Buhari will leave the post vacant.
"He can't be president and oil minister at the same time," Femi Adesina told Bloomberg News by phone from Nigeria's capital, Abuja. "He will supervise the ministry, so there will be no petroleum minister. Maybe he will appoint a minister of state, which is a junior minister."
© Copyright IBTimes 2023. All rights reserved.