Bulgarian Anti-Government Movement Turns Ugly As Protesters Trap 100 People In Parliament Building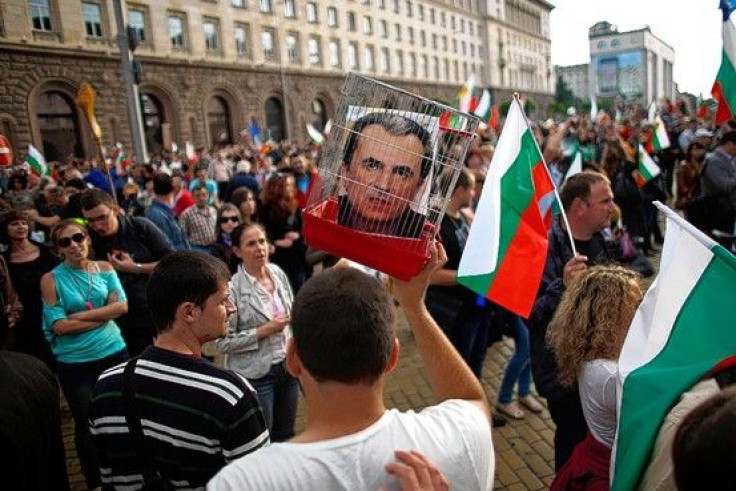 After 40 days of generally nonviolent protests against the government of Bulgaria, on Tuesday about 2,000 demonstrators escalated their anger by blockading the parliament building in the capital city of Sofia, trapping more than 100 people, including ministers, lawmakers and journalists, inside for more than eight hours. On Tuesday night, the police tried to free the captive politicians by using a bus, but protesters smashed the vehicle's windows with rocks. Eventually, at least 20 protesters and three police officers ended up in the hospital with injuries, according to EuroNews.
The protesters denounced what they perceive as entrenched corruption in the government, while chanting "Mafia!" and "Resign!" They also demanded the immediate resignation of Prime Minister Plamen Oresharski. "They threw stones … at the bus, and they call it a peaceful protest," Bulgarian Socialist Party deputy Anton Kutev, one of the scores trapped inside the building, told BNT1 state television. On Tuesday, Bulgaria's President Rosen Plevneliev issued a statement asking the demonstrators to be "peaceful and civilized."
It was not until Wednesday morning at about 3 a.m. that police forces finally rescued the "prisoners" by escorting them out of the parliament in police vans. A few hours later, state workers removed the protesters' barricades and other debris from outside the parliament. "Police reacted very adequately, policemen did their job perfectly although protesters behaved extremely aggressively," Interior Minister Tsvetlin Yovchev told reporters. "There are lightly injured people and policemen, and there have been arrests. ... No lawmakers have been hurt."
It has been a year filled with turmoil in Bulgaria, a small nation of just 7 million people, which is also the poorest state in Europe and a member of the European Union since 2007. In February, the center-right government of Prime Minister Boiko Borissov was forced to step down by protesters agitated over high energy costs, poor standards of living and endemic political corruption.
His socialist-leaning successor Oresharski came into office in May, but he stepped into a veritable hornet's nest. Lacking an outright majority in parliament, Oresharski was forced to depend upon a nationalist party for coalition support. Then came his appointment of 32-year-old media mogul Delyan Peevski as head of the national security agency. Peevski, a highly controversial figure who had been investigated for corruption, was forced to quit, but that did not appease demonstrators who have called for the resignation of the entire Cabinet.
But Oresharski has so far refused to resign. "We want people in the parliament to start thinking about the people, and not only for their own pockets," Anna Grozdanova, 35, a protester outside of the Parliament, told Reuters. "It is important we send honest and decent people, so that these outrageous appointments [Peevski] and deals stop."
The protesters have some support from high officials in the EU. "My sympathy is with the Bulgarian citizens who are protesting on the streets against corruption," European Justice Commissioner Viviane Reding told civil society groups in Sofia on Wednesday. "Bulgaria must continue its reform efforts."
© Copyright IBTimes 2023. All rights reserved.
FOLLOW MORE IBT NEWS ON THE BELOW CHANNELS