California Drought 2014: Gov. Brown Signs Landmark Groundwater Regulations To Protect State's Dwindling Water Supplies
California is enacting landmark groundwater regulations as a crippling three-year drought continues to suck the state dry. This week Gov. Jerry Brown signed legislation intended to keep farmers and city dwellers from overpumping underground aquifers and depleting the state's dwindling resources.
"We have to learn to manage wisely water, energy, land and our investments," Brown said at a Tuesday signing ceremony. "That's why this is important."
The trio of laws, which the Legislature passed in August, establishes the state's first structure for managing groundwater resources. Until now, California had been the only state in the U.S. West without such a plan. The new rules put local agencies in charge of assessing and managing groundwater basins. They also give the state new authority to step in if local officials fail to stem declining water supplies.
Groundwater accounts for about 60 percent of California's water supply -- about 20 percent more than it would in an average year, the Desert Sun of Palm Springs noted.
With the state enduring devastating drought levels, surface water supplies are disappearing and Californians -- especially farmers -- are having to pump more from groundwater wells. More than than half of the state in an "exceptional" drought, the highest of five rankings by the U.S. Drought Monitor, while about 95 percent is in a "severe" drought.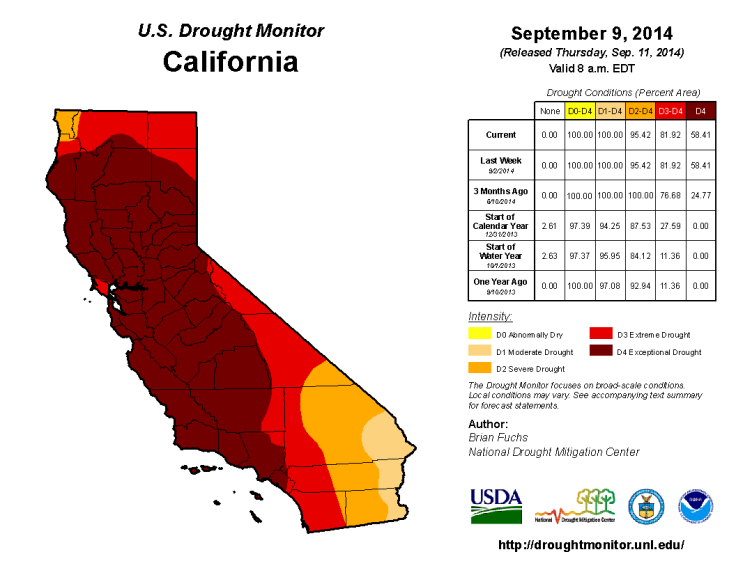 At the signing ceremony, water authorities applauded California's new regulations. But other experts have cautioned that it could take years for the rules to fully take effect, and it could be decades before the most depleted groundwater basins recover under the rules, the Los Angeles Times previously reported.
Nearly 62 trillion gallons of groundwater have disappeared from the U.S. West in the past few years due to drought and population growth, California scientists said last month. As a result, the Earth's crust is starting to "rise up like an uncoiled spring," according to their study.
In July, California water regulators passed the first emergency water restrictions for the entire state. The rules threaten to levy fines of up to $500 a day on Californians who overwater their yards or hose down sidewalks and driveways. Over the coming decades, climate change-related droughts could require California to cut its net water usage by up to 20 percent, water experts say.
© Copyright IBTimes 2023. All rights reserved.
FOLLOW MORE IBT NEWS ON THE BELOW CHANNELS