California Vaccine Bill SB 277 Debate: 5 Things To Know About Vaccination Law That's Among Strictest In US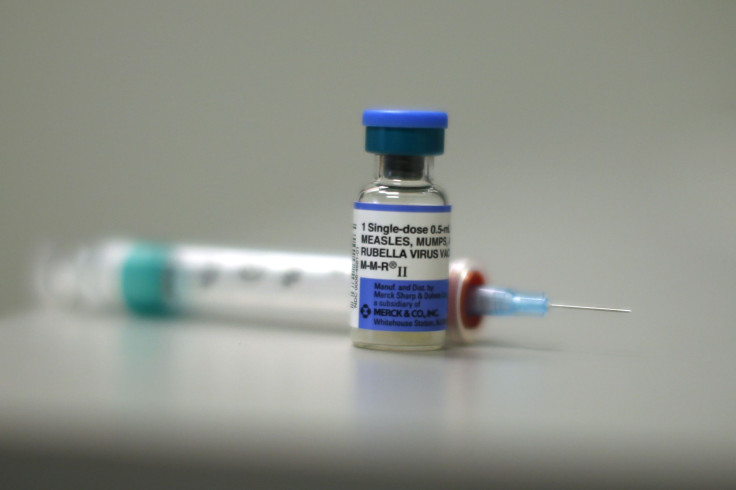 Opponents of a bill aimed at boosting vaccination rates in California schools flooded the state Capitol Tuesday, but their clamoring protests failed to dissuade lawmakers from approving SB 277, which would eliminate so-called personal belief exemptions that allow parents to opt out of vaccinating their children for nonmedical reasons. A state health committee approved the bill Tuesday, meaning the proposed law will go before the full Assembly for endorsement. Gov. Jerry Brown has yet to take a stance on the hotly contested legislation.
SB 277 has drawn the ire of some parents who say it represents a gross government overreach into residents' private lives. Proponents of the law say it is about protecting schoolchildren from diseases that were once deadly and unpreventable, and that vaccines have dramatically curbed. While California's vaccination rates are overall on par with federal health recommendations, it's the communities with below-average immunization rates that are cause for concern, officials have said. The recent spotlight on vaccines came in the wake of a measles outbreak that began at Southern California's Disneyland theme park and sickened at least 145 people across several states.
Tuesday's emotional hearing saw testimony from health officials, parents and state lawmakers. Opponents of SB 277 hissed at witnesses whose testimony they took umbrage with, according to the Sacramento Bee. One woman was removed from the Assembly after screaming at lawmakers.
"How many outbreaks do we need for you to feel there is an issue here?" Assemblyman James Wood, a Democrat, asked opponents, according to the Sacramento Bee. Other witnesses maintained that the bill intrudes on parents' right to choose what to do with their own children.
Here are five things to know about the highly contentious SB 277.
1. If SB 277 becomes law, California would be one of three states with such stringent vaccination requirements. Only Mississippi and West Virginia have laws similar to SB 277, according to the Associated Press. Those states are the only ones that refuse vaccination exemptions based on parents' personal or religious beliefs, barring a compelling medical reason.
2. SB 277 would allow only vaccinated children to attend public and private schools in California. Children whose parents refuse to have them immunized would have to be homeschooled. Children who cannot get vaccinated for medical reasons could still attend public schools, however.
3. Proponents of SB 277 say it will help the state reach "herd immunity." Herd immunity is reached when enough of a given population is vaccinated against a particular disease that it no longer poses a threat to the community as a whole. The U.S. Centers for Disease Control and Prevention puts the herd immunity for measles at between 92 and 94 percent.
4. Medical exemptions could still be granted under SB 277. The bill does not name which medical conditions are acceptable for exemption. Parents could obtain a doctor's note saying their child's medical condition makes getting vaccinated unsafe, according to the Los Angeles Times.
5. SB 277 could influence laws in other states. The debate in the country's largest state could encourage lawmakers in states with loose vaccination requirements to limit nonmedical exemptions, according to Forbes.
© Copyright IBTimes 2023. All rights reserved.
FOLLOW MORE IBT NEWS ON THE BELOW CHANNELS