Can RIM Survive With Two CEOs?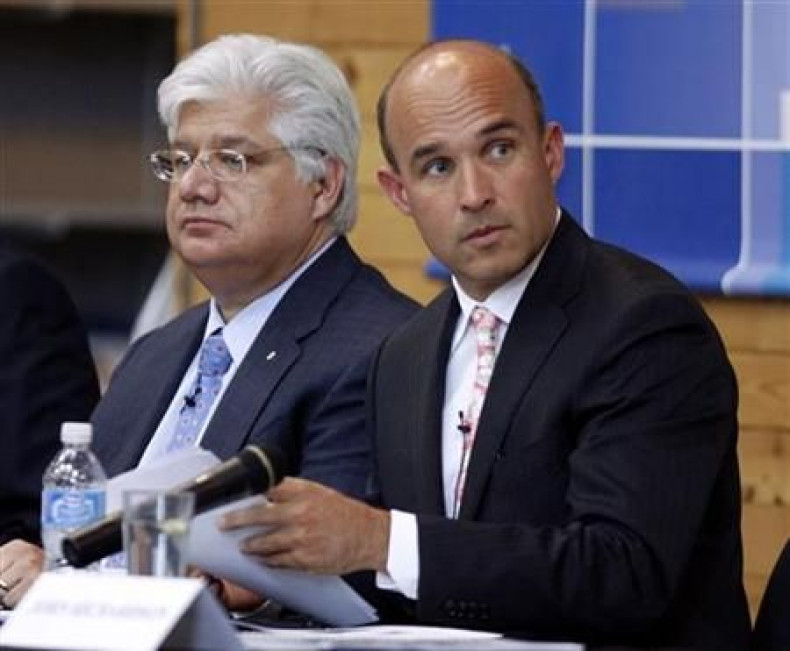 One of the strangest things about ailing Blackberry maker Research-in Motion Ltd. (Nasdaq: RIMM) is the two-headed monster that runs the company, co-chief executive officers, Jim Balsillie and Mike Lazardis.
RIM shareholders have long questioned this executive management arrangement at the top, and now with the stock in a deep free-fall (shares have plunged about 60 percent since February), calls are getting louder for either or both of the CEOs to step down.
In fact, during the company's recent earnings call, Balsillie and Lazaridis defended the co-CEO structure, arguing basically that since they built up the company into what it is, relinquishing power now to an outsider would be disastrous.
Mike and I have been partners in this business for almost 20 years," Balsillie said at the call.
"And over that time, RIM has grown to $20 billion in annual revenue and has successfully navigated through many challenging times. We're currently approaching the tail end of a significant transition in our business, and frankly few companies would have been able to survive. But we have."
Balsillie added: "Neither of us could have taken the company this far alone, and that completing the transition and taking the company to the next level of success and growth is also something neither of us can do alone, and something that would be incredibly challenging for someone from outside the company to manage successfully at this critical time in RIM's development.
Lazaridis echoed his partner's comments.
I absolutely believe that the complementary skill sets and good working relationship between Jim and I led to the success of RIM over the past two decades," he said.
"I also believe that strong, consistent leadership is critical to successfully leveraging the substantial investments we've been making in BlackBerry 7, QNX, and all the products that [we] are about to launch in fiscal 2012."
Laziridis added: "Our commitment to RIM is stronger than ever, and we know what we have to do jointly to accomplish and take RIM to the next stage of growth and success. Jim and I recognize each other's strengths, and regularly discuss and work together to determine the best way to execute on the incredible market opportunity ahead of us."
However, unhappy investors clearly do not like the two-man form of leadership and some have even demanded they split up the two responsibilities into CEO and Chairman.
Dr. Anna N. Danielova, Assistant Professor of Finance at the DeGroote School of Business in Hamilton, Ontario, who specializes in corporate governance issues, said that the co-CEO structure is very unusual, although some high-profile technology companies, including Motorola and Wipro, in addition to RIM, have adopted it.
She suggests that there were some practical reason of creating a dual-CEO structure, including the accommodation of two CEOs after a merger. As in the case of Motorola, a double-CEO position was created prior to a spin-off in order to facilitate the smooth division of assets and the continuation of management.
"Two CEOs with complementary skills and knowledge could presumably lead a firm better (compared with single CEO) and deliver better performance," she added. "In addition, it might be helpful in retaining good CEO-material employees and avoid having them leave the firm and take their valuable knowledge with them elsewhere, especially if there was an exodus."
However, Danielova adds, there are probably many more drawbacks to such a structure.
"Two CEOs can have different ideas about a course of action and could possibly pull the firm in different directions," she said.
"So it is possible that complementary skills and knowledge could start hurting the firm instead of being beneficial."
Moreover, if co-CEOs govern a particular subset of a company, it is possible that there could be a battle for resources.
"There are always fights for resources in multi-divisional firms, but with two CEOs it is likelier to happen," she explained.
"Also, the decision-making process could take longer with the dual-CEO structure. Two CEOs need to be convinced instead of one, and both of them should be on the same page."
In addition, friction could develop if one of the co-CEOs is an insider and another is outsider. Also, the question of succession becomes very troublesome and complex.
"The bottom line is, on average, dual-CEO-run firms do not perform better than traditionally-managed companies," she concluded.