Canada data dashes hopes of quick economic rebound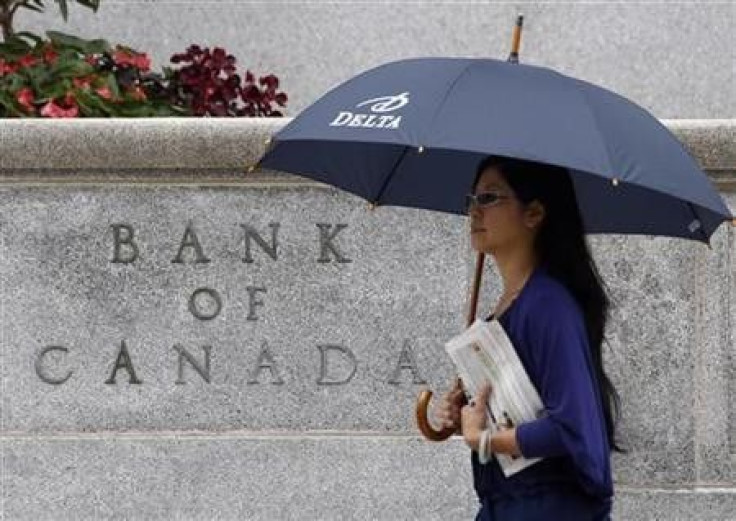 Weak jobs and housing starts data for August doused any hopes for robust growth after a bleak second quarter, underscoring its vulnerability to a struggling U.S. economy and the widening European debt crisis.
Canada's job market had outperformed that of the United States since the recession but it is now looking startlingly similar, stalling for two months in a row.
The Canadian dollar weakened to a one-month low after Statistics Canada said on Friday net job losses in the month totaled 5,500, nearly erasing the meek 7,100 gain in July. The unemployment rate rose to 7.3 percent from 7.2 percent.
While it seems surprising considering our very strong record in recent months, it's not surprising given the problems that we saw accumulate in the first half of the year which basically peaked in the summer months, said Aron Gampel, deputy chief economist at Scotiabank.
I would look at it as a part of this process of adjustment to a slower growth trajectory in North America and around the world and it highlights the increasing uncertainty by businesses toward the job market.
The economy has generated a net 223,000 jobs in the past year and as of the second quarter, it had recovered all the full-time jobs lost during the recession. The jobless rate is two percentage points lower than that of its top trade partner.
However, the latest numbers echo dismal U.S. employment reports that prompted President Barack Obama to propose a $447 billion jobs package on Thursday to jump-start the sagging economy.
The data adds to economic gloom weighing heavily on finance leaders from the Group of Seven industrialized economies, as they meet on Friday in Marseille, France to chart a way out of trouble.
HOUSING A DRAG
Canada's once-hot housing market, which played a big role in lifting the economy out of recession, cooled more than expected in August and also pointed to subdued growth in the third quarter.
Housing starts slipped to a seasonally adjusted rate of 184,700 units from 204,500 units in July, according to the Canada Mortgage and Housing Corp.
This is still a fairly strong level for home building, but it might signal a drag on growth after a lot of support to GDP from new home construction in Q2, said Avery Shenfeld, chief economist at CIBC World Markets.
Yet another report provided a more detailed glimpse into the second quarter, when the economy shrank 0.4 percent on an annualized basis. Labor productivity tumbled 0.9 percent in the quarter, the biggest drop in five years, because the Japan tsunami and local wildfires forced businesses to cut back production while hours worked and labor costs rose.
All in all, the data contributed to a disappointing day for Canadian markets.
The Canadian dollar, already weak on concerns the U.S. Congress may hold up Obama's stimulus plan, fell further after the data. It touched a one-month low of C$0.9974 to the U.S. dollar, or $1.0026.
The reports give the Bank of Canada more reason not to hike interest rates this year. The bank held its key rate unchanged on Wednesday at 1 percent and backed away from a July statement that signaled intentions to raise interest rates soon.
Analysts surveyed by Reuters immediately after the latest rate statement expected the next move to be up, but not until mid to late 2012.
But overnight index swaps, which trade based on expectations for the policy rate, have been pricing in a cut.
Following the jobs report, the swaps market showed investors increased their bets on rate cuts later this year and in early 2012.
The expectation here is that the Bank of Canada, rather than raising rates, will switch the other way to maybe lowering rates although I don't think that is in the cards at this particular time, said Gampel.
© Copyright Thomson Reuters 2023. All rights reserved.