Cancer's High Cost: Patients And Drug Companies Revolt After UK Axes Coverage Of Cancer Treatments
In the latest example of how the growing cost of cancer treatment is altering healthcare, the U.K.'s National Health Service announced it would no longer pay for 17 cancer medicines. The move last week has sparked outrage among pharmaceutical companies and advocacy groups demanding reforms to the national system by which new drugs are evaluated and provided to citizens.
Roche CEO Severin Schwan said Tuesday the U.K.'s judgment fails to take into account the costs these diseases place on the healthcare system when left untreated, Reuters reported. "It's stupid from a cost point of view not to look at the overall cost of healthcare," he said.
Elsewhere, governments are squabbling with pharmaceutical companies about how to cover pricey new medicines without pushing their healthcare budgets into the red. In the U.S., each of the nine cancer drugs approved by the FDA in 2014 will cost a patient more than $120,000 for a year of treatment. Sen. Bernie Sanders has said he intends to introduce a bill to permit the federal government to negotiate drug prices with pharmaceutical companies. In China, where the pharmaceutical industry has grown at a 20 percent annual rate in the last five years, the government recently removed a longstanding price ceiling for drugs in favor of a market-driven system after declaring the controls to be a failure amid rising costs.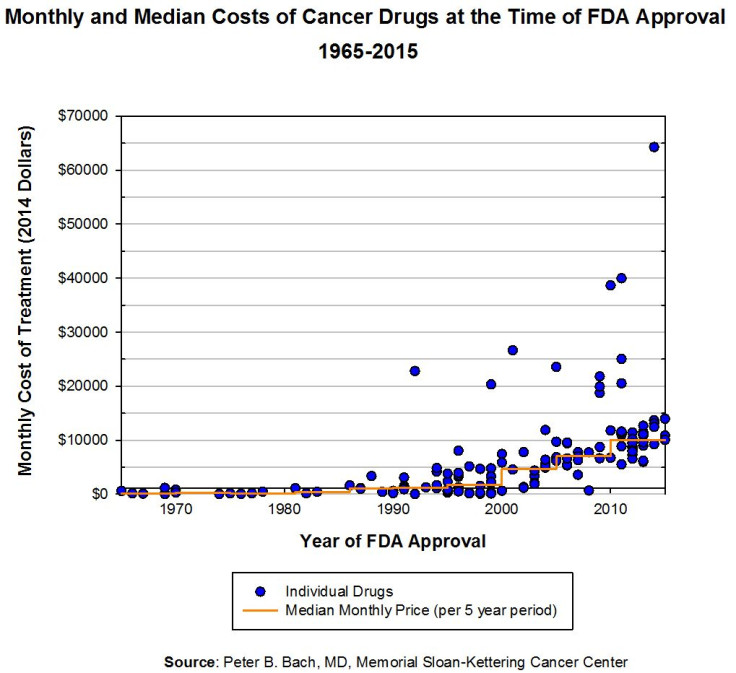 The U.K.'s decision is the latest overt attempt by a government to pressure companies to lower prices as the NHS has said it will continue to cover the nine drugs if manufacturers agree to provide them for less. Alison Clough, CEO of the Association of the British Pharmaceutical Industry, called the ruling "extremely disappointing" in a statement. Patients' groups were similarly disgusted. Delyth Morgan, CEO of Breast Cancer Now, called it a "massive blow for breast cancer patients."
A chemotherapy drug called Abraxane by Celgene to treat metastatic pancreatic cancer, which costs 8,000 pounds ($12,000) a year will no longer be covered, and neither will Kadcyla by Roche, which has been shown to extend the lives of women with inoperable breast cancer by about six months for 90,000 pounds ($140,000) per patient.
Before the cuts, those medicines were provided through the Cancer Drugs Fund, which was created by the government in 2010 to pay for expensive new treatments in the short term, but costs have since ballooned more than 70 million pounds ($100 million) beyond the 340 million pound ($500 million) budget -- which the U.K. had already increased by 70 percent since August 2014.
A panel of oncologists and other experts recommended the latest in a series of cuts that have taken place this year, whittling a list of 84 approved treatments at the beginning of 2015 down to just 41 after the drugs are officially removed in November.
"There is no escaping the fact that we face a difficult set of choices, but it is our duty to ensure we get maximum value from every penny available on behalf of patients," Dr. Peter Clark, an oncologist and chair of the Cancer Drugs Fund, said in a statement. "We must ensure we invest in those treatments that offer the most benefit, based on rigorous evidence-based clinical analysis and an assessment of the cost of those treatments."
The NHS has pledged to work with patients and companies to find new options for coverage through the national healthcare system even if drug companies do not budge.
© Copyright IBTimes 2022. All rights reserved.
FOLLOW MORE IBT NEWS ON THE BELOW CHANNELS