Carmelo Anthony Taking Lead in New York, Wants Knicks Coaches To Single Him Out For Defensive Lapses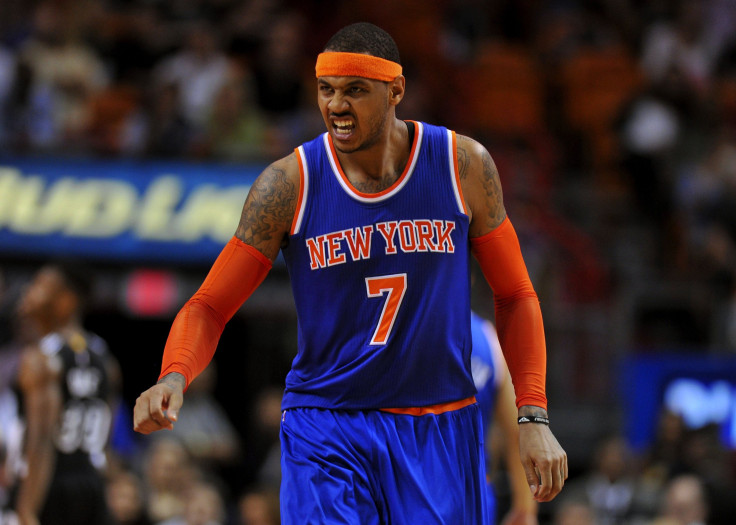 Carmelo Anthony is serious in taking the leadership role to a new level with the New York Knicks. The star forward stated in a recent interview that he wants the coaching staff to "push" him to correcting defensive mistakes he does on the floor and wants all of his teammates to hear it when he is singled out for such lapses.
"I kind of challenged the staff to kind of push me and stay on me when I'm not doing something. Call it out in the film session so everybody can see that and hear that. By them doing that, when that time comes, it kind of forces me to be at the top level of my game on both ends of the court," Anthony said to Al Iannazzone of Newsday.com.
"Right now it's just a couple clips here and there, but for the most part I want them to do that. I think it brings the best out of me and if you bring the best out of me I think it will bring the best out of everyone on the team."
Offensively, "Melo" is one of the best players in the league. Last season, Anthony averaged 24.2 points 6.6 rebounds, 3.1 assists and 1.0 steals per game in 40 outings in the regular season.
This year, Anthony wants an expanded role on defense as he tries to help the Knicks squad, which was one of the worst defensive teams in the league last year. New York ranked 21st in the league for most points given up in a game at 101.2 points per game and allowed 46.0 per cent field goal shooting to opponents, for 27th in the NBA.
It remains to be seen if Anthony's mindset on defense can change the losing culture in New York for the upcoming season.
Anthony will remain the leader of the squad but will have new faces in the team in rookie Kristaps Porzingis, who was the fourth overall pick in the recent NBA draft, center Robin Lopez, power forward Derrick Williams and shooting guard Arron Afflalo. Holdovers from last season are point guards Jose Calderon and Langston Galloway and forwards Lou Amundson and Cleanthony Early.
© Copyright IBTimes 2023. All rights reserved.