Carmelo Anthony's Ex-Teammate Nene Posts Picture Of New York Knicks Forward In Rockets Uniform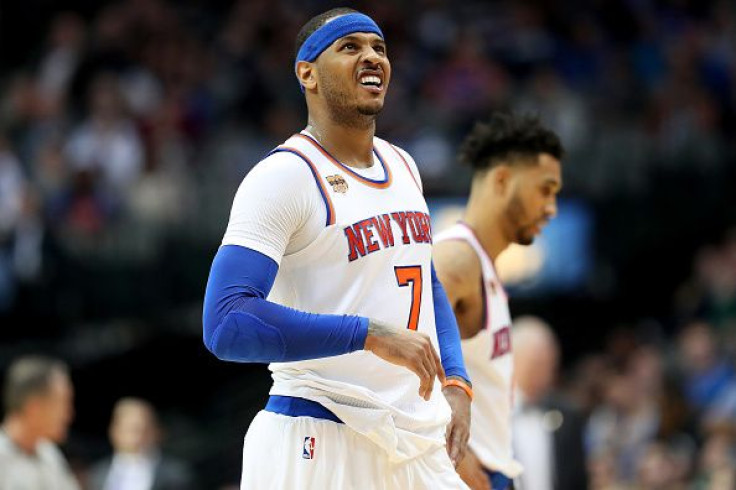 Trade rumors have surrounded New York Knicks star Carmelo Anthony for most of the NBA offseason. Those trade rumors may have finally come to fruition as Houston Rockets center Nene posted a doctored picture Tuesday of Anthony in a Rockets jersey.
Nene, who joined the Rockets in 2016, spent more than seven seasons with Anthony as a member of the Denver Nuggets and the frontcourt tandem reached the playoffs each year.
"Wow he will look Great on this uniform and I can't wait to get back on old Time like in Denver with him … did u guys remember???," Nene wrote in a caption with emojis.
The Brazilian star deleted the photo from his Instagram moments later.
Nene, who spent more than four seasons with the Washington Wizards, re-signed with the Rockets on July 2 in a three-year deal worth $11 million.
READ: Miami Marlins Owner Jeffrey Loria Reportedly Suing A Fan, Plans To Seize His Property
Trade talks between the Knicks and Rockets were reportedly reignited Monday. According to ESPN's Ian Begley, Anthony is certain that he will join the Rockets, as the two teams expect to complete a deal before the start of the season.
However, a third team may be needed to facilitate the deal. Rockets big man Ryan Anderson, who is owed roughly $61.2 million over three years, is expected to be included in any deal, but the Knicks are reluctant to take on such a contract.
Meanwhile, some of Anthony's current teammates want the veteran forward to stay in New York. In a press conference Monday, Knicks shooting guard Tim Hardaway Jr. stated that he enjoyed playing with Anthony. The Knicks drafted Hardaway in 2013 but traded him to the Atlanta Hawks after two seasons. Hardaway and the Knicks agreed to a four-year, $71 million contract Monday.
READ: NBA Trades Report: Toronto Raptors Deal Cory Joseph To Indiana Pacers For CJ Miles
"Melo's got to do what's best for his family and for him," Hardaway said. "Just having that veteran leader out there on the floor, a go-to guy who can get you a bucket at any given moment of a game, it's great. It's great to have that."
Hardaway added: "You want to have that in the NBA. It would be tough for him to leave, but like I said, he has to do what's best for him and his family."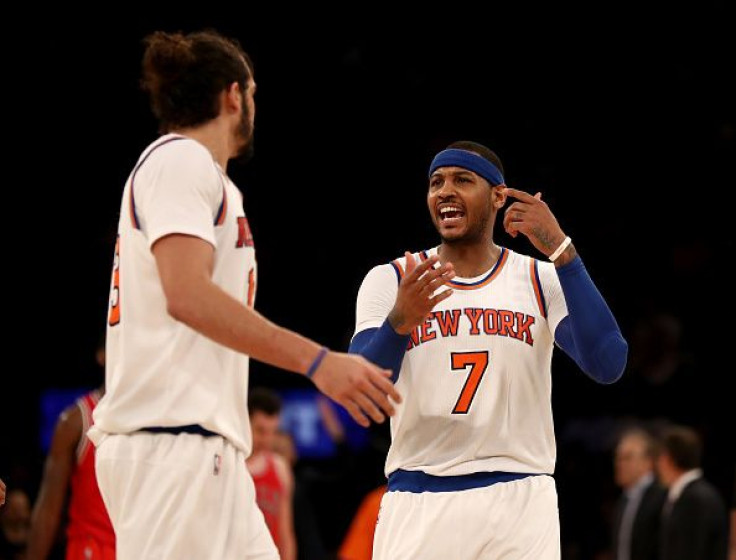 © Copyright IBTimes 2023. All rights reserved.