Catholic Church Sex Abuse Scandals: Cardinal George Pell Returns To Australia To Face Charges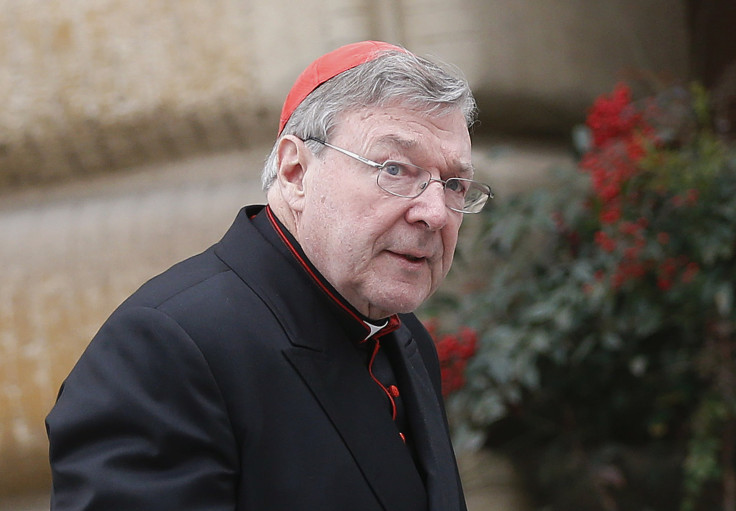 Cardinal George Pell, one of the senior-most Vatican officials to be charged with sexual abuse, returned to his native country Australia on Monday, ahead of his first court appearance in Melbourne on July 26, according to several reports.
Pell was accused of several sexual assault charges over "historical sexual offenses" from multiple complainants on June 29, according to the Australian police, making him the highest-ranking church official to face such allegations.
A statement from the Sydney archdiocese Monday said: "When he was told of the charges by Victoria Police, Cardinal Pell said in Rome he totally rejected the allegations, was completely innocent of the charges and would return to Australia to vigorously defend himself and clear his name."
"Cardinal Pell will not be making further comment other than to say he is grateful for the numerous messages of support he continues to receive," the statement said.
Read: Catholic Priest In Rome, New York Investigated For Abuse Of A Minor, Put On Leave
The statement also mentioned Pell "consulted his doctors and on their advice took several days to return home, breaking his journey in a number of places to avoid long-haul flights."
In 2016, Pell said he was too ill to take a flight back to Australia to testify at a government inquiry into the child sexual abuse scandal and how the church had responded to those.
Following the charges in June, the Catholic Church in Australia said Pell "strenuously denies" the allegations brought against him and planned to prove his innocence in the court. He had also released a statement in June where he stated that he is "innocent of these charges" and that sexual abuse was "abhorrent" to him.
The Catholic Church has faced numerous allegations of sexual abuse from around the world over the last three decades. It has also been accused of covering up and protecting itself from the scandals.
Here are some of the major scandals that have rocked the Vatican:
In 2014, Jozef Wesolowski, a former Vatican ambassador to the Dominican Republic was terminated after he was found guilty of sexually abusing minors, according to a Vatican tribunal. Along with charges of sexual assault of minors he was also accused of possessing child pornography. He was the highest-ranking Catholic official then to have been arrested on sexual assault charges in the Dominican Republic. Wesolowski died in 2015 before he could be put to trial, according to CNN.
Read: Church Of England 'Colluded' With Former Bishop Who Sexually Abused Children For Decades
In 2009, a report commissioned by the Irish government found the Archdiocese of Dublin and other Catholic Church authorities in the country had covered up clerical child abuse. The 720 page report said that it has "no doubt that clerical child sexual abuse was covered up from January 1975 to May 2004." The report mentioned names of 11 priests who were later convicted of or pleaded guilty to child sexual abuse.
In the United States in 2004, a report compiled by the John Jay College of Criminal Justice claimed over 4,000 priests were accused of child sexual abuse between 1950 and 2002.
In 2002, former priest John Geoghan was accused of sexually abusing at least 130 children from 1962 to 1995. Cardinal Bernard Law had accepted the allegations citing a letter he had received in 1984, which spoke of accusations against Geoghan. The Boston Globe covered the abuse by the clergy, highlighting the issue. The coverage by the newspaper was later adapted into the award-winning movie "Spotlight."
A similar situation arose in The Netherlands in March 2010 after an independent inquiry ordered by Dutch bishops was conducted into over 200 allegations of child sexual abuse by priests. People from Don Rua monastery school in eastern Netherlands were the first ones to come up and reveal they were abused by Catholic priests during the 1960s and 70s. Following this disclosure, several other victims from other institutions came forward.
© Copyright IBTimes 2023. All rights reserved.